Senator Blocks, Stalls Agent Orange Bill; Proponents to Try Again Before Christmas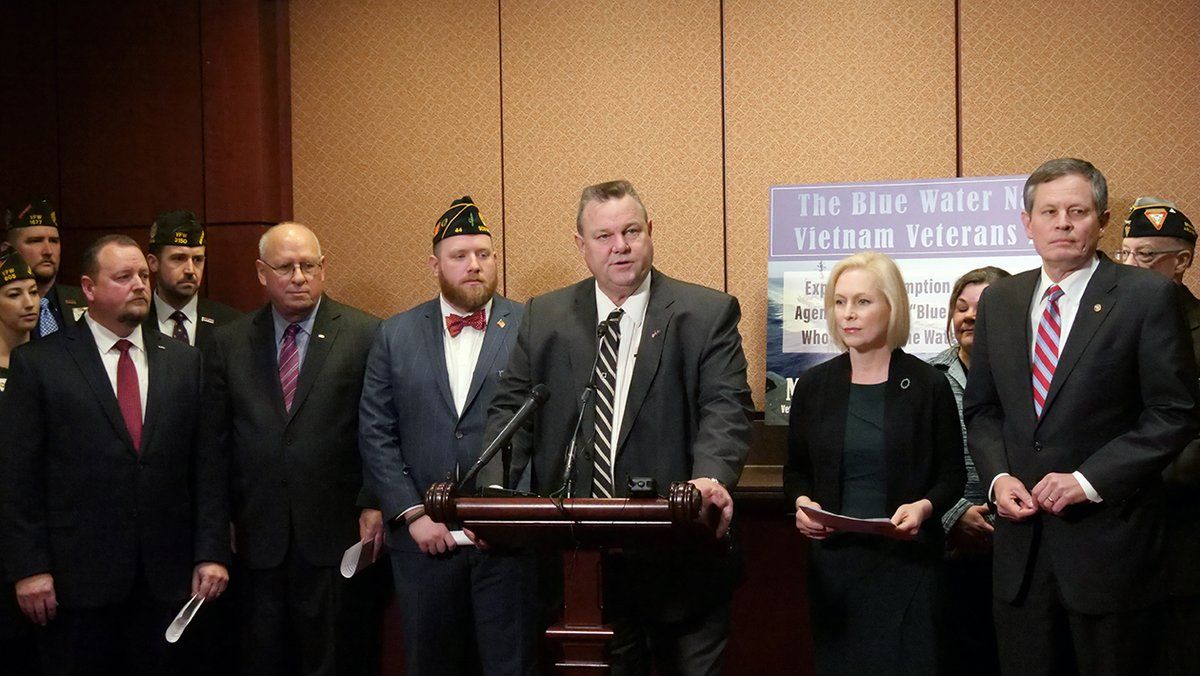 The U.S. Senate failed to forward a bill — despite last-minute proponent appeals — that would have extended Veterans Affairs benefits to thousands of veterans who served in warships off the coast of Vietnam and who were exposed to toxic Agent Orange.
Sen. Mike Enzi (R-Wyo.) was the lone senator to block the Blue Water Navy Vietnam Veterans Act Tuesday. It needed the full Senate's unanimous approval, per the request of lead sponsors Sen. Kristen Gillibrand and Sen. Jon Tester (D-Mont.), Sen. Steve Daines (R-Mont) and Sen. Johnny Isakson (R-Ga.), chairman of the Senate Veterans' Affairs Committee.
Unanimous consent expedites approval but can be stopped if one senator objects.
Enzi defended his objection.
"On this bill, many of us have been made aware of the potential cost growth and the budgetary and operational pressures that would happen at the VA," said Enzi, chairman of the Senate Budget Committee. "They're having a lot of problems, anyway."
The VA estimated the bill would cost the Department of Veterans Affairs $5.5 million over the course of 10 years, reported The Business Insider.
"Frankly, we're not sure how they came up with those numbers," said Tester, ranking Democrat on the Senate veterans affairs committee.
However, the Congressional Budget Office previously estimated the bill at $1.1 million. No matter the cost, the Veterans of Foreign Wars and the American Legion backed some senators who consider passing the bill an obligation for Vietnam vets 43 years after the ­war.
Specifically, the Blue Water Navy Vietnam Veterans Act would extend eligibility for disability compensation and health care for Navy veterans who served aboard aircraft carriers, cruisers, destroyers, and other ships, reported the Stars and Stripes.
Agent Orange is a dioxin-laden mixture of herbicides that U.S. military forces sprayed in Vietnam from 1962 to 1972 for the purpose of destroying crops and defoliating forests concealing Viet Cong and North Vietnamese forces. It has been proven to cause respiratory cancers, Parkinson's disease, and heart disease. Many vets have sought for years to prove their exposure to Agent Orange.
Gillibrand and Tester took to the Senate floor Monday night to enlist full support, as unanimous consent expedites approval, but can be stopped if one senator objects.
Tester told his colleagues, "It is our obligation to meet the needs of the folks who have sacrificed for our country. We shouldn't even be here today. This thing should have been cleared yesterday."
"Shame on the VA for trying to muddy the waters and say, 'but we don't have enough money for these veterans,'" Gillibrand said. "Is their sacrifice no less?"
The bill passed the House unanimously, 382-0 in June, but VA Secretary Robert Wilkie opposed the bill in September. He cited cost and the need for more scientific evidence, wrote Business Insider. He wants Congress to delay the bill until a new study is released in 2019.
B.J. Lawrence, VFW national commander, said: "If we can afford to send veterans to war, it's unacceptable that we can't afford to take care of them when they return home wounded."
Randy Reese, Disabled American Veterans assistant executive director, said in a statement: "DAV is deeply disappointed that the bipartisan efforts of Senators Tester, Gillibrand, Daines, and Isakson to pass the Blue Water Navy Vietnam Veterans Act were blocked last night by a single Senator.
"All 2.7 million veterans who served in Vietnam, including those who served off the shores of Vietnam, should be treated equally when it comes to the benefits and health care they have earned."
Congress "is running out" of time, said Tester.
"The studies have borne out that these folks were exposed and we need to provide that benefit," added Tester. "That's it. It's as simple as that. If we're not willing to take care of our veterans when they get back home, we should not send them into places in this world where they will be exposed to toxins or get shot."
The bill is merely in a holding pattern, Tester's office told Newsweek Tuesday.
"The bill is stalled, not dead, and Senator Tester is going to try again to bring it up for a vote again before the end of the year," said Tester spokesman Dave Kuntz.