Senator Appears to Mimic Trump's Border Wall Falling Over As President Touts Building Progress During SOTU Speech
Democratic Sen. Bob Menendez of New Jersey appeared unable to resist mocking President Donald Trump during the State of the Union (SOTU) address on Tuesday, while the president touted progress on overseeing the construction of up to 500 miles of border wall before the end of 2020.
Trump had segued into discussing his border wall progress after railing against Democrats for trying to push forward 'Medicare for All' legislation. Claiming that such legislation would "bankrupt our nation by providing free taxpayer-funded healthcare to millions of illegal aliens," the president said legislators should focus on passing laws "to prohibit the free government healthcare for illegal aliens."
"This will be a tremendous boon to our already very-strongly guarded southern border where, as we speak, a long, tall, and very powerful wall is being built," the president said.
As noted by The Hill, a camera focused on Menendez appeared to catch the senator mocking the president, with the New Jersey lawmaker shaking his head as Trump celebrated border wall progress.
He can then be seen saying something to New Jersey Sen. Cory Booker as he appeared to mimic a piece of the wall keeling over with his hand.
The move appeared to be a clear reference to a recent incident in which a piece of Trump's border wall appeared to blow over in high winds during construction at a site between Calexico and Mexicali.
In a statement sent to Newsweek shortly after the incident, Ralph DeSio, a spokesperson at the U.S. Customs and Border Protection agency, which is overseeing construction of the border wall, said the wall had fallen after "high winds impacted a handful of panels under construction."
No injuries or property damage were sustained as a result of the incident, DeSio said.
He insisted that it was an "uncommon event" that occurred "while the concrete was drying," before adding: "The border wall system is imperative to securing the border and is what border patrol agents have asked for and need to maintain operational control of the southern border."
Likely unaware of Menendez's quip, Trump continued to tout his border wall progress during his SOTU address, championing the fact that his administration has now overseen the completion of more than 100 miles of border wall.
The majority of that has gone up to replace previously existing barriers, very little of the long-promised border wall actually covers new ground.
However, Trump said his administration would "have over 500 miles fully completed by early next year."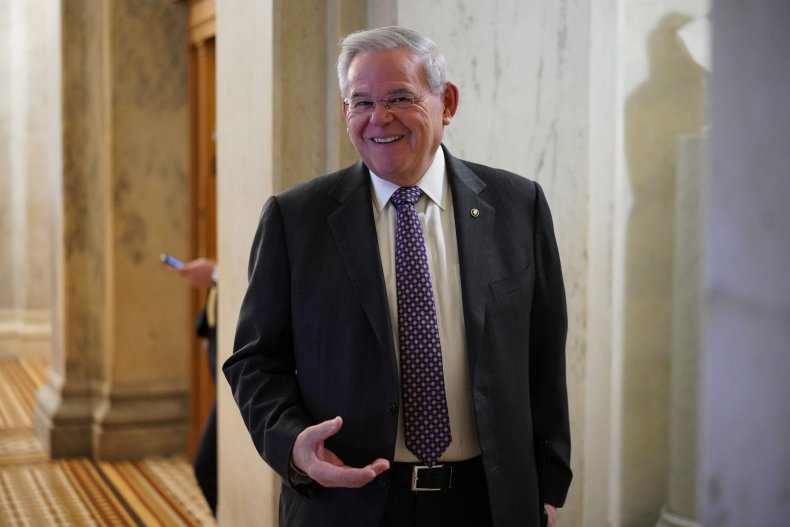 The assertion comes after Mark Morgan, the acting commissioner of the CBP, expressed concerns around whether his agency would be able to reach the 450-mile goal Trump had previously set.
"Our goal at the end of 2020 was 450 miles," Morgan told reporters in late December. "It's hard right now to be able to say whether we're still going to be able to meet that goal, but I'm confident that we're going to be close."
With roughly 350 miles left to go, it is still unclear whether the Trump administration will be able to reach its 450-mile goal before the end of 2020, despite Trump's assertions.