Senator Calls Stephen Miller 'A Cancer at the Very Heart' of Donald Trump's Presidency
Senator Chris Coons slammed White House adviser Stephen Miller, the architect behind some of the administration's controversial immigration policies, as a "cancer" of President Donald Trump's leadership.
"Stephen Miller is, I think, a cancer at the very heart of the values of this presidency," Coons said during an appearance on MSNBC's Morning Joe on Wednesday. The Democrat added that he believed someone with Miller's views would have been "thrown out years ago" under any other administration.
The senator added that Miller's role in the White House "tells us everything we need to know about where President Trump is on immigration policy, on his views of people of different racial backgrounds and where some of his most divisive actions have come from."
Miller has served as a senior adviser for policy since the start of the Trump administration. Calls for his removal have increased over the past few weeks after leaked emails showed he promoted the ideas of people considered to be white nationalists.
In the messages, which were first reported by the Southern Poverty Law Center, Miller tried to link refugees and asylum seekers to terrorism. In one email written to Breitbart, a conservative media outlet, in September 2015, he claimed that Muslim refugees had created "huge pockets of radicalization" in the U.S.
"It has never been easier in American history for illegal aliens to commit crimes of violence against Americans," he wrote in another email to the outlet dated January 5, 2016.
The White House quickly defended Miller after the content of the emails was published. Press Secretary Stephanie Grisham attacked the Southern Poverty Law Center, a nonprofit legal advocacy group, as a "far-left smear organization." Deputy Press Secretary Hogan Gidley said that Miller "hates bigotry in all forms" and "loves this country."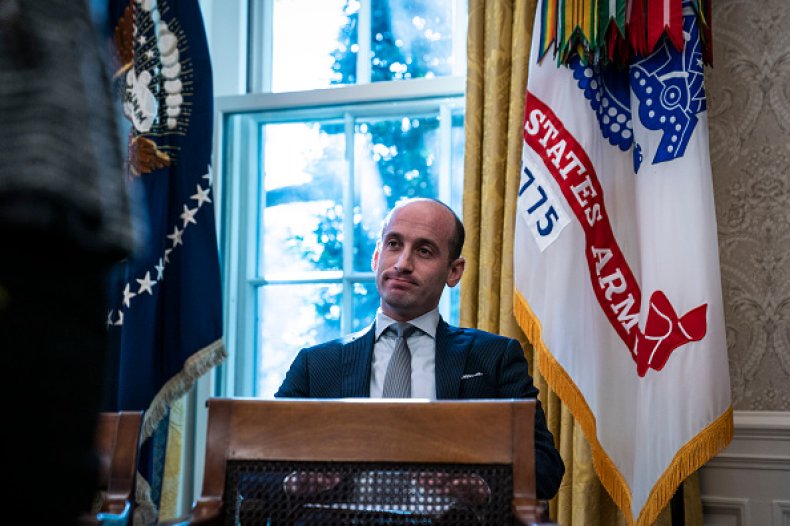 But lawmakers and advocacy groups have continued calling for the White House adviser to be removed, citing both the emails and Miller's controversial policies like the "zero tolerance" immigration rule that forced migrant children to be separated from their parents at the southern border and the Muslim travel ban.
A group of Democratic senators, including Coons, wrote in a letter to the White House on Monday that Miller is "unfit to serve in any capacity at the White House." The letter was first reported by HuffPost.
"Each and every one of these policies has a disproportionate adverse impact on communities of color and our country. Each and every one of them aligns with the white nationalist ideals espoused by Mr. Miller in his e-mails," the letter read.
Last month, following the release of Miller's emails, many civil rights groups led by the Leadership Conference on Civil and Human Rights wrote their own letter to the White House demanding that the adviser be ousted.
The groups wrote that "supporters of white supremacists and neo-Nazis should not be allowed to serve at any level of government."