Senator Chris Murphy Proposes Legislation for College Athletes to Profit Off Their Likeness
Connecticut Senator Chris Murphy proposed new legislation on Thursday that would allow college athletes to profit off of their name, image and likeness (NIL), following the announcement from EA Sports on the reboot of its college football video game series.
The proposed legislation, whose details were provided to Newsweek, is titled the 'College Athlete Freedom Act.' It was filed by Murphy along with Massachusetts Congresswoman Lori Trahan.
While the legislation seeks to create a federal right that would allow college athletes to market their NIL and athletic reputation, it also lists a number of other changes the lawmakers would like to see in college athletics. They include preventing the NCAA, colleges or conferences from imposing rules that would stop athletes from organizing as a group; allowing athletes to organize under a shared representative to negotiate group licensing agreements; imposing new enforcement provisions against the NCAA if they attempt to restrict athletes' NIL rights; and ensuring equal opportunities for athletes to profit off of their NIL regardless of sport, race and gender.
"The legislation Representative Trahan and I are introducing today provides unrestricted rights for college athletes to make money off their name, image and likeness by signing endorsement deals, running camps, or other means," Murphy said in an email sent to Newsweek. "It's simple: this is about restoring athletes' ownership over the use of their own names and likeness. They own their brand, not their school or the NCAA."
Murphy's statement added that while he loves college sports, "it's time to admit that something is very rotten when the industry makes $15 billion a year and many athletes can't afford to put food on the table or pay for a plane ticket for their parents to see them perform."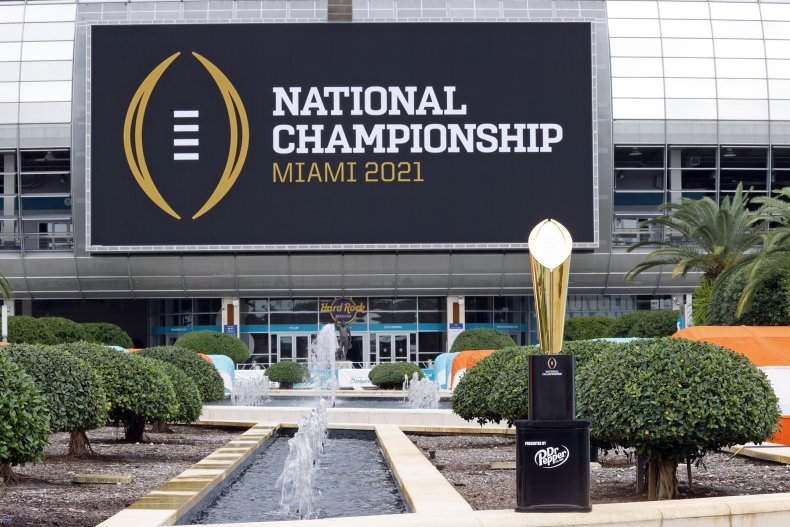 Trahan, who is a former Division 1 athlete, also released a statement on the proposed legislation. She noted that she is "all too familiar with the NCAA's business model" that has "utilized the guise of amateurism to justify obscene profitability while student athletes have struggled to get by."
"As leaders at the NCAA finally come to grips with the need for change, it's important that Congress enact reforms to establish and protect student-athletes' right to be compensated for the use of their name, image, likeness, or athletic association. The College Athlete Economic Freedom Act will do just that, and I'm proud to introduce this bicameral legislation with Senator Murphy," Trahan added in a statement sent to Newsweek via email from Murphy's office.
The proposed legislation by Murphy and Trahan comes shortly after EA Sports announced it was bringing back their college football video game series after being discontinued for almost a decade.
"We love the energy, tradition and pageantry of college football and I am beyond thrilled to say we are back in development. We have a lot of really exciting work ahead of us, and a great team that is eager to bring a new game to players in the next couple of years," Cam Weber, EA Sports EVP said in a press release.
The game was discontinued after its 2014 launch when EA Sports faced legal challenges. In 2009, former UCLA basketball player Ed O'Bannon sued the NCAA, the Collegiate Licensing Company (CLC) and EA Sports for using his likeness in its NCAA Basketball video game series without compensation. EA Sports and the CLC reached a settlement to pay O'Bannon $40 million in 2014.
Last month, the NCAA delayed its vote on proposed NIL rule changes following a warning of antitrust violations from the Department of Justice.
In an email sent to Newsweek, Donald Remy, NCAA chief legal officer, said: "The NCAA remains committed to modernizing its rules to enhance the college athlete experience, including allowing name, image and likeness opportunities similar to scenarios available to other students on campus."
"We will work with all interested members of Congress to help advance our shared interest to assure the American tradition of college athletics thrives in the 21st century and athletes are successful on the field, in the classroom and in life," Remy said.
Despite the proposed legislation by Murphy and Trahan, EA Sports does not plan for its upcoming video game to use players' NIL, and has signed a licensing deal with the several college football programs through the CLC, according to The Washington Post.
"In essence, that deal sidesteps the NCAA, which was dropped from the game's name in favor of the broader 'College Football' moniker," the Post reported.
Updated February 5, 2021, 9:49 a.m. ET, to include a statement from the NCAA.