Senator Chuck Schumer Faces Calls to Resign After Being Accused of Threatening Supreme Court Judges Over Abortion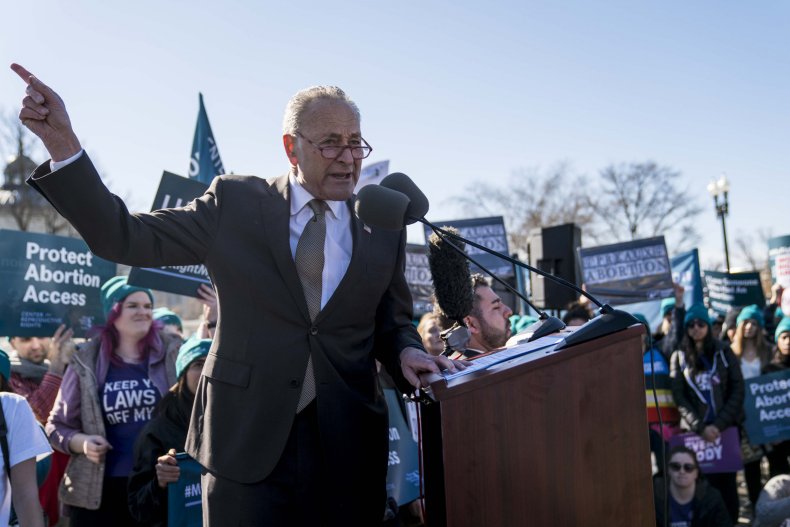 Democratic Senate Minority Leader Chuck Schumer has received strong criticism--including calls for his resignation--after he allegedly threatened Supreme Court Justices Brett Kavanaugh and Neil Gorsuch over their views on abortion.
"The Democratic Party is so radicalized on abortion politics that today Chuck Schumer threatened Justice Gorsuch and Justice Kavanaugh if they didn't strike down a simple, common-sense, pro-woman law that simply says that abortion doctors need to have admission privileges at a local hospital," Republican Senator Ben Sasse said in a statement. "Think about this: if a Republican threatened Justice Sotomayor or Justice Ginsburg, it would be the biggest story not just in Washington but all across America. But, Chuck Schumer's bully tactics aren't getting much air time right now because there's so many people in bed with his defense on abortion and his attack on an independent judiciary. These bully tactics need to be stopped."
Sasse's statement stems from comments Schumer made while holding a rally Wednesday outside of the Supreme Court, where he called out Kavanaugh and Gorsuch. While Schumer was outside of the court, the justices heard June Medical Services v. Russo, a case in which abortion providers were challenging a 2014 Louisiana state law that required abortion providers to have admitting privileges in a hospital within 30 miles of the abortion facility.
"I want to tell you Gorsuch, I want to tell you Kavanaugh, you have released the whirlwind and you will pay the price," Schumer said of the justices--regarded as conservative members of the court--on Wednesday. "You won't know what hit you if you go forward with these awful decisions."
Schumer's audience consisted of both pro-abortion and pro-life activists, who had very different views on the case at hand. Pro-abortion activists and those in support of June Medical Services argue that the law, the Unsafe Abortion Protection Act, would potentially eliminate abortion access in the state of Louisiana, while pro-life activists claim that the law helps to protect women from unsafe or unsanitary abortion provider practices.
"Let me ask you, my friends, are we going to let Republicans undo a woman's right to choose? Are we going to stay quiet as they try to turn back the clock? Are we going to give up or waiver when things get tough?" Schumer asked the crowd, with pro-abortion activists yelling, "No!"
"No, we are going to stand together in one voice and take a stand on behalf of women and families throughout the country. We are going to stand against all these attempts to restrict a woman's right to choose and we will win," Schumer added.
On the Senate floor Thursday morning, as reported by CNN, Schumer addressed the controversy, saying: "Now, I should not have used the words I used yesterday. They didn't come out the way I intended to. My point was that there would be political consequences, political consequences for President Trump and Senate Republicans if the Supreme Court, with the newly confirmed justices, stripped away a woman's right to choose."
Sasse was not the only notable figure to address Schumer's remarks about Gorsuch and Kavanaugh. President Donald Trump, Missouri Republican Senator Josh Hawley and Supreme Court Chief Justice John Roberts also spoke out against the New York senator. Meanwhile, Twitter followers have called for Schumer to step down in response to the comments, using the hashtag #SchumerResign.
"Justices know that criticism comes with the territory, but threatening statements of this sort from the highest levels of government are not only inappropriate, they are dangerous. All members of the court will continue to do their job, without fear or favor, from whatever quarter," Roberts said in a statement.
"There can be few things worse in a civilized, law abiding nation, than a United States Senator openly, and for all to see and hear, threatening the Supreme Court or its Justices. This is what Chuck Schumer just did. He must pay a service price for this," Trump wrote on his Twitter account.
"Now @chuckschumer is threatening Supreme Court Justices personally, to the point of implying their physical safety is endangered. Disgusting, shameful, and frankly, WEAK," Hawley wrote in a tweet. "I would call on Schumer to apologize, but we all know he has no shame. So tomorrow I will introduce a motion to censure Schumer for his pathetic attempts at intimidation of #SupremeCourt."
Newsweek reached out to Schumer's office for comment but did not receive a response in time for publication.
Updated 12:24 PM ET, with inclusion of Schumer's remarks on the Senate floor Thursday morning.