Senator Criticizes Veteran Center for Healthcare Job Openings Listing Vaccines as 'Optional'
Nebraska State Senator Carol Blood penned a letter on Monday asking Governor Pete Ricketts and Nebraska's Director of Veterans' Affairs John Hilgert about job postings for registered nurses in a skilled nursing care facility for veterans. These postings noted that there are no COVID-19 vaccine requirements.
The job advertisements were first brought to Blood's attention by a constituent who saw a posting online for the Eastern Nebraska Veterans' Home, which falls in Blood's district. Postcards were also mailed out with information about how to apply.
Upon seeing the posting, Blood got to work on her letter and sent it out by the end of the day.
"That was concerning because we had all of our medical entities say they were going to ask all of their workers to be vaccinated because of the Delta variant," Blood told Newsweek.
Several healthcare systems in Nebraska have announced they will require all employees to be vaccinated against COVID-19.
"My constituents are concerned because the people who enter into [the Eastern Nebraska Veterans' Home] have health issues," Blood said.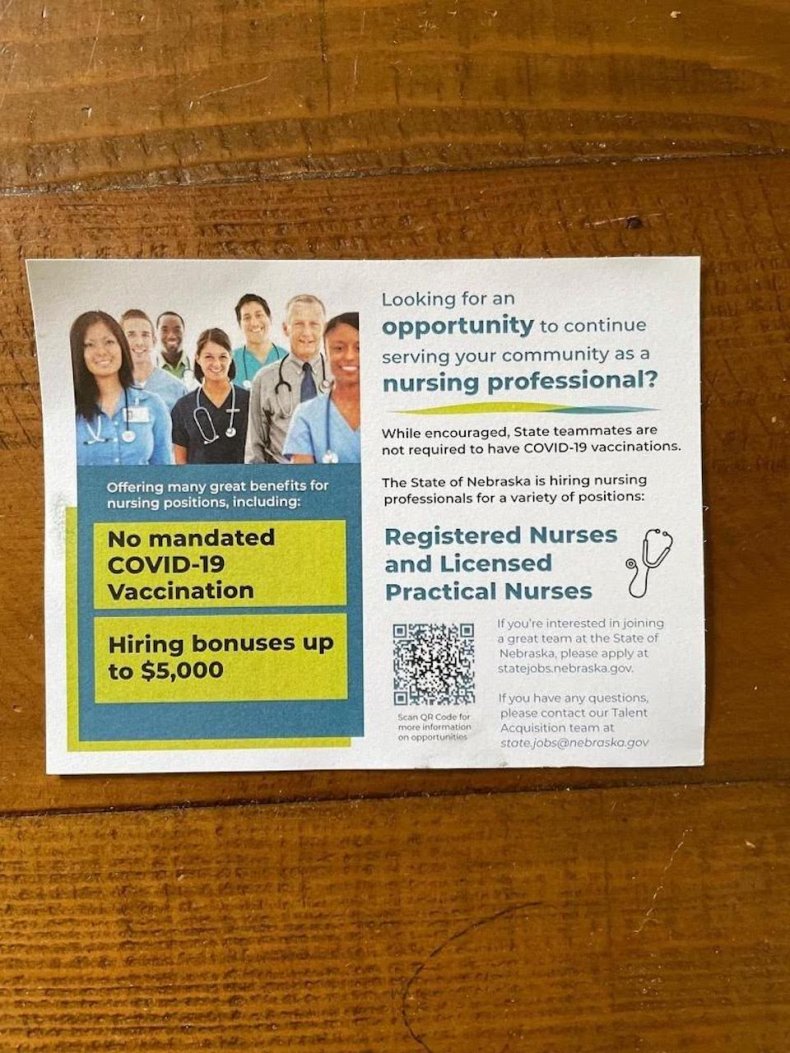 The state's job posting contradicts the United States Department of Veterans Affairs mandates among its medical employees.
In a July 26 press release, Veterans Affairs Secretary Denis McDonough outlined the reasons for the mandate among medical professionals, including physicians, dentists and registered nurses.
"We're mandating vaccines for Title 38 employees because it's the best way to keep Veterans safe, especially as the Delta variant spreads across the country," he said. "Whenever a veteran or VA employee sets foot in a VA facility, they deserve to know that we have done everything in our power to protect them from COVID-19. With this mandate, we can once again make—and keep—that fundamental promise."
Blood said while she supports an individual's personal freedoms, she believes it's important to prioritize the health and wellbeing of the veterans who don't have a say in who takes care of them.
"I do understand that we have a serious shortage of staff," Blood's letter read. "We also know that a part of these shortages are systemic issues under management. We've all received information from existing and past employees concerned with the workplace environment. With that said, putting those who live in facilities at risk because we need to find bodies to hire is not acceptable."
Blood concluded her letter asking for a response by August 27. She told Newsweek she has not yet heard from the governor or Hilgert.
Her letter received the support of a handful of her fellow legislators and said that not everyone was comfortable discussing the issue.
"The loudest group of people is not necessarily the majority," Blood told Newsweek. "I respect everyone's right and the right to protest, but when it comes to Nebraska's most vulnerable, I'm not going to stay silent, especially when it comes to our veterans."
Newsweek has reached out to Governor Pete Ricketts' office and John Hilgert but did not hear back by the time of publication.