Death Threats Against Kavanaugh Accuser Christine Blasey Ford Are 'Witness Tampering,' Senator Says
Senator Mazie Hirono of Hawaii said that the death threats that have been made against Christine Blasey Ford following her allegations that Brett Kavanaugh sexually assaulted her three decades ago should be treated as "witness tampering."
"We all know that she is being threatened. Isn't that witness tampering, isn't that a crime?" Hirono asked during an appearance on MSNBC's The Rachel Maddow Show Wednesday night.
Ford came into the national spotlight last week after her accusation that Kavanaugh, Donald Trump's nominee for the Supreme Court, had sexually assaulted her when they were both in high school became public. She has alleged that the judge pushed her down onto a bed and tried to pull down her bathing suit her while a friend of his, Mark Judge, looked on. Kavanaugh has called the allegations "completely false."
Ford's lawyers said that since going public with her allegation, their client had received multiple death threats, had her email hacked and been impersonated online. She and her family have also been forced to leave their home in California.
Because of the harassment, Ford wanted the FBI to investigate her allegations ahead of her testifying before the Senate Judiciary Committee to "ensure that the crucial facts and witnesses in this matter are assessed in a non-partisan manner," her attorneys wrote in a letter to the committee.
"Why does the FBI have to wait around for the president to say 'go do your jobs?' Why don't they do their jobs? I think there's a crime that is occurring right now," Hirono said.
Senator Chuck Grassley, the Republican chairman of the Senate Judiciary Committee, said that there was no reason to delay Ford's testimony for an investigation to be conducted. Grassley has pushed for Ford to testify as early as Monday.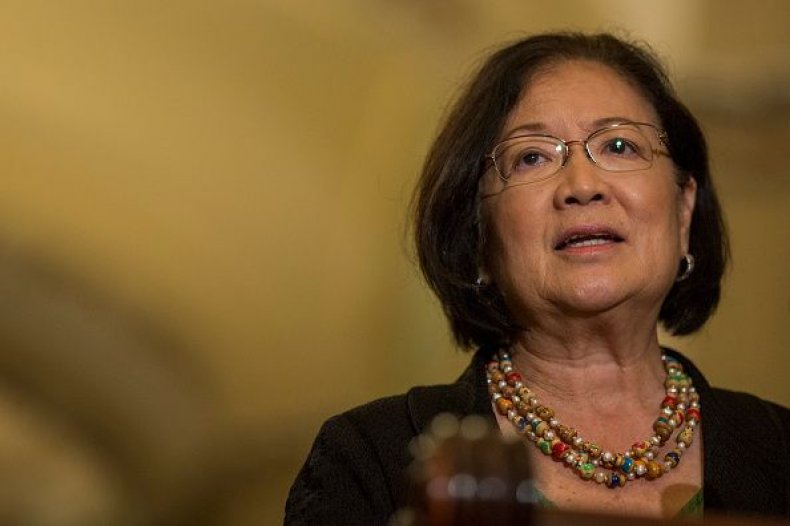 Hirono also slammed GOP senators for rushing to appoint Kavanaugh to the Supreme Court for politically motivated reasons.
"Anything that gets in the way of fast-tracking Judge Kavanaugh's ascent to the Supreme Court is not where the Republicans are," Hirono told Maddow. Conservative lawmakers are desperate to get the judge on the High Court before the October term begins so that he can provide a crucial fifth vote, she added.
The senator also accused Republicans of rushing the nomination so that Kavanaugh could protect President Trump.
"They are in a rush to get this man on the Court, why? Because for one thing the president is an unindicted co-conspirator and he would like to have somebody on the court who he thinks is going to protect him from criminal and civil proceedings while he is there sitting as president. That is a major incentive I'd say," Hirono told Maddow.
Republican lawmakers claim they have tried everything they can to reach out to Ford, but Hirono said that was "bullshit."
"That is such bullshit I can hardly stand it," Hirono told ABC News on Wednesday.