Chaos in the Trump White House is Being Met With "Silence of the Lambs" from GOP, Senator Says
Senate Minority Leader Dick Durbin, a Democrat from Illinois, slammed the Republican party on Sunday for its lack of response to a stream of reports of chaos, incompetence and dysfunction within President Donald Trump's administration.
While appearing on NBC's Meet the Press, Durbin referred to the GOP's muted response as the "silence of the lambs."
"We are talking about consistent reporting, over and over again, about unpredictable, unprepared, unstable behavior by this president," Durbin said. "In a matter of great national security and defense, can we trust this president to make the proper decision? To make a thoughtful decision? These are things that I think should be a addressed by his own party, but instead, we hear the silence of the lambs."
Durbin suggested the GOP is "basically quiet, have nothing to say when it comes to these events except for a few."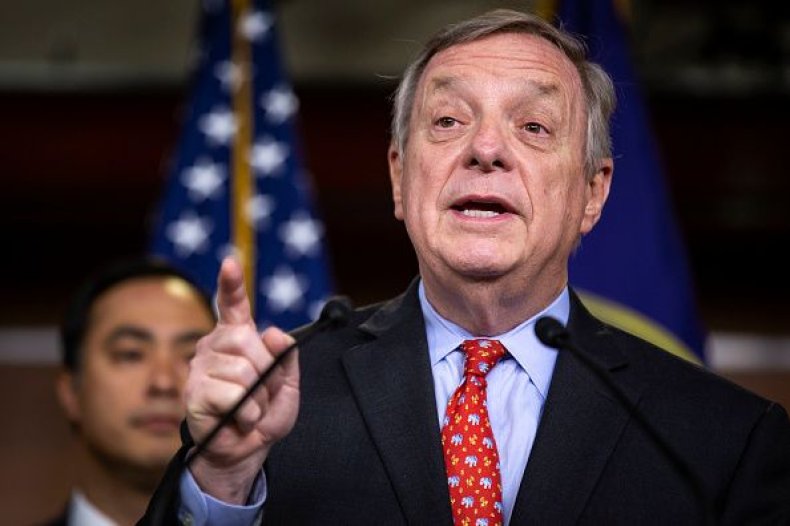 Last week an anonymous New York Times' op-ed claimed there were some members of Trump's White House that were covertly resisting the president's agendas.
Following the release of the article on Wednesday, some people on social media speculated Vice President Mike Pence was behind the article. Pence's spokesperson denied the claims on Thursday. Then Pence cleared his staff of having any involvement in the op-ed while appearing in an interview with Face the Nation on Sunday.
"Let me be very clear, I'm 100 percent confident that no one on the vice president's staff was involved in this anonymous editorial," Pence said. "I know my people … They get up every day and are dedicated, just as much as I am, to advancing the president's agenda and supporting everything the President Trump is doing for the people of this country."
The vice president admitted he didn't even ask his staff if they had any involvement in the article.
"Honestly, I don't have to ask them because I know them. I know their character. I know their dedication and I am absolutely confident that no one on the vice president's staff had anything to do with this. But that being said, you know, whoever this was they should do the honorable thing and resign," he said.