Senator Elizabeth Warren Refuses Post-Debate Handshake With Senator Bernie Sanders
After the first Democratic debate of 2020, held in Des Moines, Iowa on Tuesday night, the candidates all shook hands with each other as is customary—except for Senator Bernie Sanders of Vermont, who was rebuffed when he offered a handshake to Senator Elizabeth Warren of Massachusetts.
In the last 30 seconds of debate footage, Sanders shakes hands with former Vice President Joe Biden, standing directly to Sanders' right, as well as former South Bend, Indiana mayor Pete Buttigieg and Senator Amy Klobuchar of Minnesota, the candidates who were placed on Sanders' left. But when he turns to shake Warren's hand, Warren ignores his outstretched right hand, instead choosing to clasp her hands together and talk to the senator from Vermont.
The microphones were off during their exchange, but from their facial expressions, it appeared the moment was somewhat tense. It was interrupted by billionaire Tom Steyer, who listened in for a few seconds, before interrupting to shake Sanders' hand.
Earlier during the debate, CNN White House Correspondent Abby Phillip asked Sanders and Warren about the recent controversy over a comment Sanders is accused of making during a private meeting between the two senators. Warren said that Sanders told her that a woman couldn't win a presidential election; Sanders denies he made the statement.
When Phillip asked Sanders if he'd made the comment, Sanders again denied it, pointing out that he'd said the exact opposite earlier in his political career.
"Well, as a matter of fact I didn't say it," Sanders said. "Anybody who knows me knows that it's incomprehensible that I would think that a woman cannot be president of the United States. Go to YouTube today. There's some video of me 30 years ago talking about how a woman could become president of the United States."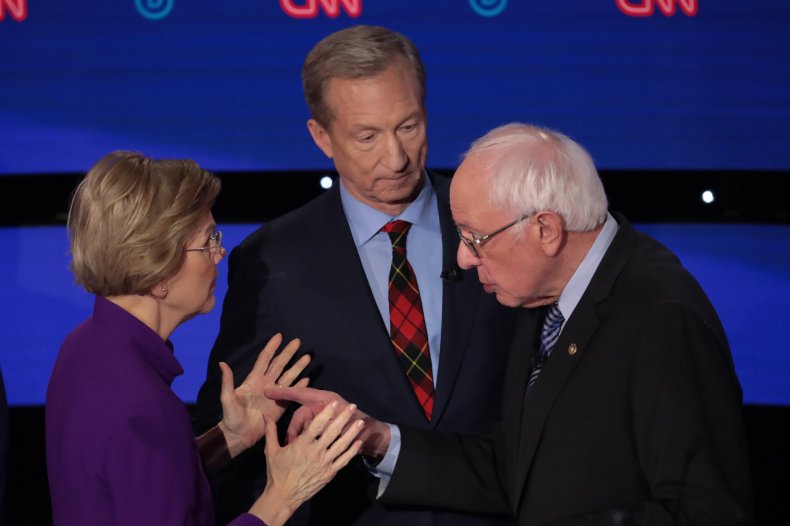 Sanders also pointed out that Hillary Clinton won the popular vote during the 2016 election by 3 million votes.
"How could anybody in a million years not believe that a woman could become president of the United States?" Sanders asked.
Phillip then asked Warren how she felt when Sanders told her a woman couldn't be president.
"I disagreed," Warren replied. "Bernie is my friend and I am not here to try to fight with Bernie."
"I think the best way to talk about who can win is by looking at peoples' winning record," she added. "Can a woman beat Donald Trump? Look at the men on this stage. Collectively, they have lost ten elections."
Warren and Sanders are both seen as the most progressive candidates in the race. In recent polls, Sanders has overtaken Warren, though most Sanders supporters tell pollsters that Warren is their second choice. Many Warren supporters have mirrored their Sanders-supporting counterparts, telling pollsters the Vermont senator is their second-choice pick.