Senator Feinstein's Encryption Bill: In California but Not of It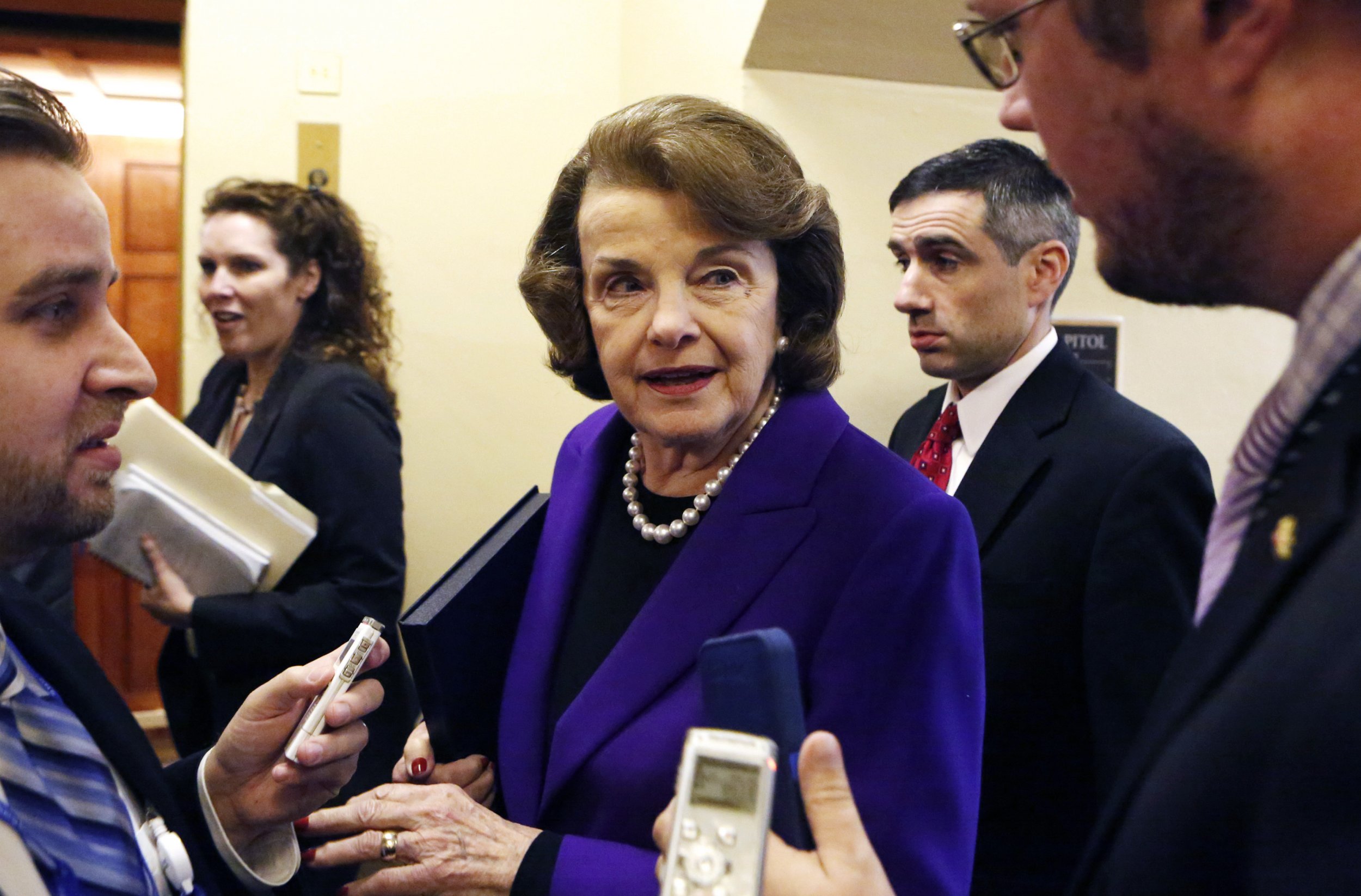 Updated | The long-awaited bipartisan encryption bill proposed by Senators Richard Burr (R-N.C.) and Dianne Feinstein (D-Calif.) officially made its debut on Thursday, but the court of public opinion made its verdict when it was leaked last weekend.
Both the leaked and the slightly revised official drafts of the bill have been excoriated by the tech industry. The official draft—known formally as the Compliance With Court Orders Act of 2016—seeks to significantly weaken secure communications, like end-to-end encryption, by giving the government power to force companies to decrypt their data or provide technical assistance if the courts issue a warrant for "serious crimes."
The bill seeks to demolish all the arguments Apple has made in its refusal to cooperate with the FBI in decrypting the San Bernardino, California, shooter's iPhone. "There is no olive branch or an open door for compromise," Julie Samuels, executive director of Engine, an advocacy organization for tech startups and entrepreneurs, tells Newsweek. "This bill will unequivocally break encryption."
While reviled in Silicon Valley, the bill was warmly received by law enforcement officials.
"On behalf of state and local law enforcement agencies and crime victims nationwide, I thank Senators Burr and Feinstein for their ongoing work on this comprehensive, bipartisan legislation," said Manhattan District Attorney Cyrus Vance Jr. in a statement. "The draft U.S. Senate bill currently under discussion restores the authority of neutral judges to require meaningful compliance with their orders."
The Burr-Feinstein bill, however, is most likely dead already. Reuters reported the White House declined to support the bill, and Senator Ron Wyden has publicly come out against the bill and said he will filibuster the bill if reached on Senate floor.
In the crosshairs of Silicon Valley's wrath, Feinstein—who with Burr chairs the Senate Intelligence Committee—received the larger share of criticism, mainly because of her Bay Area roots. The San Francisco-born, Stanford-educated Feinstein was mayor of San Francisco for 10 years and became senator in 1992. Many on Twitter pointed out the irony that the arguably most famous Californian politician in the national landscape was leading the charge in the anti-encryption movement in Congress.
Pro-encryption academics, advocates and tech workers urged not donating or endorsing the 82-year-old senator from now until her next Senate race in 2018—should she decide to run again.
"Feinstein in particular should know better," Nicholas Weaver, a cybersecurity researcher at UC Berkeley's International Computer Science Institute, tells Newsweek. "She is supposed to represent the people of the state of California, and the people who understand computer security in the state have clearly not been consulted as the bill is universally reviled in the computer security community for its ridiculousness."
Newsweek reached out to Feinstein's office to ask if any computer security experts have been consulted in the bill, but has not heard back.
Samuels expressed doubts that even a united Silicon Valley coalition in 2018—with all its money and influence—can strip Feinstein from the Senate. "She is powerful in the Senate and so entrenched in California," Samuels says. "It's hard to imagine to unseating Feinstein, but that makes it all the more disappointing."
Feinstein has not stated if she will run for her fifth term but has put out feelers to her donors and voters in the past year . An October 2015 poll found 44 percent of Californians approving Feinstein's performance compared to 29 percent who did not. The same poll, however, found 43 percent of people thought it is a bad idea for her to run again.
But Vivek Wadhwa, the entrepreneur-turned-Stanford-academic who writes columns for The Washington Post, believes the criticism against Feinstein is coming from a small minority of dissenters in Silicon Valley. He believes that tech companies, and the valley as a whole, are more in line with Feinstein's stance on encryption than they publicly portray. "Feinstein knows what she is doing and is in touch with the realities and the views of her constituents," Wadhwa tells Newsweek.
The article originally misspelled Vivek Wadhwa's name.