Senator Jeff Merkley Says Border Situation 'Approaching' Crisis After WH Declines to Use Label
Democratic Senator Jeff Merkley of Oregon cautioned that the situation unfolding at the U.S. border with Mexico is "approaching a crisis," after the White House declined repeatedly to label the immigration issue a "crisis."
Since President Joe Biden has taken office, there has been a surge of Central American migrants coming to the U.S. border as many see the change of administrations as a sign that they'll be allowed to enter. Although Biden administration officials have repeatedly discouraged more migrants from coming, thousands of unaccompanied minors have been admitted and detained by Customs and Border Patrol. These children are intended to be processed quickly and placed into care homes, but the massive number has caused delays.
"Well, it's approaching a crisis," Merkley said Thursday morning during an interview with CNN. "What we have is a surge of children—more than half of them were the children that were stranded for months, some for years by the Trump administration in Mexico under completely intolerable circumstances. Now that the border is not closed, they're knocking on our door."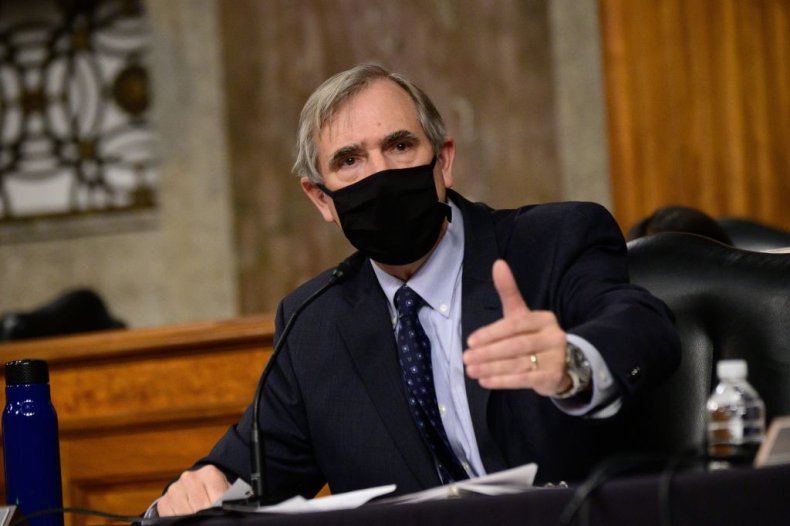 Merkley blamed the policies of former President Donald Trump for exacerbating the current problem. "You didn't have, essentially, the systems in place under the Trump administration. And the Biden administration is creating those systems, and they're doing it with a completely different vision," he said.
Notably, White House officials have avoided using the word crisis to describe the unfolding situation.
"Look, I don't think we need to sit here and put new labels on what we have already conveyed is challenging, what we have conveyed is a top priority for the president," White House press secretary Jen Psaki said on Tuesday during a press briefing when asked about whether the situation was a "crisis."
Roberta Jacobson, the White House coordinator for the Southern border, pushed back against the term in Wednesday remarks as well.
"You know, I think the—I really—I'm not trying to be cute here, but I think the fact of the matter is we have to do what we do regardless of what anybody calls the situation. And the fact is, we are all focused on improving the situation, on changing to a more humane and efficient system," Jacobson said. "And whatever you call it wouldn't change what we're doing, because we have urgency from the president on down to fix our system and make sure that we are better at dealing with the hopes and the dreams of these migrants in their home country."
The Biden administration is working to reform controversial and internationally condemned borders policies implemented under the former administration. One of Trump's most controversial policies involved separating migrant children from their parents when they were detained after crossing the border. Although that policy was eventually ended after national and international backlash, hundreds of those children remain separated from their families to this day. Biden has vowed to work to reunite those families.
The surge in unaccompanied minors has also led to record numbers of migrant children being held in detention centers. Some have raised concerns that Biden, like Trump, is putting kids in cages, but administration officials insist that the detainment is temporary and that they will be placed with caretakers. However, there have been delays due to the surge in new arrivals.
Newsweek reached out to the White House for comment but did not immediately receive a response.