As Senator, Joe Biden Opposed GOP Debt Ceiling Votes and Mitch McConnell Hasn't Forgotten
On Monday, President Joe Biden made an impassioned plea for Republicans to support an increase in the debt ceiling, asking them to "stop playing Russian roulette with the American economy." He accused Republicans of "hypocritical, dangerous and disgraceful" partisanship—but 15 years ago, the shoe was very much on the other foot.
Then-Senator Joe Biden refused to support a GOP-led effort to increase the debt ceiling, making arguments that closely reflect those advanced by Mitch McConnell and the Republican Party today.
"My vote against the debt limit increase cannot change the fact that we have incurred this debt already, and will no doubt incur more," Senator Biden said following his "nay" vote in 2006. "It is a statement that I refuse to be associated with the policies that brought us to this point."
McConnell was quick to point out the irony in his letter to President Biden on Monday.
"You explained on the Senate floor that your 'no' votes did not mean you wanted the majority to let the country default, but rather that the President's party had to take responsibility for a policy agenda which you opposed," McConnell wrote. "Your view then is our view now."
The Senate Minority Leader, a Kentucky Republican, recalled three times Biden objected to debt ceiling increases during President George W. Bush's time in office. For every objection—one each in 2003, 2004 and 2006—the Republican White House had support from congressional Republicans, who held majorities in both the House and Senate at the time.
When he was a senator from Delaware in May 2003, Biden voted against a debt limit increase alongside 42 other Democrats and one Republican. However, Biden had voted in favor of an amendment that proposed reducing "the amount by which the statutory limit on the public debt is increased." The White House referred Newsweek to Biden's support for the 2003 amendment, which ultimately did not pass, when contacted for comment on Monday.
The next year, Biden missed a vote on raising the debt ceiling in November 2004 but later said he would have voted against it if he had been present. At the time, Biden requested his objection to the vote be printed in the congressional record to confirm his intent to "cast a symbolic vote" against it, saying the "fiscal mess" was "the inevitable outcome of policies that consistently ignored evidence and experience."
"My symbolic vote against raising the debt limit would have been a protest of the policies that have brought us to this point, and a demand that we change course," Biden said at the time.
Biden subsequently joined all Senate Democrats and three Senate Republicans in voting against an additional increase of the debt limit in March 2006.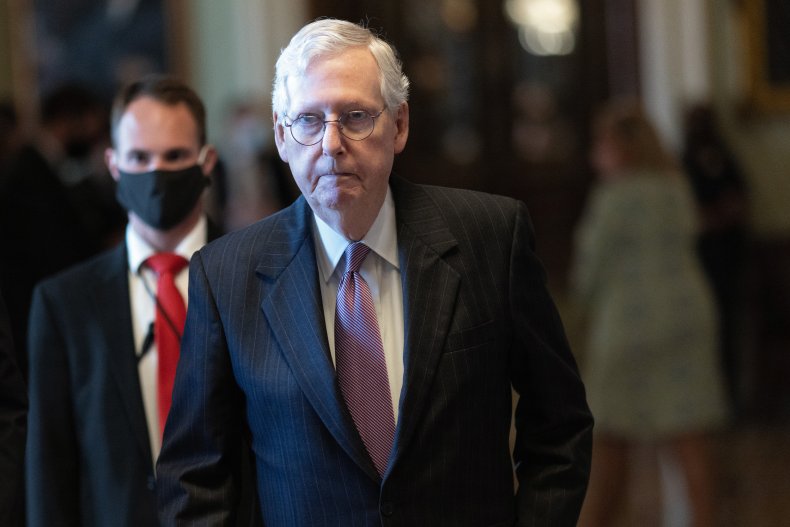 The even more partisan atmosphere in Washington 15 years later has made debt ceiling negotiations more fraught.
Treasury Department Secretary Janet Yellen last week told Congress the department "would be left with very limited resources" after October 18 if the federal government's debt limit is not raised by that time.
"It is uncertain whether we could continue to meet all the nation's commitments after that date," Yellen said in a letter addressed to congressional leaders in the House and Senate.
While Democrats have pushed to raise the debt ceiling in recent weeks, their Republican colleagues have refused to join them. Biden on Monday pointed to the bipartisan votes on recent debt ceiling increases under former President Donald Trump.
"I hope we can have some intelligent and honest conversation about what he's proposing," Biden told reporters. "I think the easiest way to do this—and if the Republicans would not use the filibuster—would be to let us vote on what is already in the Senate right now, passed by the House, to raise the debt limit. And we can do that in the next several days."
McConnell wrote that partisanship during debt limit negotiations is "not unusual," pointing to the votes in 2003, 2004 and 2006 as examples, and said it is possible for Democrats to approve the debt ceiling increase on their own through the reconciliation process since Democrats have slight majorities in both chambers of Congress.
McConnell identified the reconciliation option as the "one difference between then and now."
"Democrats do not need our consent to set a vote at 51 instead of 60," McConnell wrote. "Nonpartisan experts confirm that Senate Democrats have every necessary tool to pass a standalone debt limit increase through reconciliation and enough time to do it before late October."
During a Monday press briefing, Biden said he received McConnell's letter minutes before arriving to address reporters at the White House. Biden said he had read McConnell's letter and planned to discuss its contents with the Republican senator.
When contacted for further comment, the White House pointed Newsweek to Biden's Monday press briefing, as well as comments Press Secretary Jen Psaki made separately about McConnell "refusing" to "pay the debts of what were rung up under his leadership when he was in the Senate" during Trump's presidency.
"The debt limit is about paying for bills we have already spent," Psaki said. "It is not about initiatives that we're talking about and debating now."
Psaki said Biden is "open" to a conversation with McConnell about the debt ceiling but added the debt ceiling debate is "not a negotiation."
"What is very clear here is that the cleanest, easiest, fastest way to get this done is by the Republicans allowing Democrats to move forward with a vote," Psaki said. "They can do that tomorrow, and we can reduce the uncertainty for the American people."