Senator John McCain: I'm Retiring So 'I Can Speak My Mind Without Fearing the Consequences'
Arizona Republican Senator John McCain announced in his upcoming book that he will retire after his current term, a decision which has liberated him to speak his mind about how he sees America's political climate.
McCain, 81, revealed last July that he had been diagnosed with terminal brain cancer after a blood clot procedure revealed a malignant tumor.
"This is my last term," McCain wrote in an excerpt of his upcoming book The Restless Wave, that was posted Monday on Apple News. "If I hadn't admitted that to myself before this summer, a stage 4 cancer diagnosis acts as ungentle persuasion."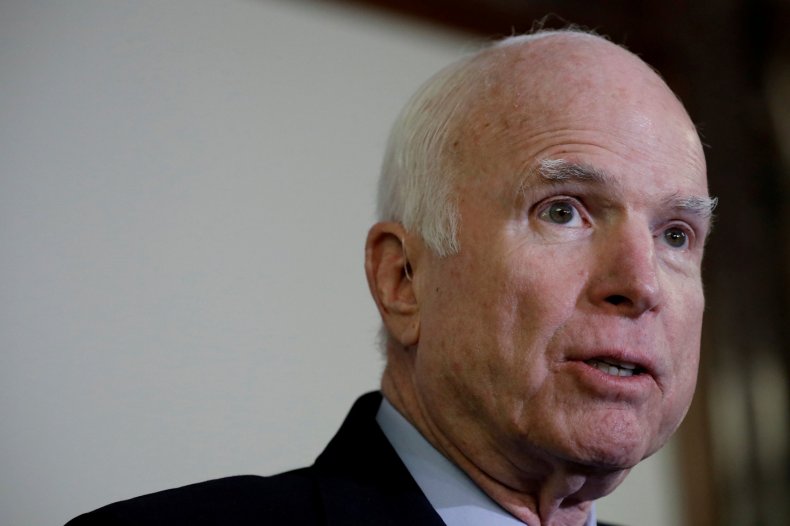 "I'm freer than colleagues who will face the voters again. I can speak my mind without fearing the consequences much. And I can vote my conscience without worry."
McCain added: "I don't think I'm free to disregard my constituents' wishes, far from it. I don't feel excused from keeping pledges I made. Nor do I wish to harm my party's prospects. But I do feel a pressing responsibility to give Americans my best judgment."
The Arizona Republican goes on to write about his thoughts on President Donald Trump, who once mocked the war hero for being captured after his plane was shot down while flying over Vietnam. "I like people that weren't captured," Trump said in 2015.
McCain wrote that Trump has "declined to distinguish the actions of our government from the crimes of despotic ones. The appearance of toughness, or a reality show facsimile of toughness, seems to matter more than any of our values. I would like to see us recover our sense that we are more alike than different."
McCain also addressed his illness and battle with brain cancer. "'The world is a fine place and worth the fighting for and I hate very much to leave it,' spoke my hero, Robert Jordan, in For Whom the Bell Tolls," he wrote.
"And I do, too. I hate to leave it. But I don't have a complaint. Not one. It's been quite a ride. I've known great passions, seen amazing wonders, fought in a war, and helped make a peace. I made a small place for myself in the story of America and the history of my times."
McCain has never hidden his distaste for Trump. In November, the Republican claimed the president lacked "principles and beliefs" and just "takes advantage of situations."