Senator Joni Ernst Says She Was Raped by Boyfriend While in College: 'He Was Physically and Sexually Abusive'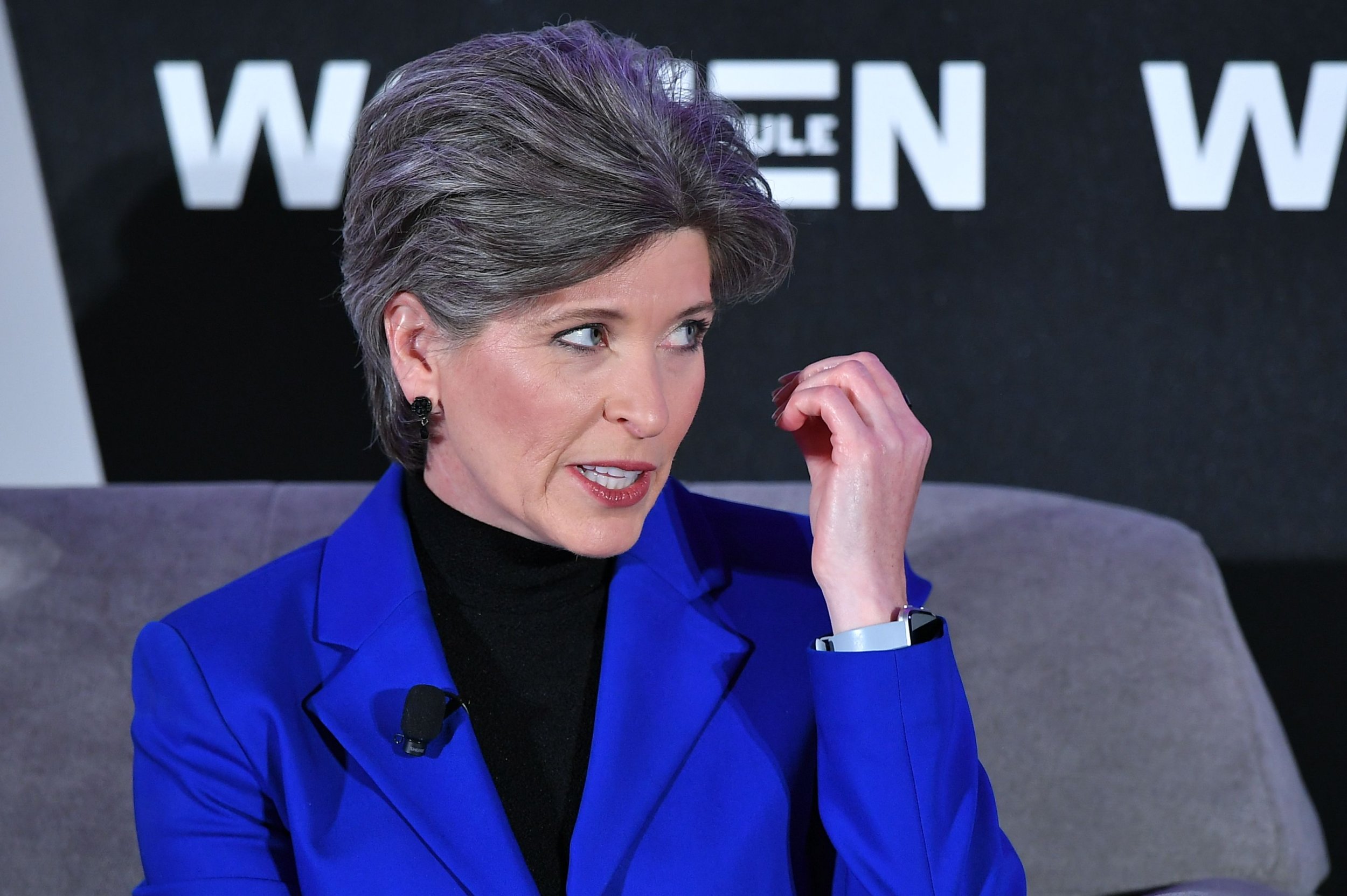 Republican Senator Joni Ernst of Iowa said Wednesday she was raped in college by a boyfriend, after details of her allegedly abusive marriage to her husband, Gail Ernst, were reported in the media this week.
Ernst, the fourth-highest ranking Republican in the Senate, told Bloomberg News she was sexually assaulted by someone she knew while she attended Iowa State University. She said the man, whom she did not name, was physically and verbally abusive during their relationship and threatened to kill himself if she left him. She ended their relationship but said she did not report the attack to police.
"I was embarrassed," she told Bloomberg News. "I didn't know how to explain it. I was so humiliated. And I'm a private person, when it comes to those things."
The statement by Ernst came during a week of intense media coverage due to Ernst's divorce documents being made public in accordance with state law. The papers state that Ernst accused her husband of being physically, mentally and verbally abusive toward her and that he had an affair with a former girlfriend. Gail Ernst accused the senator of having an affair with a soldier under her command while she was deployed as a company commander in Kuwait.
"I didn't want to share it with anybody, and in the era of #MeToo survivors, I always believed that every person is different and they will confront their demons when they're ready," Ernst told Bloomberg News in regard to discussing the details of the divorce case. "And I was not ready."
Ernst described an alleged incident in which her husband attacked her after getting into an argument about their babysitter around 2007 or 2008.
"He turned around at the landing, and he grabbed me by the throat with his hands and threw me on the landing floor," she told Bloomberg News. "And then he pounded my head…on the landing. It was very sudden and very violent. It scared me."
According to his affidavit, Gail Ernst did not respond to the physical abuse allegations but did deny ever having an affair. "I've never even danced with any other woman before I filed for divorce," he wrote, according to reports.
The senator also denied claims she had an affair with a solider in 2003, saying she took her role as company commander for the National Guard "very, very seriously," reports The Des Moines Register.
Ernst's statements may incite further questions regarding her support of Brett Kavanaugh, President Donald Trump's nominee for the Supreme Court. Christine Blasey Ford accused him of sexual assault in a hearing before the Senate Judiciary Committee that divided the nation.
"I do believe she experienced trauma, but the evidence and witnesses presented by her contradicted her story," Ernst told Bloomberg News. "I don't believe Justice Kavanaugh was the source of her trauma."
The senator also remains an ally of Trump, despite the numerous allegations of sexual misconduct against him.
Ernst also publicly addressed the accusations aimed at both her and her husband in the divorce papers during a town hall meeting in Cedar Falls, Iowa, on January 23.
"What happened in our private life has now become public consumption," she said, reports the Muscatine Journal. "I am a survivor. But what I want people to understand is that I am the same person as I was last week. You just know more about what's inside of me now."
The pair announced in August 2018 that they were separating. Joni and Gail Ernst's divorce was finalized this month.