Lindsey Graham Gambles Republicans' Midterm Victory on 15-week Abortion Ban
Senator Lindsey Graham's bill to ban abortion federally after 15 weeks could further put Republican midterm victories at risk as the party faces political backlash over the Supreme Court's overturning of Roe v. Wade.
Graham, a South Carolina Republican, announced a bill on Tuesday to ban abortions nationwide after the time limit, except in cases of rape or incest, or to save the life of the mother. The proposed legislation comes as Republicans have already seen dropping poll numbers since the Supreme Court's June 24 ruling, which stripped away reproductive rights in many Republican-leaning states.
Republicans once hoped President Joe Biden's lagging approval numbers would propel them to a strong midterm victory, but recent polling indicates their hardline stance on abortion has seen their leads evaporate. Graham's 15-week abortion ban bill could put Republican candidates in competitive races in a tight spot as they try to strike a balance between motivating their conservative base while not alienating moderate, independent voters on abortion.
Graham defended introducing the bill during a press conference Tuesday, pointing to a number of other issues that he believes could boost Republicans ahead in November, in spite of abortion policy backlash.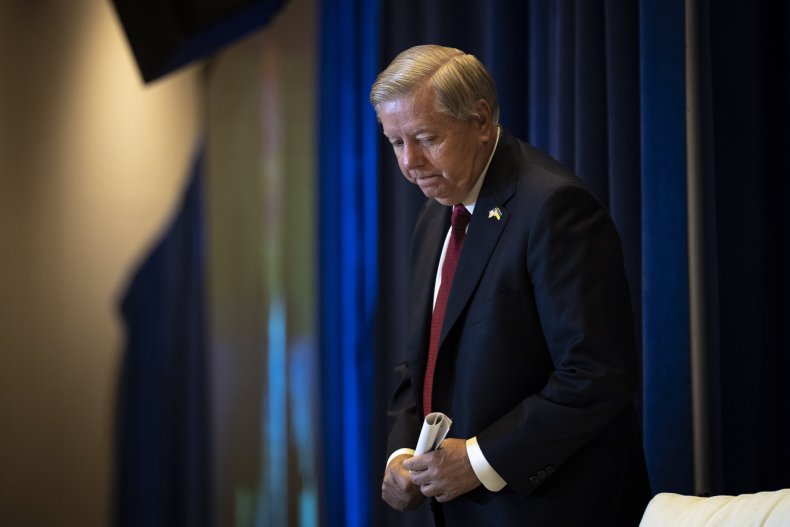 "We're gonna have an election in 2022. The inflation report today was, in my view, bad news for the American consumer. Inflation's not getting better anytime soon. In fact it's going to get worse. Crime is on the rise. We have a broken border," he said. "But having said all that, the abortion issue in America has always been part of our political discourse. It will continue to be."
A Wall Street Journal poll released September 3 found 57 percent of Americans opposed a 15-week abortion ban, while about one-quarter of respondents supported it. Polls have generally found Americans reporting increased support for abortion rights, though many still also want guardrails.
Internationally, time limits vary. In England, abortions have been decriminalized up to 24 weeks, if two doctors say a pregnancy would be harmful to the mother's physical or mental health. In China, abortion is legally available without a specified gestational limit in cases where the mother or fetus is at risk, according to the Center for Reproductive Rights, although individual provinces have set time limits. In the Philippines, abortion is illegal unless the mother's life is at risk.
Democrats saw a polling bump after the overturning of Roe. On June 24, Republicans led Democrats by about 2.3 points, according to a general ballot polling aggregate by FiveThirtyEight. On Tuesday, Democrats held a 1.3-point advantage over Republicans.
The first major test of the ruling's popularity came in Kansas, a conservative state that reliably votes for Republicans at the federal level. A proposed amendment that would have removed abortion rights guarantees from the state constitution failed in August by 18 percentage points, a sign that rolling back abortion rights would be unpopular with large swaths of the electorate.
Democrats over-performed in recent special elections while campaigning on protecting abortion rights. Democrat Pat Ryan, for instance, credited pledges to protect abortion rights for his victory in a competitive New York special election in August.
When Is Senator Graham Up for Reelection?
Any backlash Republicans face over the bill may not affect Graham, as he represents solidly Republican South Carolina and is not up for reelection until 2026. He most recently won reelection in 2020, defeating his Democratic challenger Jaime Harrison by just over 10 points.
Republican Admits Abortion Is "Political Minefield"
Some Republicans have admitted to challenges surrounding abortion. South Carolina state Representative Bill Taylor, considered to be one of the state's biggest anti-abortion legislators, called efforts to ban abortion a "political minefield" in a statement to constituents in August.
Graham's bill is unlikely to pass. Democrats currently hold a majority in the Senate due to Vice President Kamala Harris' tie-breaking vote. Even if Republicans win a Senate majority, the bill would need to clear the 60-vote filibuster. Doing so would be nearly impossible because several Republican senators support abortion rights.
Newsweek reached out to the Republican National Committee for comment.
Update 09/13/2022, 6:20 p.m. ET: This article was updated with international comparisons.