Senator Lindsey Graham: 'The Slut Whore Drunk was Kavanaugh' not Christine Blasey Ford
Republican Senator Lindsey Graham said that during Brett Kavanaugh's confirmation hearings "roles were reversed" and the judge became the "slut whore drunk" in the account of the woman who accused him of sexual assault.
In remarks quoted by NBC News, the South Carolina senator was asked whether he thought victims would be less likely to come forward with allegations of sexual assault after Kavanaugh's nomination was approved by the Senate Saturday.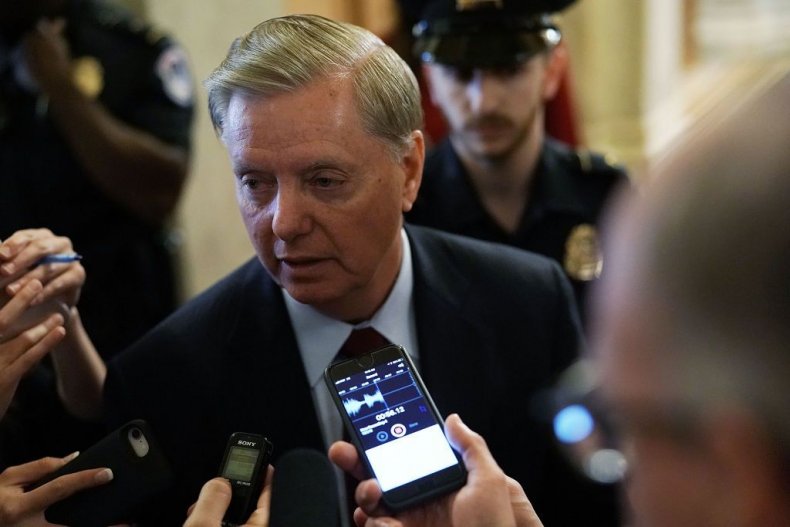 Kavanaugh was confirmed despite Dr Christine Blasey Ford alleging in testimony to the Senate that he had sexually assaulted her when they were high school students in the 1980s. Kavanaugh denied her allegations.
Graham remarked that he thought Ford was "treated well" by the Senate Judiciary Committee.
"I think the roles were reversed: The slut whore drunk was Kavanaugh," he said.
"I've tried to look at this thing through a process that stood the test of time — some standards, some presumptions, some evidentiary requirements," Graham said, while noting his experience dealing with rape cases as a judge.
"All I can say is that seldom do you advance justice by creating an injustice, and I think it would have been unjust for Judge Kavanaugh to have his life ruined based on the allegations that were presented," Graham continued.
"Dr. Ford, I think, is the victim of a process," the senator said. "But we've got to have some verifications, some sense of balance, because if that's enough, just the mere accusation, then you're going to unleash Pandora's Box here. Because those of us in public service, you should be scrutinized but you don't want to set a standard where you just take anybody out by accusing them."
In a series of tweets after Kavanaugh's nomination was confirmed, Graham celebrated the result of the vote.
"I'm not tired of winning……..Victory!" tweeted Graham, in a seeming reference to Trump's claim that supporters would get "tired" of winning.
He described Kavanaugh as "exactly the right person, at the right time to service on the Supreme Court." and thanked Trump "for the good judgment in selecting Judge Kavanaugh and the toughness and determination to stick by his side and see it through to Victory!"
Supreme Court Chief Justice John Roberts and former Justice Anthony Kennedy swore Kavanaugh in to his role in the Supreme Court in a private ceremony Saturday after the Senate confirmed him in a 50-48 vote.