Senator Lindsey Graham Criticizes White House Aide's "Disgusting" Dying Quip About John McCain
Republican Senator Lindsey Graham has criticized the White House for refusing to issue an apology after an aide made a dismissive quip about Senator John McCain's terminal illness.
White House staffer Kelly Sadler in a meeting last week reportedly dismissed Arizona Republican McCain's opposition to the nomination of Gina Haspel as CIA chief over her use of torture during George W. Bush's "war on terror."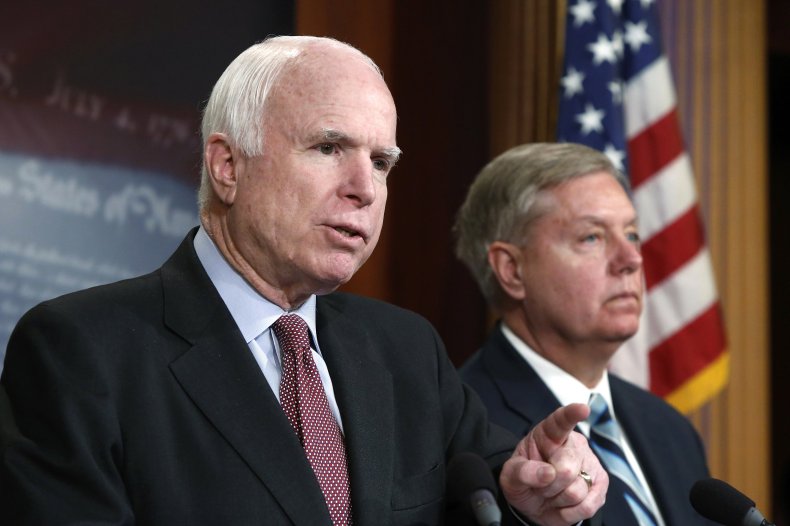 "Doesn't matter, he's dying anyway," Sadler reportedly told colleagues in the meeting.
McCain, 81, was diagnosed with a brain tumor last July, and is spending time with family and friends in Arizona.
In an interview with Face the Nation to be aired Sunday, Graham appealed to the White to an issue a public apology for Sadler's remarks, which he described as "pretty disgusting."
"If it was a joke, it was a terrible joke," the Republican from South Carolina said.
"I just wish somebody from the White House would tell the country that was inappropriate, that's not who we are in the Trump administration," he told interviewer Margaret Brennan.
Graham was asked if he thought President Donald Trump should issue an apology himself.
"I'll leave that up to him, but if something happened like that in my office — somebody in my office said such a, such a thing about somebody, I would apologize on behalf of the office," Graham said.
Sadler's comments have brought widespread criticism from both Republicans and Democrats, with former Vice President Joe Biden claiming Friday that the remarks showed that "decency" in Trump's White House had hit "rock bottom."
White House press secretary Sarah Sanders in a briefing Friday refused to apologize for Sadler's remarks.
On Saturday, White House budget director Mick Mulvaney said press aide Sadler's remarks were an inept joke, that had been leaked to the press to undermine his status.
"This was a private meeting inside the White House," Mulvaney said on Fox News. "It was a joke. It was a badly considered joke, an awful joke that she said fell flat."