Concealed Carry Reciprocity: Why a Virginia Democrat's Opposition Matters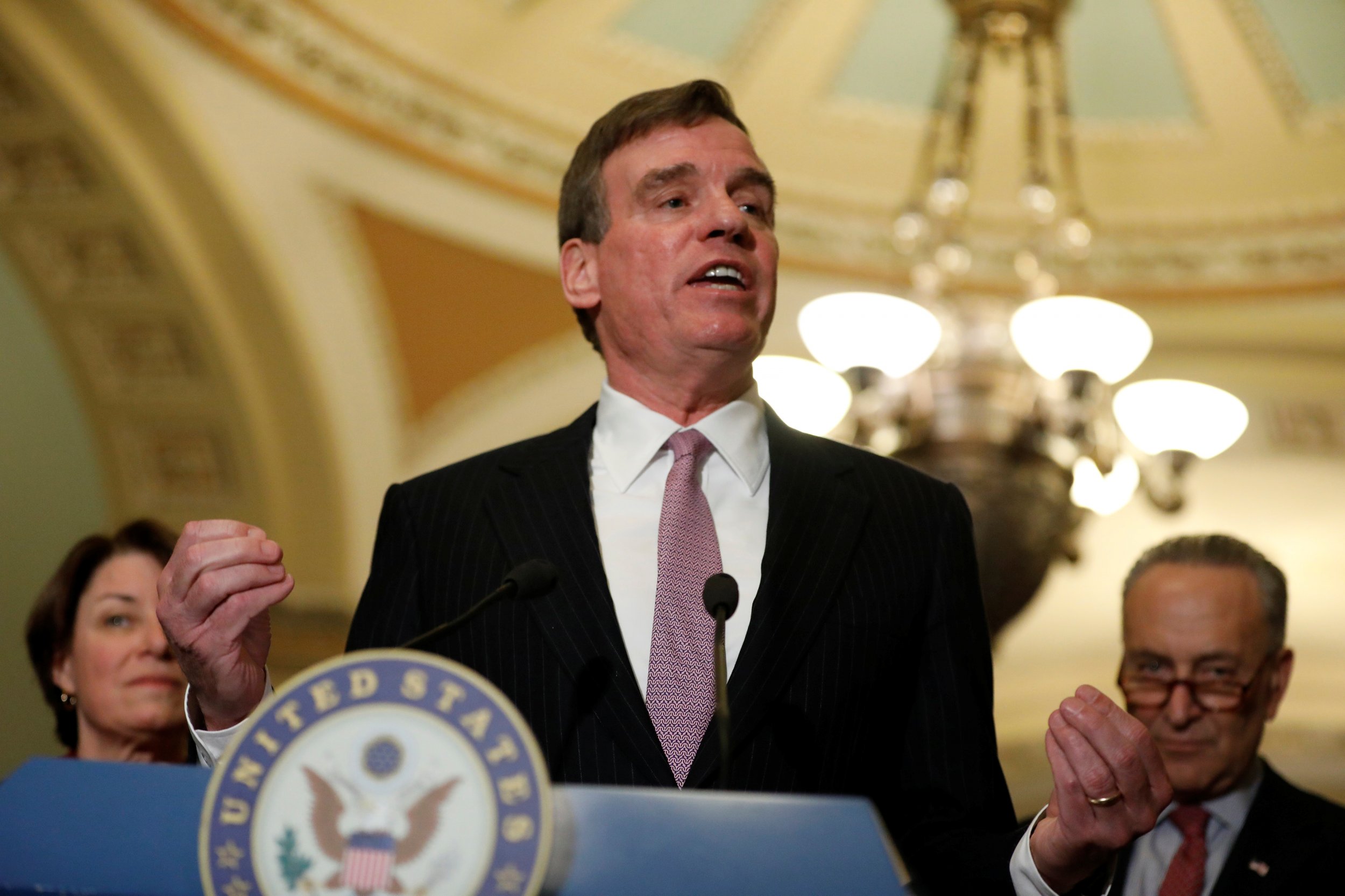 U.S. Senator Mark Warner (D-Va.), a past supporter of loosening firearms restrictions, has declared his opposition to allowing concealed carry laws to be applied nationwide. The GOP-backed legislation, known as national concealed carry reciprocity, is one of the National Rifle Association's top federal legislative priorities under President Donald Trump. Warner's shift is significant, as he has favored similar legislation at least twice in the past.
Related: Guns in America: What is national concealed carry reciprocity?
Warner met Wednesday with constituents affected by gun violence, including Andy and Barbara Parker, whose daughter Alison was shot on live TV in August 2015. After that discussion, Warner—who represents the state where the NRA is located and where 32 people were murdered in the 2007 Virginia Tech massacre—took to Twitter to say he was unable to support the Senate version of the bill, even while maintaining that he remains a proud supporter of Second Amendment rights.
"I've listened to Virginians whose families have been torn apart by gun violence. Enough is enough. This tragic violence has to end," Warner said in one of his tweets about the subject.
Earlier this year, Senate Majority Whip John Cornyn (R-Texas) and Representative Richard Hudson (R-N.C.) renewed the push for national reciprocity by introducing measures in their respective chambers that would require states that issue permits allowing gun owners to carry concealed weapons to recognize such permits from other states.
All states and Washington, D.C., allow concealed carry in some form, and nearly every state has some restrictions barring residents from carry weapons in certain places, such as in bars, schools, hospitals and government buildings. Thirty-eight states generally require a state-issued permit to carry concealed weapons in public, while the remaining 12 allow residents to carry concealed guns without permits.
Warner's stance is significant: Twice within the past eight years—first in 2009 and then in 2013—he supported similar legislation. In 2009, Warner's spokesman told the Richmond Times-Dispatch that the senator voted for the measure after determining it would not weaken Virginia's law. Four years later, Warner joined most other Democrats to vote for a bipartisan measure that would have expanded gun background checks in the wake of the 2012 Sandy Hook Elementary School massacre in Connecticut. That measure was ultimately unsuccessful.
The current Senate bill has at least 36 co-sponsors, all of whom are Republican. In addition to support from every Republican senator, Cornyn would need to gain eight Democratic votes, like Warner's, to overcome a filibuster. The House version currently has 191 co-sponsors, including three Democrats.
Proponents of national reciprocity say it would make concealed carry permits more like driver's licenses, while critics argue it would enable the least restrictive requirements to apply to the entire country, thus undercutting the most stringent laws in some states. During the last Congress, in 2015, Cornyn picked up 35 co-sponsors for national reciprocity, including Democratic Senator Joe Manchin of West Virginia, who is up for re-election in 2018.
The NRA long has been a powerful political force in this area. It has at times given Warner "A" ratings due to his support for loosening gun measures. (There's no telling what his rating would be if he voted against national reciprocity.) Earlier this year, amid heavy NRA lobbying, four Democrats and an independent—who are all up for re-election next year—sided with their Republican colleagues by voting to revoke an Obama administration regulation that prevented certain individuals with mental health conditions from buying firearms. Trump later signed a repeal of the regulation, in what was a significant step for gun rights in the new White House. That could be a sign of things to come under the Trump administration.
Three of those three Democrats who favored the repeal—Manchin, Jon Tester of Montana and Heidi Heitkamp of North Dakota, who are all from states where Trump won in 2016—recently said they can't say yet whether they will support national reciprocity. "I have no idea," Heitkamp told The Daily Caller. Manchin and Tester both said they'd have to see the bill before deciding.
Meanwhile, at the state level, Republicans across the country are pushing to enact permitless carry (also known as constitutional carry) measures to allow most law-abiding adults to be able to carry concealed guns without permits. So far this year, such bills have been rejected in 11 states, including seven states were Trump won—Arkansas, Georgia, Indiana, Kentucky, Montana, South Dakota and Utah, according to the organization Everytown for Gun Safety. And law enforcement officials around the country, including most recently police in Charleston, South Carolina, have said they oppose permitless carry because they feel it likely would make communities less safe. Legislators in other states around the country are pushing for similar policies.
Everytown, which was created by former New York City Mayor Michael Bloomberg in 2014 to oppose the NRA, on Thursday applauded Warner's stance and credited its volunteers for emailing, calling and visiting Warner's office to urge him to come out against the legislation. About a month ago, the group vowed to defeat the NRA's effort to pass national reciprocity under Trump, who has publicly stated his support for the legislation, as well as any pro-gun candidates running for re-election in the midterms next year.