Senator Patrick Leahy Hospitalized Hours After Being Sworn In to Preside Over Impeachment
Vermont Democratic Senator Patrick Leahy was hospitalized just hours after he was sworn in to preside over the second Senate impeachment trial for former President Donald Trump. He is now resting at home.
The 80-year-old senator was reportedly feeling unwell in his Capitol office before being examined by the Capitol physician. Hours before, he had sworn in his senatorial colleagues as jurors for Trump's impeachment.
"Out of an abundance of caution, the Attending Physician recommended that he be taken to a local hospital for observation, where he is now, and where he is being evaluated," Leahy's spokesperson David Carle said.
Democratic Illinois Senator Dick Durbin told CNN that Senator Leahy's wife Marcelle, who is a nurse, is with him at the hospital. "This was just an abundance of caution," Durbin reported. "She says things are going well, so we have all got our fingers crossed he will be back tomorrow."
Hours after his hospitalization at George Washington University Hospital was reported, Carle released a follow-up statement which said Leahy had returned home after receiving test results back and a "thorough examination."
"He looks forward to getting back to work. Patrick and Marcelle deeply appreciate the well wishes they have received tonight," Carle added.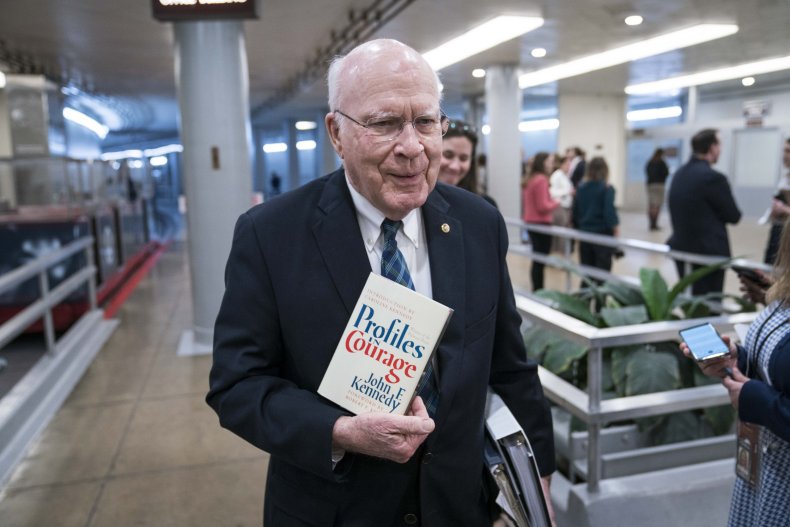 As the Senate president pro tempore, the second-highest-ranking Senate official behind Vice President Kamala Harris, Leahy was set to oversee Trump's impeachment trial when it begins in February, taking the place of Supreme Court Chief Justice John Roberts who won't be overseeing the trial since Trump has already left office. This marks the first time a president has been tried for impeachment after leaving office.
On Tuesday, Senate Republicans largely voted to dismiss the impeachment trial in a 55 to 45 vote. Though that vote failed, it suggests that Trump won't be convicted in the Senate as least 17 Republicans would need to join all of the Senate Democrats in order to do so.
Trump was impeached by the House earlier in the month for inciting the January 6 Capitol insurrection by repeatedly claiming without evidence that an unprecedented nationwide conspiracy of voter fraud "stole" the 2020 presidential election from him.
Though Republican Senate Minority Leader Mitch McConnell has previously said that he believes Trump committed impeachable offenses, he still voted on Tuesday to dismiss the trial. McConnell also pressured Democratic Senate Majority Leader Chuck Schumer to delay the trial to February so Trump could prepare. Other Republicans have publicly opposed holding a trial at all.
Senators Mike Rounds of South Dakota and Marco Rubio of Florida both said they consider it a waste of time considering the Congressional action needed to address the ongoing COVID-19 pandemic. Senator Rand Paul of Kentucky, who introduced the aforementioned proposal to dismiss the trial entirely, said the trial would just be "bitter partisanship and political theater."
In a previous statement, Leahy had said, "When I preside over the impeachment trial of former President Donald Trump, I will not waver from my constitutional and sworn obligations to administer the trail with fairness, in accordance with the Constitution and the laws."
Otherwise, the senator's office told Newsweek that Leahy wouldn't provide comments to the press for the duration of the trial.
Newsweek contacted Leahy's office for comment.
Update (1/26/2021, 9:45 p.m.): This article has been updated to include an update from Carle.