Senator Patty Murray Tells Colleagues to 'Speak Up for Our Democracy Now' as Trial Nears End
Washington Democratic Senator Patty Murray urged her colleagues to "speak up" as former President Donald Trump's second impeachment trial nears an end, after she shared the harrowing details of her experience during the deadly January 6 Capitol riot.
"Do not let fear be what makes us do the right thing in the country for the future of our country and our democracy, whether it's fear of that brute power or it's fear of a constituency that's loud, or the fear of a president who is loud," Murray said in an interview with PBS NewsHour on Friday.
"Speak up for our democracy now, or you may lose it forever," she added, referencing those senators who plan not to vote for conviction.
During the interview, Murray said she was hiding in her office when Trump's supporters stormed the Capitol. She recounted barricading in there for over an hour, while an angry mob attempted to break down her door.
"We heard loud explosions. My husband yelled at me to get down. We were lying on the floor. And, all of a sudden, they were in the hall. They were yelling. They were yelling that they had breached the castle. They were yelling, 'Kill the infidels,'" she said. "I was not safe. It was a horrific feeling, and it lasted for a long time."
Murray said she feared for her life, and believed that the rioters who stormed the Capitol were "trying to kill someone."
"I don't think it mattered whether we were Republican or Democrat, woman or man. They were in there to kill the infidels, as they were saying," she added.
"And that is just an overwhelming thought to me today now, as I sit and listen in this trial, that what they were trying to do was to kill someone, not all of them, for sure, but that was some of them, enough of them."
Five people were killed as a result of the violent attack on the U.S. Capitol, including Capitol Hill police officer Brian Sicknick.
Murray said she decided to share her story on Friday to bring awareness to the severity of the violent event as Trump's impeachment trial nearly comes to a close.
"I realized that it's important for me to tell people what happened to me and so many others. And I know the staff that was there, the Capitol Police, so many people lived what — through what I did whose voices have not yet been heard. We need to speak up for them," she said.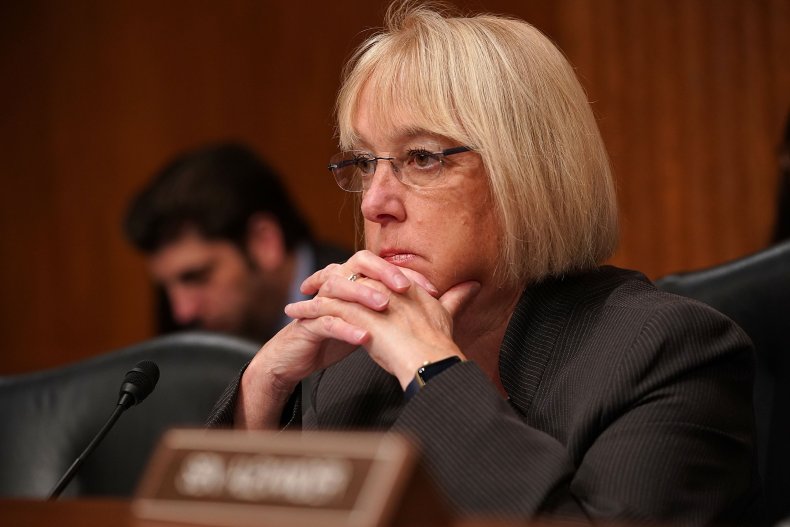 Trump was impeached by the House of Representatives for inciting an insurrection on January 13.
This week, the former president's second impeachment trial began in the Senate, where House impeachment managers shared videos of the deadly riot, while accusing Trump of instigating the violence.
Trump's defense lawyers have argued that the impeachment trial is unconstitutional, and have attempted to show that the former president did not incite the riot. The impeachment trial could come to a close as soon as Saturday afternoon, where senators will vote whether or not to convict the former president.
Murray said Friday that she hopes her colleagues will not dismiss the severity of the case, and vote in favor to convict Trump.
"When I see some members of Congress wanting to dismiss this or wanting to say put it in the past or move on, they're being instilled by fear, and that is what's motivating them," Murray said on Friday.
"We cannot allow that to be what runs our country. We have to be a country that runs by strength, not by fear. And I don't want to talk about this, because I don't want to show my fear. But you show your fear, you show your fear is overcome by strength, by speaking out and speaking against what happened in the Capitol," she added.
Newsweek reached out to Murray's office for additional comment, but did not hear back in time for publication.