Senator Rand Paul Wins More Than Half a Million Dollars in Damages After Neighbor Attacked Him, Breaking 6 Ribs in Gardening Dispute
A jury has awarded Senator Rand Paul $580,000 in damages in a lawsuit against a neighbor who broke his ribs in a fight over grass clippings.
Paul was an outspoken Tea Party supporter and ran for the Republican presidential nomination in 2016. However, the attack was not politically motivated.
Retired anesthesiologist Rene Boucher, 60, told the court he "had enough" of Paul's habit of piling up garden waste near the boundary of their properties in Bowling Green, Kentucky.
He said he had regularly taken away previous rubbish piles accumulated by the senator, although Paul insisted that he always kept any brush pile on his own property.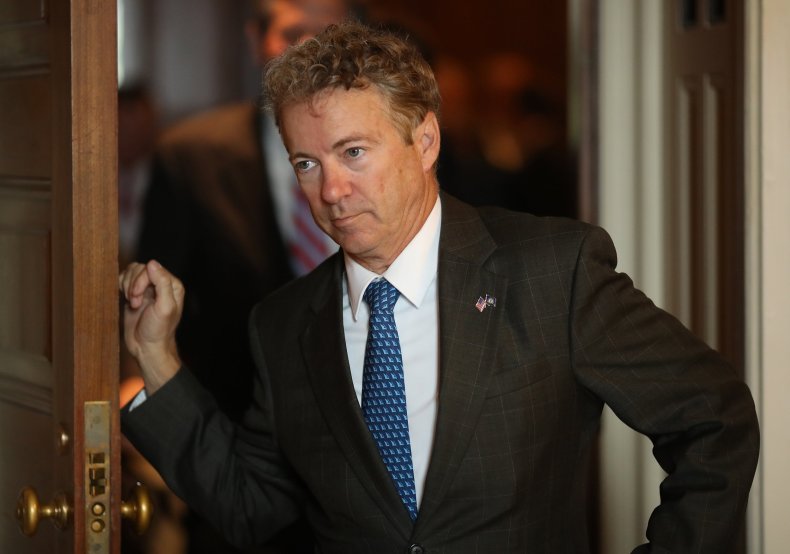 The senator recounted how he had been doing yard work at his home in November 2017 and got off his mower, when Boucher slammed into him from behind.
The senator said both of them had flown into the air and Paul feared for his life as he struggled to breathe.
He also said he had a flashback to the 2017 shooting at a baseball field when members of Congress were practicing for a game, ABC News reported.
Boucher said he was not thinking rationally and called it "two minutes of my life I wish I could take back."
"I pled guilty to what I did. I did this. What I did was wrong and I admitted it," he said, according to WVXU.
The day before the attack, Boucher had suffered burns to his face, neck and arms when he doused a green waste pile with gasoline and set it alight. He was still in severe pain when the attack took place.
Boucher had already served a 30-day prison sentence after pleading guilty to assaulting a member of Congress. He has also paid a $10,000 fine and served 100 hours of community service.
After 90 minutes of deliberations, the Warren Circuit Court awarded Paul $7,834.82 in medical expenses, $200,000 for pain and suffering and $375,000 in punitive damages.
The Republican lawmaker had been seeking a maximum of $1.5 million in damages. Boucher's attorney Matt Baker said he would appeal the decision.
Paul tweeted after the hearing: "This lawsuit wasn't about me. It was about all of us and what we find acceptable as a society. We need to send a clear message that violence is not the answer - anytime, anywhere.
"We can hold different views, whether it's politics, religion or day to day matters."