Senator John Kennedy, a Louisiana Republican, read aloud from a sexually graphic book during a hearing about Illinois' anti-book ban law on Tuesday.
Illinois Secretary of State Alexi Giannoulias testified before the United States Senate Judiciary Committee on Tuesday to defend his state's law that prohibits public libraries from removing books that may be viewed as controversial from shelves.
The law comes amid a culture war battle about whether schools and public libraries should feature books that discuss gender identity, sexual orientation and race. Conservatives have argued these books should effectively be banned to prevent children from learning about topics they view as inappropriate for that age. Critics, however, say these book bans are merely meant to stifle expression of the LGBTQ+ community amid a recent rise in homophobia and transphobia.
Illinois in June became the first state to prevent these book bans. The law would pull funding from libraries that remove books due to "partisan or personal disproval" and is intended to protect "the freedom of libraries to acquire materials without external limitations," Newsweek previously reported.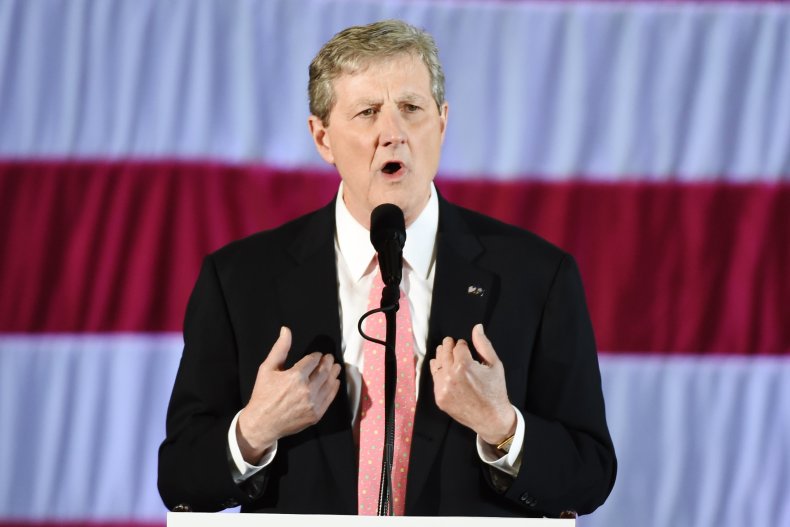 During the hearing on Tuesday, Kennedy read aloud from the book All Boys Aren't Blue, written by George M. Johnson, a memoir that details their experiences growing up as a member of the LGBTQ+ community and Black. Johnson uses they/them pronouns.
The book has been banned in dozens of school districts across the country and remains the second most challenged book, according to the American Library Association (ALA). It has been challenged for its sexually graphic content, but also because it includes LGBTQ+ themes.
Kennedy pressed Giannoulias about whether the book is appropriate to include in schools during the hearing on Tuesday, reading a sexually graphic passage from the book. He followed up by reading a second passage from Gender Queer by Maia Kobabe, the most challenged book, according to the ALA.
Warning: Some readers may find this footage distressing.
"Mr. Secretary, what are you asking us to do? Are you suggesting that only librarians should decide whether the two books that I just referenced should be available to kids? Is that what you're saying?" he asked.
Giannoulias responded: "With all due respect, Senator, the words you spoke are disturbing, especially coming out of your mouth, it's very disturbing. But I would also tell you that we're not advocating for kids to read porn.
"We're advocating for parents, random parents, not to have the ability under the guise of keeping kids safe, to try to challenge the worldview of every single manner on these issues," he said. "When individual parents are allowed to make that decision, about where that line is in To Kill a Mockingbird, which involves a rape scene, should that book be pulled from our libraries? I think it becomes a slippery slope."
Giannoulias wrote in a statement to Newsweek that Kennedy's "stunt" shows that "Republicans know this is a losing issue for them."
"Instead of defending our fundamental rights as Americans, they attempt to distract and employ shock tactics, claiming anything they don't like or agree with is pornographic or obscene. As a result, children are the ones who lose out by the political games that Republicans are playing. Our legislation, the first-of-its-kind in the nation, unites and supports librarians while preventing extremists from banning a book they disagree with," he wrote.
A spokesperson for Kennedy wrote, "Those demonizing parents for trying to protect the innocence of their children ought to be ashamed for defending explicitly sexual images and scenes in books that 10 year olds have access to. Parents aren't concerned about The Catcher in the Rye—they're worried that their children are being indoctrinated by radicals who think that exposing young students to pornographic material is what's best for their kids. Even today's Democratic witness admits the content activists want kept in schools is 'disturbing.'"
Videos of Kennedy's remarks went viral on social media platform X, formerly known as Twitter, amassing millions of views and causing him to trend Tuesday afternoon. Johnson, the author of All Boys Aren't Blue, responded to the exchange in a post.
"All Boys Arent Blue has Officially made it to a congressional hearing. The fight continues," they wrote.
Update 09/12/23 6:45 p.m. ET: This story was updated with statements from Kennedy and Giannoulias.