Senator Warns Republicans 'Surrendering' Their Soul to Trump After Most Avoided Condemning 'Racist' Tweets
Democratic Senator Dick Durbin lamented the fact that so few members of the Republican Party have condemned Donald Trump's remarks about progressive Democratic congresswomen which were widely considered as racist, warning that the GOP is "surrendering its soul" to the president.
When asked on CNN's New Day if he was surprised by how his Republican colleagues in Congress have reacted to Trump telling the congresswomen, who are all women of color, to "go back" to the countries "from which they came," Durbin suggested the lack of condemnation was expected.
"Unfortunately, the Republican Party of the United States, this party of Abraham Lincoln, Theodore Roosevelt, Ronald Reagan, George Herbert Walker Bush, is surrendering its soul to Donald Trump," Durbin, who represents Illinois, said. "To think that this president can make the kind of racist, reprehensible statements he made without reaction from Republicans is a sad day in the history of this party," he asserted.
CNN host Alisyn Camerota then pointed out that 19 GOP members of Congress had criticized the president's remarks. However, she explained that many had then pivoted to attack the congresswomen, with some—such as Senator Lindsey Graham of South Carolina—calling them "communists."
"The fact that you can count on just 19 Republicans to say anything negative, of all those who identify with the Republican party of the United States, just tells it all as far as I'm concerned," Durbin continued.
He also said Graham "really was off base" in his attack on the congresswomen. "Calling them communists? Come on. You know that goes– hearkens back to one of the darkest periods in American history," he said.
On Sunday, Trump argued that progressive Democratic congresswomen, who have been highly critical of his administration, should "go back" to their countries. He said: "You can't leave soon enough."
Although the president did not mention specific names, he was clearly referencing Representatives Ayanna Pressley of Massachusetts, Rashida Tlaib of Michigan, Ilhan Omar of Minnesota and Alexandria Ocasio-Cortez of New York. All are women of color and three of the four were born in the U.S. as American citizens. Omar was born in war-torn Somalia and immigrated to the U.S. with her family as a young girl. She became a naturalized U.S. citizen nearly two decades ago in 2000.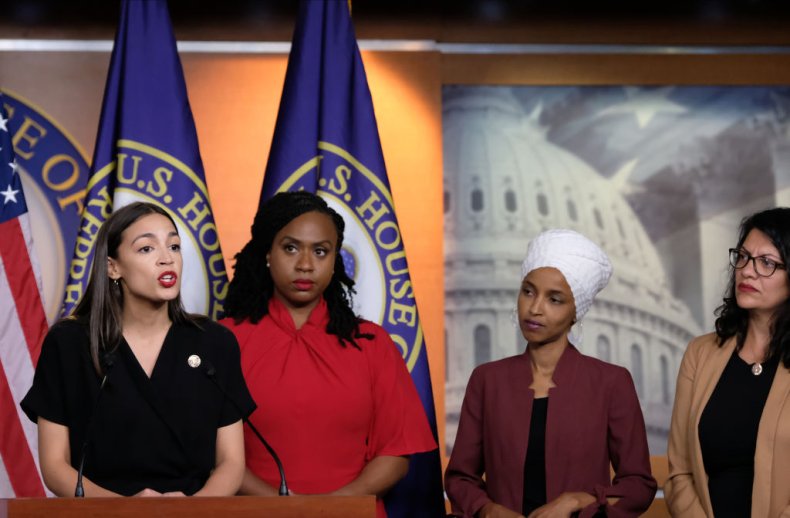 Critics were quick to point out that there is a long racist history of people telling non-white Americans to go back to their countries, even if their families have been citizens of the U.S. for many generations. Democrats and some Republicans have criticized the remarks as overtly "racist" and "xenophobic." But Trump has doubled down on his arguments, insisting on Monday that he doesn't like criticism and that the women should "leave" if they are unhappy.
Republican Representative Will Hurd of Texas, who is the GOP's only black member in the House of Representatives, called out the president's remarks on Tuesday.
"I think those tweets are racist, and xenophobic," Hurd told CNN. "They're also inaccurate. The four women he's referring to are actually citizens of the United States. Three of the four were born here. It's also behavior that's unbecoming of the leader of the free world. He should be talking about things that unite, not divide us."