Senator Rick Scott 'Doesn't Get' Why Biden Hasn't Visited Border, Says 'It's Not That Hard'
Florida Senator Rick Scott took aim at President Joe Biden's handling of the border crisis on Monday morning, saying "I don't get why he won't go to the border, it's not that hard."
The first-term Republican senator and former Florida Governor appeared on Fox Business Network's Mornings with Maria, giving an account of how the current immigration crisis is affecting his state. Scott blamed Biden's policies directly for several alleged effects of the border crisis, including human trafficking and increased fentanyl overdoses.
"My heart goes out to all the people who are being trafficked. It's all caused by Joe Biden and the things that are happening to American citizens because of what Joe Biden has done," Scott said.
"I don't get why he won't go to the border, it's not that hard. I've been there, just in the last two years twice. Go down, see what's going on and let the press see what's going on....let's be honest with the American public, he says look I want open borders, be honest, that's what he is going to do, that's what he is doing."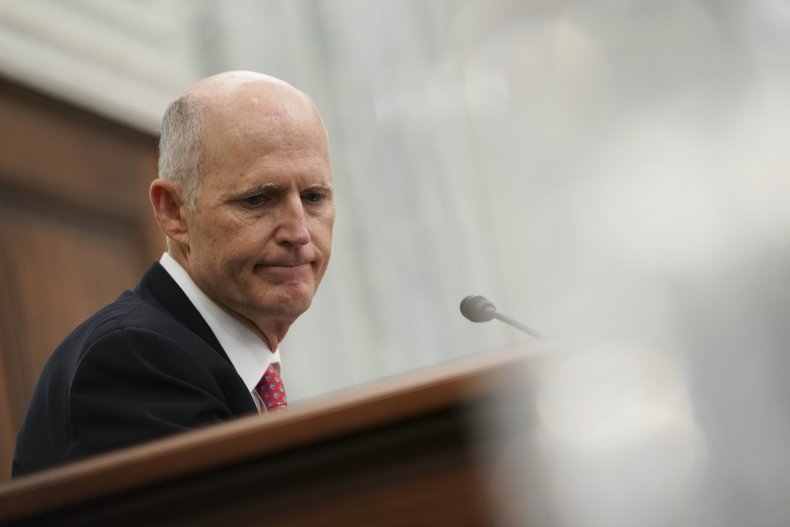 President Biden's immigration policies do not include "open borders." He has, however, rolled back some of Trump's signature immigration policies that were controversial because of human rights concerns.
Early on in Biden's presidency, he ordered a pause on all border wall construction. He also suspended the "remain in Mexico" policy, which has since been officially terminated. Biden's acting attorney general, Monty Wilkinson, also ended the "zero tolerance" policy on family separation at the border.
In March, Biden said he would visit the border "at some point," but that he doesn't want to make the situation about him and his security detail fanfare.
Earlier on in the segment, Scott, who is also the head of the National Republican Senatorial Committee, made a comment about migrants from Mexico, saying, "...there's some wonderful people who want to come to our country...but we also have people who aren't wonderful that are coming to our country," Scott added, "They're not here to do good for Americans. They're going to hurt us."
He seemed to be echoing a bit of rhetoric from 2015 about Mexican immigrants used by the former president, when then-candidate Trump said, "When Mexico sends its people, they're not sending their best...They're sending people that have lots of problems, and they're bringing those problems with us. They're bringing drugs. They're bringing crime. They're rapists. And some, I assume, are good people."
Scott also brought up what he said law enforcement in his state has called "an unbelievable increase in fentanyl, and the amount of fentanyl overdoses that have happened since Joe Biden got elected." He said, "it's making America unsafe."
The situation [at the border] "is clearly man made," he said, "and that man is Joe Biden."
Newsweek reached out to Sen. Scott's office for comment.
Update (6/14/2021, 6:26 p.m.): An earlier version of this article mistakenly said Mornings With Maria aired on the Fox News Channel instead of the Fox Business Network.