'This Is Not How My Career Will End': Menendez Pleads Not Guilty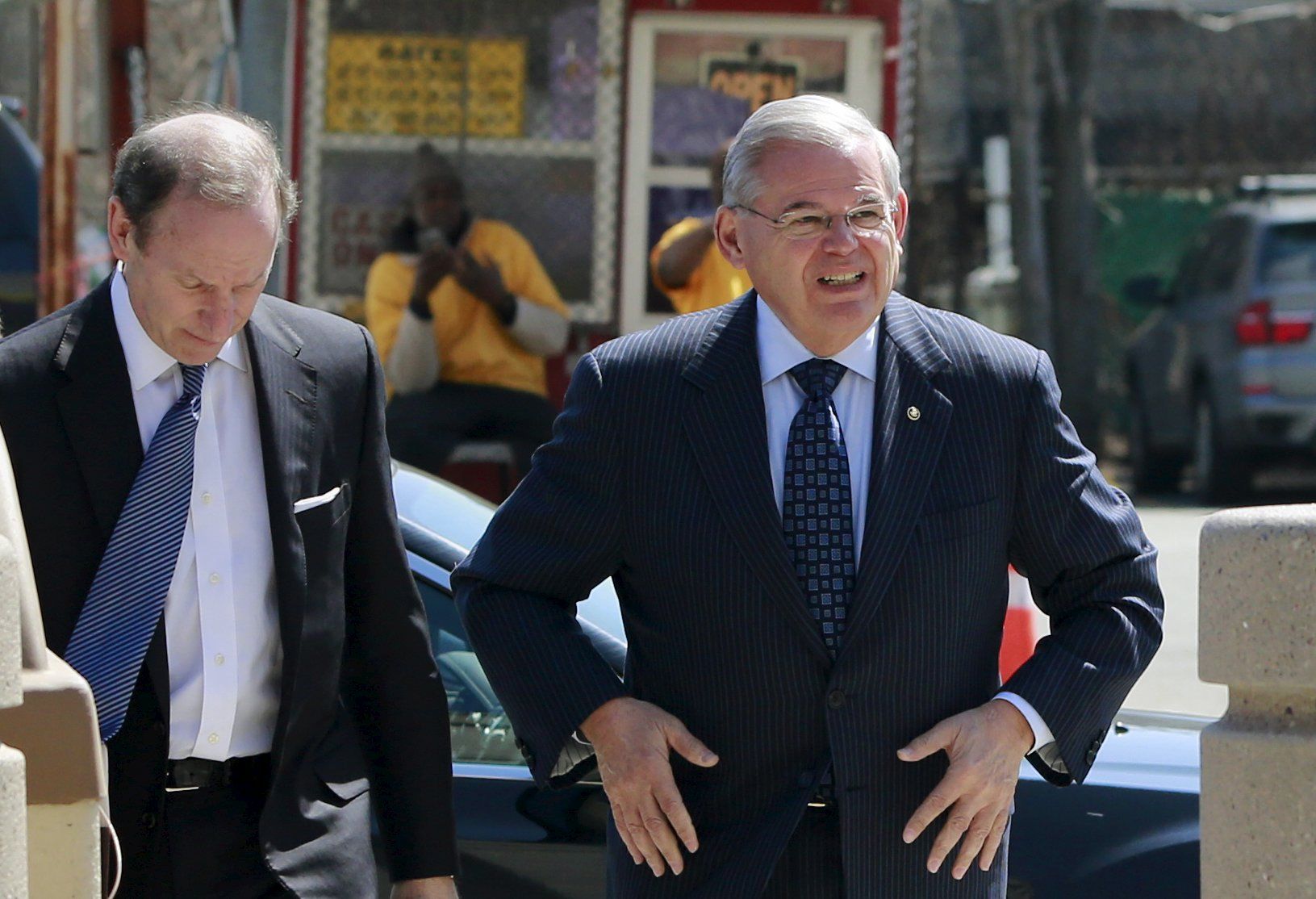 Updated | On Thursday, U.S. Senator Robert "Bob" Menendez pleaded not guilty to federal corruption charges in Newark, New Jersey. The New Jersey Democrat is charged with accepting more than $1 million from his friend and campaign donor Dr. Salomon Melgen in exchange for political favors.
Menendez entered his plea before a federal judge one day after a federal grand jury handed down a 14-count indictment against him that includes charges of bribery, conspiracy and fraud. U.S. District Judge William H. Walls released Menendez without bail but ordered him to surrender his passport. His trial is set for July 13.
Melgen was also indicted; he was released on a $1.5 million bond.
"I'm outraged that prosecutors at the Justice Department were tricked into starting this investigating three years ago with false allegations by those who have a political motive to silence me," Menendez said at a press conference Wednesday evening, according to The Associated Press. "But I will not be silenced. I am confident, at the end of the day, I will be vindicated, and they will be exposed.
"I'm angry because prosecutors at the Justice Department don't know the difference between friendship and corruption and have chosen to twist my duties as a senator and my friendship into something improper. They are dead wrong, and I am confident they will be proven so," he added. "This is not how my career will end."
U.S. Senator Ted Cruz of Texas suggested the indictment was punishment for Menendez's opposition to the Obama administration's nuclear negotiations with Iran and its plan to reestablish diplomatic relations with Cuba.
"It raises the suggestion to other Democrats that if you dare part from the Obama White House, that criminal prosecutions will be used potentially as a political weapon against you," Cruz said, according to The Hill.
Democrats in New Jersey and across the country rallied to Menendez as news of the indictment broke. Senator Chuck Schumer of New York, likely to become the next Senate minority leader, said, "Bob Menendez is one of the best legislators in the Senate and is always fighting hard for the people of his state. I am confident he will continue to do so in the weeks and months ahead."
Menendez has acknowledged that he initially failed to disclose several free round-trip flights to the Dominican Republic he took aboard Melgen's private jet, but says he has since reimbursed Melgen. However, the lengthy indictment includes additional unreported gifts, including access to a Dominican resort and a stay in a Paris hotel.
Menendez has stepped aside temporarily from his position as the top Democrat on the influential Senate Foreign Relations Committee.