Senator Sasse Blasts Republicans Who 'Wink' at QAnon, Urges Them to Reject Conspiracy Theories
Republican Senator Ben Sasse criticized GOP leaders who have failed to denounce QAnon conspiracy theories, which gained traction among Donald Trump's far-right supporters last year, in an opinion piece published by The Atlantic on Saturday. Sasse argued that "QAnon is destroying the GOP from within" and implored Republicans to reject its false assertions, as well as any colleagues who align with them.
"If the GOP is to have a future outside the fever dreams of internet trolls, we have to call out falsehoods and conspiracy theories unequivocally," he wrote in his recent op-ed. "We have to repudiate people who peddle those lies."
The Nebraska senator expressly condemned GOP House Minority Leader Kevin McCarthy for declining to renounce Marjorie Taylor Greene, a QAnon-linked conspiracy theorist who was elected to represent Georgia's 14th congressional district in the House this past November. Greene shared her plans last week to file impeachment articles against President-elect Joe Biden after his upcoming inauguration.
Sasse's op-ed primarily highlighted the dangers of QAnon, and the ways in which its association to the GOP has undermined the party, in the context of the U.S. Capitol siege. On January 6, as Congress held joint sessions to certify Biden's Electoral College victory, a mob of Trump's followers stormed the federal complex during a violent attack that resulted in five deaths and dozens of injuries. Rioters who carried out the assault aimed to protest Biden's win, with some breaking into the Capitol itself to stop the congressional certification from taking place. Several of the individuals who participated were photographed wearing attire displaying QAnon propaganda.
QAnon refers to a group of conspiracy theories that went viral online ahead of Election Day. Advanced by the sitting president's proponents, the theories falsely claimed that a global network of Satan-worshipping child sex traffickers worked against Trump during his presidency and reelection campaign. They baselessly suggested that high-profile U.S. Democrats were involved in the secret faction.
"Until last week, many party leaders and consultants thought they could preach the constitution while winking at QAnon. They can't," Sasse continued in Saturday's op-ed. "The GOP must reject conspiracy theories or be consumed by them."
Sasse pinpointed the threats that QAnon poses to the Republican Party's integrity and noted growing division among members of the GOP.
"Whatever the Republican Party does, it faces an ugly fight," he said. "The fracture that so many politicians on the right have been trying desperately to avoid may soon happen. But if the party has any hope of playing a constructive, rather than destructive, part in America's future, it must do two things."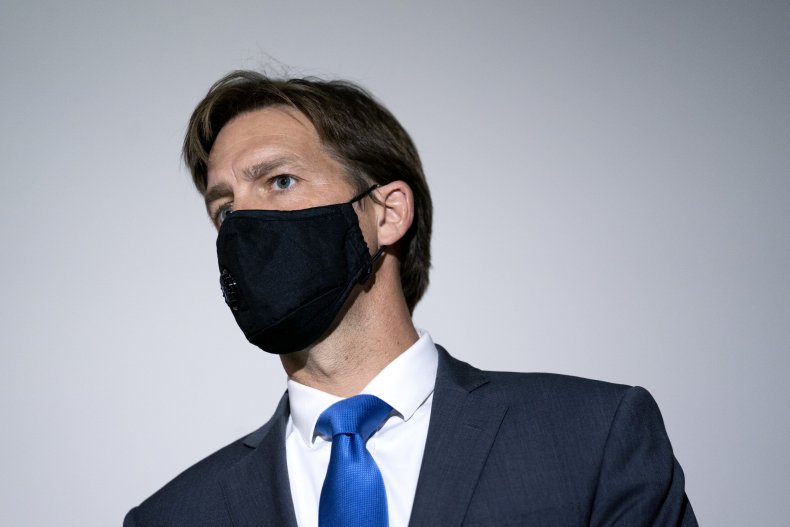 In addition to abandoning "the nonsense that has set our party on fire," Sasse reasoned that the GOP "has to rebuild itself" if it hopes to meaningfully address the concerns of constituents during the oncoming post-Trump era.
"The past four years have wounded our country in grievous, long-lasting ways. The mob that rushed the Capitol had been fed a steady diet of lies and conspiracy theories," he wrote, before specifically referencing Capitol Police Officer Eugene Goodman's successful effort to thwart QAnon backers as they attempted to breach congressional chambers during the siege.
"In a standoff between the Constitution and madness, both men picked a side," Sasse concluded. "It's the GOP's turn to do the same."
Newsweek reached out to Sasse's office for further comment, but did not receive a reply in time for publication.