Senator Says Trump's 'Corruption Is Dizzying' After U.K. Golf Claims
Senator Patrick Leahy (D-VT) accused President Donald Trump of "dizzying" corruption after a report that the president had asked his ambassador to the U.K. to help steer the British Open golf competition to one of his Scottish resorts.
The Senate Appropriations Committee vice chairman added that "outdated" U.S. anti-corruption laws need an overhaul for both the president and other public officials. Trump has faced numerous allegations of corruption and ethical violations during his tenure.
U.S. Ambassador Robert Johnson told several embassy staff in 2018 that the president wanted him to ask British government officials for their help in getting the British Open held at Trump Turnberry in Ayrshire, Scotland, The New York Times reported.
According to the newspaper, the envoy later mentioned the idea to David Mundell, the former British secretary of state for Scotland. Mundell told the Times it would be "inappropriate" for him to detail his conversation with the ambassador.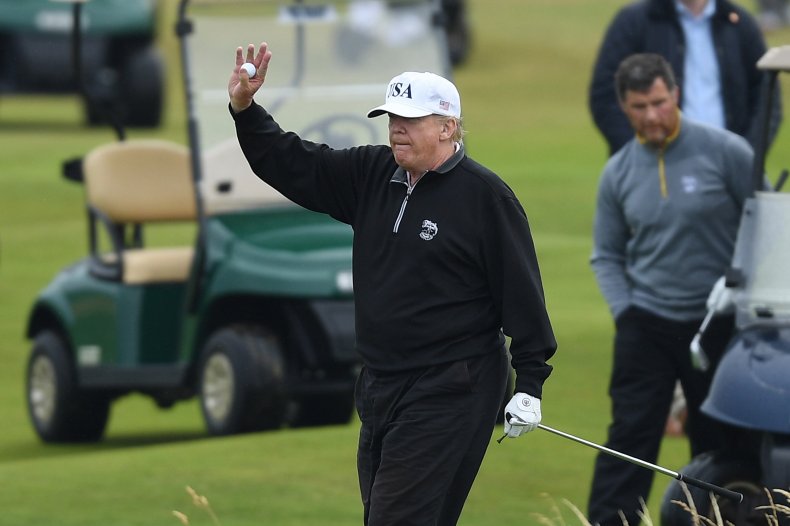 Reacting to the report, Sen. Leahy tweeted: "The corruption is dizzying. We need to overhaul our outdated and gutted anti-corruption laws—not just for the President, but for all public officials. I am working on legislation to do just that."
The Vermont Democrat was not the only lawmaker to weigh in. House Intelligence Committee Chairman Rep. Adam Schiff (D-CA) said: "Trump asked England to help him get the lucrative British Open golf tournament played at his resort.
"He begged the Chinese to help his re-election campaign. And he sought to coerce Ukraine into smearing his opponent. And for America? What's in it for us? Absolutely nothing."
Newsweek has contacted the White House and the U.S. embassy in the U.K. for comment. This article will be updated with any responses.
The British government told the Times in a statement that "no request" had been made of former Scotland Secretary Mundell concerning the British Open or "any other sporting event."
The newspaper reported that U.S. Ambassador Johnson had told colleagues about Trump's request in February 2018, citing three unnamed sources with knowledge of the issue.
It further added that Johnson had discussed the idea with Mundell a few weeks later. A record of Mundell's meetings in the first quarter of 2018 does not declare any appointment with Johnson in February or March of that year.
Neither of the next two British Open tournaments is set to take place at Trump's Turnberry resort. The 2021 British Open will take place at the Royal St. George's club in England, while the 2022 contest is scheduled to go ahead at St. Andrews in Scotland.