Shortly before the Supreme Court's new term began this month—one that promises to be a blockbuster—Senator Sheldon Whitehouse thrust himself into the spotlight. A member of the Senate Judiciary Committee, he confronted the High Court with a shockingly blunt friend-of-the-Court brief. It concluded: "The Supreme Court is not well. And the people know it. Perhaps the Court can heal itself before the public demands it be 'restructured in order to reduce the influence of politics.'"
A chorus of critics immediately denounced his submission as a brazen threat to pack the Court, with a National Review columnist calling it "the most malicious brief" he'd ever seen, and the Wall Street Journal editorial board dubbing it "an enemy-of-the-Court" brief.
In a candid, free-wheeling interview with Newsweek last on October 15, Whitehouse defended his provocative filing, expounded still further on Supreme Court partisanship and warned of the "nightmare" influence that secret donors might be having on judicial selections and decision-making.
In addition, he addressed the issue that is crowding out all others on the public agenda: impeachment. To Newsweek he described Senate Majority Leader Mitch McConnell as a "wily cat" who "treads carefully through uncertainty," and opined that there might already be "enough horror and resentment in the Republican Senate caucus to get us to 67 [votes] for conviction on the impeachment articles, given a secret ballot."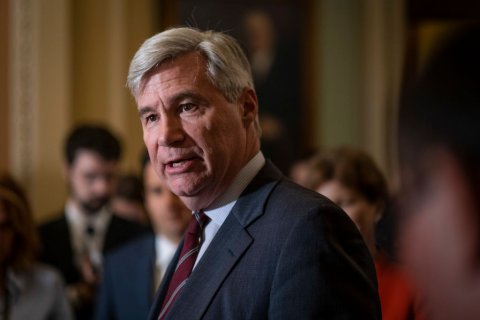 Whitehouse, 64, has been a senator since 2007, and is now in his third term. Previously, he served as Rhode Island's U.S. Attorney (1994-1998) and state attorney general (1999-2003). He earned his B.A. from Yale and law degree from the University of Virginia. He is married to marine biologist and environmental activist Sandra Thornton Whitehouse, and they have two children.
Edited excerpts:
Newsweek: Let's start with the impeachment proceedings. Senate Majority Leader Mitch McConnell has basically said there won't be removal on his watch.
Whitehouse: So there was a fundraising video in which he said that. I haven't seen him say that outside of the fundraising effort. I'm not sure that Mitch writes his own fundraising pitches.
So you're still hopeful that...
We'll see.
In the legislative arena he seems to have almost absolute power in the Senate—
The Senate Majority leader has the absolute power to decide what does and does not come to the Senate floor.
Does he have the same power in an impeachment proceeding? Without him, is the effort dead in the water?
He has conceded that he does not have the power to keep articles of impeachment from coming to the Senate floor. He does have the power to craft the procedure through which they are considered.
Nothing specific has filtered down to you yet about procedures?
No, and actually I'd be surprised if anything were filtering. Because the mini-bombshells that emerge daily about the Ukraine scheme suggest to the Republicans that the view of this thing in the public at the end of the day may be very different than what they're being asked to sell right now. And I think McConnell is too wily a cat to box his members in before they even know what the evidence looks like and where the public is.
But if [former national security adviser John] Bolton really called this a "drug deal," and tried to ward off the scheme by sending it to NSC lawyers—basically called the cops on this episode—that just opens a whole new arena of concern. You can say that some career ambassador is the Deep State. Good luck convincing someone that John Bolton is the Deep State.
Mitch treads carefully through uncertainty.
Several people have voiced estimates: if Senate Republicans could hold a secret ballot, what would they do? What do you think?
I think that there is very conceivably enough horror and resentment in the Republican Senate caucus to get us to 67 for conviction on the impeachment articles, given a secret ballot. [Editor's note: The Constitution requires a two-thirds vote of the Senate—currently 67 of 100 votes—to convict and remove an official who has been impeached by the House. Assuming all 47 Democratic Senators vote to convict, 20 Republican Senators would have to join them to reach 67.]
It would not surprise me. I think [former Arizona Senator Jeff] Flake swung high with 35. But I would not be surprised if you could get to 67—with a huge sigh of relief, and a muttered utterance of "good riddance."
Let's turn to the Supreme Court. It looks like it's going to be a blockbuster term. The Court just heard arguments on whether Title VII of the Civil Rights Act protects LGBTQ people from employment discrimination, and there are cases coming up on abortion, gun control, DACA, executive power, and public funding of religious education. Shortly before the term started, you wrote a firecracker friend-of-the-court brief in the gun case.
I've written several, but this is the one that lit up the right-wing counter-response machine.
The money line was: "The Supreme Court is not well. And the people know it. Perhaps the Court can heal itself before the public demands it be 'restructured in order to reduce the influence of politics.'" When you said "restructured," what did you mean by that?
Did you read the brief?
Yeah.
So you know that that word was in quotes.
Yeah.
You know that it referred back to a poll that was taken that used that word? [In May, a Quinnipiac University National Poll found that a growing majority of Americans believed that the Supreme Court's rulings were "mainly based on politics" rather than law, and that a majority now felt the Court should be "restructured in order to reduce the influence of politics."]
Yes.
So that's what I meant.
But I don't know what the poll was referring to.
Nor do I. But it's a fairly strong word. That people who responded to the poll responded to it very positively. So that's the point.
Is it a code word for court-packing?
You'd have to ask the pollsters, but I don't see it that way. The right wing wanted to see it that way, but they have a machine for pushing back on things that trespass into delicate areas they want to protect. [Shortly after the Whitehouse brief was filed, more than 50 opinion pieces were published or aired in the media attacking it as amounting to a threat to pack the court.]
This happened to me twice before in matters equally important to big Republican donor groups. Particularly, one editorial involving whether a lawsuit might be brought against the fossil-fuel industry modeled on the lawsuit that was won by the Department of Justice against the tobacco industry for basically fraudulent denial of the harms of its product. So we've been through this routine before, where there's kind of an automated response where all the usual suspects jump in and basically say what they've been told to say, and it propagates like a little virus through the right-wing media. And they were the ones who very much wanted to say that this was about court-packing, which is something that (a) if they'd read the brief and (b) if they'd read stuff I said before, they'd know I've never supported.
What I have supported is: The Supreme Court should have a code of ethics. The Supreme Court should report hospitality, travel, and other emoluments for the judges, much more clearly than they do. [Whitehouse is co-sponsoring a bill to require such reporting.] I think the Supreme Court should steer away from 5-to-4 decisions and try to seek more inclusive—even if narrower—decisions. I think that when the 5-to-4 decision is one that is distinguished by the party of who appointed the judge—that is even a greater hazard. And I think that's something the Court should do on its own account. They worked very hard to make sure they were 9-to-zero in Brown v. Board of Education. I don't see any such effort here.
And in United States v. Nixon, the unaninmous 1974 ruling forcing President Nixon to turn over the Oval Office tapes.
And United States v. Nixon. Unfortunately, we then got to Bush v. Gore, and they were much happier to break the Court and seize the victory, so that's been a bit of a problem. I think there should be a lot more transparency around the court. I think it's very dangerous when the Court is having its justices selected through a process that the Federalist Society has such an enormous role in. [The Federalist Society as a body does not take positions in judicial selections, but its executive vice president, Leonard Leo, has played a key role in the selection and confirmation of Republican judges and justices.]
In fact, it seems to me that it's a dispositive role and that it's funded by anonymous donors. And once you get your selection through the Federalist Society, the campaign—the political campaign—for their Senate confirmation is funded by the Judicial Crisis Network, again by anonymous donors. And then, once you get them on the Court, you get this barrage of instruction coming at them from an armada of front groups who either represent the nominal plaintiff or who file amicus briefs and, again, don't disclose their funding. So it could be that a very small group of very big funders has actually got very disturbing control and influence on the makeup and output of the Court. And I think transparency would reveal that.
So you favor legislation to disclose funding—
Yep. We have bills to disclose who's behind amicus briefs as well as the broader DISCLOSE Act [concerning organizations spending money in federal elections].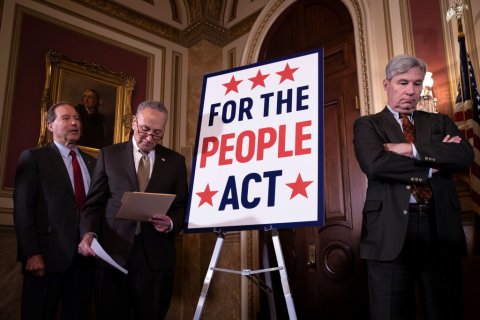 What would be wrong with court-packing? Although your brief in the gun control case is blunt—and you do discuss the confirmation hearings of now-Justice Brett Kavanaugh—you don't mention the Merrick Garland event. Isn't that really the issue, what happened there?
I think that the effort to control the Court went well back before the Garland-to-Gorsuch switch. And I think that simply to say, oh, this is the Garland-to-Gorsuch switch's problem does not understand the persistence and depth of the effort to control the court. I think it goes all the way back to that original Powell memo in 1971. [Shortly before he was appointed to the Supreme Court, Lewis F. Powell Jr. wrote a confidential memorandum to a client, the U.S. Chamber of Commerce, which was later leaked to the media.]
And then Powell gets on the court and next thing you know they're starting to crank out 5-to-4 decisions giving political rights to corporations. The Powell memo was a memorandum for big corporate donors, through the vehicle of the Chamber of Commerce, which was the nominal client. And it was the memo that basically responded to corporate panic that the environmental movement, the civil rights movement, the antiwar movement were disruptive of their affairs. And they wanted to respond and one of the elements of the Powell memorandum was a recommendation that an activist court could be a very helpful thing to corporate America if it was the right kind of activist Court. And they went right to work to accomplish that. The Pacific Legal Foundation, which has been active in this for a long time, was set up two years later by conservative lawyers to execute on the memo. So this is, what, a 48-year-long effort now? So, to say that it started with Garland-to-Gorsuch [doesn't capture what's going on].
Yes, the swap to knock out Garland and get Gorsuch was vital to this operation because [otherwise they'd] lose the 5-4. And jamming Kavanaugh through was essential to preserving the 5-4. But those two political quarrels obscure the underlying situation which is a Court that is happy to make all these 5-4 partisan decisions.
I'll give you an appendix we've done.
[The appendix, to an issue brief he wrote in April, lays out what Whitehouse considers 73 "partisan" rulings in civil cases decided from the Court's 2005-2006 term, when Chief Justice John Roberts, Jr., joined the Court, through the end of its 2017-2018 term. They were all decided by 5-4 or 5-3 votes, along well-defined, conservative-versus-liberal fault lines. He argues that in 55 percent of them, the conservative majority disregarded one or more principles of conservative judicial philosophy, including originalism, textualism, and respect for precedent.]
That lays out what these 73 decisions are. That's a hell of a record. It's a hard record to walk away from.
Back to your original question of what's wrong with packing the court? Number one is, packing the court tends to mean applying outside political or other forms of improper influence and baking it into the court.
What I meant was adding two seats.
If what you mean is changing the number to achieve a result—this may be just me—but I think that the Court is entitled to a chance to "heal thyself."
There's a lot of impatience out there about what the Court has done. But I think when you look at the flagrant decisions—which is Citizens United [striking down key restrictions on corporate campaign expenditures]; Heller [holding that the Second Amendment confers a right on individuals to bear arms]; Janus [holding that unions may not collect fees from non-union members]; Shelby County [striking down key provisions of the Voting Rights Act of 1965]—the real sort of marquee partisan exercises, and then you see that, my God, there have been 69 others, all under Roberts, many of them kind of under the radar, that sends a pretty strong signal. And the Court ought to be the first place to fix itself.
I've been an appellate lawyer. Argued in the Supreme Court. Argued in two of the circuits. I've spent a lot of time in front of the Rhode Island Supreme Court. If I'm any kind of a lawyer, I'm an appellate lawyer. Watching this Court behave the way it behaves has really disturbed me. And I have enough residual respect for the institution that I want it to have a chance to heal itself.
In the 73 cases, the five conservative-leaning justices voted to further what seemed to be the Republican Party's favored outcome. But, correspondingly, the four Democratic-appointed justices voted for the result that most people would associate with the Democratic Party's preferred outcome. So it's not surprising.
But when you put the long-term health and respect of the Court on one side of the scale, and you have the deliveries that they've made for big Republican donor interests on the other side of the scales, they always seem to go to the other side of the scales. It's not fair to say, well the four Democrats didn't do it, and therefore they're just as partisan as the five Republicans who did, because what we're talking about is changes in the law. Citizens United was a very big change in the entire American political system.
Shelby County changed the way that voting rights had been enforced for decades.
Heller changed our consideration of what gun rights were and went to an idea that a previous retired chief justice [i.e., Warren Burger] had described as a fraud. And Janus undid 40 years of precedent around which a lot of states and municipalities had built their administrative and legal systems. So you had not only precedent, you had extensive reliance on that precedent, which usually settles the question.
So when five judges are willing to go on a jaunt like that, it is really not fair to say that the four who didn't were being equally partisan. Not fair and not accurate.
I have the same sort of question with respect to the role of—and I'll say Leonard Leo, because the Federalist Society formally says "We don't take a position on judicial selections..."
Yeah, ha ha ha.
But I assume Republicans would say that Democrats also have their power brokers and their funders and, you know, everybody does it.
No, that's not an apt comparison. Because I don't think the Democratic side has ever put out anything like the type of apparatus that is used to control judicial selections and nominations. We've never applied the kind of brute, political force to kind of break through the Senate decorum and tradition in order to push people through—which is a sign of something going on. And I don't think we've ever done it in a way that was so heavily influenced by dark money.
The nightmare scenario here is that behind the judicial selections are the anonymous donors for whom the Federalist Society fronts. And behind the Judicial Crisis Network, and its campaigns for these judges, are the same donors. And behind these front groups, whether it's the Chamber of Commerce or the Pacific Legal Foundation or whomever—there are dozens of them—are, again, the same big donors. And then, God forbid, those 73 decisions—the beneficiaries of them are that same group of secret, anonymous donors. That would be a nightmare scenario. And putting some sunlight into it, so that that doesn't happen, would be very much worth our attention and some effort.
For the reader's understanding, I should probably mention that the "firecracker" amicus brief you wrote was prompted by the gun control case, New York Rifle & Pistol Association v. City of New York. You mention in the brief that the NRA, which is the parent of the association bringing the suit, spent $1.2 million on TV ads during the Kavanaugh confirmation hearings. You describe there one of the commercials, which said that the Court was split, 4-4, on gun rights, and that "President Trump chose Brett Kavanaugh to break the tie... Tell your Senator, Defend Our Right to Self-Defense. Confirm Judge Kavanaugh."
Do you feel that that sort of ad should be illegal? Or would you just require disclosure of the donors of such ads?
I've been the lead sponsor of the DISCLOSE Act for a long time. So yes, I think those ads should be disclosed.
Your brief was signed by you and four other senators: Masie Hirono, Richard Blumenthal, Richard Durbin, and Kirsten Gillibrand. Why do you think there wasn't more support?
I don't know, but a bit of it had to do with the short time frame we were operating on. It came out while we were on recess. My office had just a few days to try to get senators to climb out on a limb and sign on to a—what did you call it, a "firecracker" brief? I was actually pleasantly surprised when I got that much response.
Senate Republicans—all 53—signed a sharp letter to the Court in response. They said: "Our colleagues... openly threatened this Court with political retribution if it failed to dismiss the petition as moot... The implication is plain as day: Dismiss this case, or we'll pack the Court."
Obviously not true. But exactly consistent with the false message that the right-wing operation was pumping out in the weeks immediately after the brief. The talking points these people seemed to follow, were so closely followed that at one point the Wall Street Journal editorial page actually had to put an editor's note denying that it had plagiarized an editorial from National Review. And I accept that they didn't plagiarize National Review. I think both had been given the same talking points. [The editor's note said the similarity was "inadvertent," but removed two sentences from the editorial and apologized. In an email to Newsweek, The Journal editorial page editor Paul Gigot responds: "The 'talking point' claim is false and a typical Sheldon Whitehouse canard." TheJournal declined to furnish the two sentences that were deleted.]
I thought it was really telling that the Republican letter got all 53 [Republican Senators] on it, which is a sign of considerable donor interest—to shake everybody loose—and matched the inaccurate assertions that were the common theme of the stuff that was cranked up in the right-wing media.
Part of what seemed to set you off was that the plaintiff rifle association had, in its opening brief, overtly suggested that the Court, when it came to its Second Amendment rulings, was pursuing a—
"Project."
Yes. The rifle association urged the Court: "The project this court began in Heller and McDonald cannot end with those precedents." [District of Columbia v. Heller, decided in 2008, rendered certain federal gun control laws invalid, while McDonald v. City of Chicago, decided in 2010, did the same for state gun control laws.]
And it wasn't as if that term, "project," stood alone as some sort of rhetorical misfire that we were taking advantage of. You had that term used in conjunction with all the spending by the NRA on control of the courts. You have this being ramped up as a political effort. You have Kavanaugh, at the end of that, being sold as the good gun vote. And, boom, you have the instant response of the Court taking virtually the next gun case after having held back [from reviewing any gun cases since 2010].
And you put all those pieces together—you don't need to be a weatherman to see which way that wind blows.