Senator Sinema Wears $12.99 Pink Wig on Senate Floor to 'Set Example of Social Distancing from Hair Salons'
Democratic Senator Kyrsten Sinema of Arizona wore a $12.99 pink wig on her first day back to Congress to set an example for social distancing from hair salons.
U.S. Senators returned back to work at the Capitol on Monday with safety precautions put in place to keep members from catching the coronavirus. Later in the day, footage began emerging online of Sinema walking around the Senate floor wearing a pink wig, green dress and white face mask.
When reached by a local reporter, a spokesperson for Sinema's office said the lawmaker decided to wear the $12.99 wig to set an "example of social distancing from hair salons."
Hair salons and barber shops, deemed nonessential services, have been closed in most parts of America for more than a month. Businesses across the country have started reopening this week as various state stay-at-home orders came to an end.
Arizona Governor Doug Ducey on Monday announced that his recent executive order will permit barber shops, hair salons, cosmetologists and retail stores to reopen on Friday. Restaurants will be allowed to offer dine-in services starting May 11.
"Arizona continues to focus on protecting public health, supporting those in need and ensuring we're taking the necessary steps to return stronger," the governor said. "Our efforts to slow the spread of COVID-19 are working–and Arizonans are still encouraged to limit time away from home."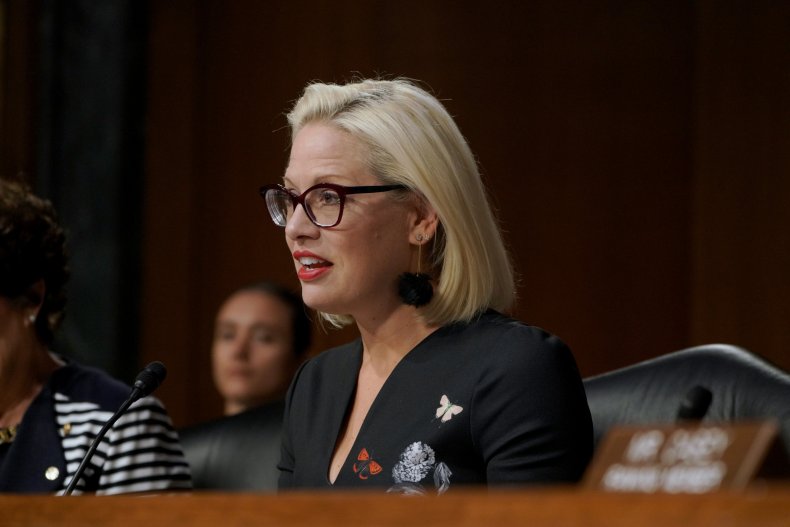 To offer services in a safe manner, hairdressers and their customers will be required to wear face masks throughout the appointment, as well as adhere to the CDC's social distancing guidelines. Ducey asserted that the state's economic reopenings will follow a step-by-step process. The governor's stay-at-home order will be in effect until May 15.
Ducey also encouraged the elderly and immunocompromised community to remain at home despite the reopenings and urged all state citizens to continue practicing strict hygiene routines, such as washing hands frequently, avoiding face touching and wearing a mask. Ducey also noted that he will also ramp up testing for inmates and staff at correctional facilities.
Newsweek reached out to Sinema's office for comment. This story will be updated with any response.
As of May 4, more than 8,900 individuals had tested positive for coronavirus in Arizona state, with roughly 362 deaths caused by the new disease. Overall, the U.S. currently has a total of more than 1,212,800 cases of COVID-19, with 69,900 deaths and 188,000 recoveries.