Senator Slams Republicans Attacking 'Decorated Soldier' Testifying In Trump Impeachment Inquiry: 'Have You No Shame?'
Senator Mazie Hirono criticized Republicans and conservative pundits who have attempted to undermine the credibility of Lieutenant Colonel Alexander Vindman, the top Ukraine expert on President Donald Trump's National Security Council who will testify before congressional impeachment investigators on Tuesday.
Vindman is a veteran of the Iraq War, and received the Purple Heart medal after he was wounded during conflict. However, some right-wing commentators have attempted to smear his testimony by pointing to the fact that he immigrated to the U.S. from Ukraine and speaks Ukrainian and Russian.
"As expected, the right-wing will impugn someone's character," Hirono, a Democrat from Hawaii who sits on the Senate Judiciary Committee, said in an interview with CNN on Tuesday morning. "This is a decorated soldier by the way. Hello everybody, just back off."
The senator argued that Republicans "have nothing to say except to attack the people that come forward to corroborate what the president did."
"Somebody should say to them, 'have you no shame?'" Hirono asserted.
According to a transcript of Vindman's opening statement, which was published by Politico, the White House official raised concerns about the Trump administration's efforts to pressure Ukraine to investigate the president's political rivals on multiple occasions. Vindman's statement said that the pressure campaign pushed by Trump would "undermine U.S. national security."
Right-wing Fox News host Laura Ingraham, a staunch Trump supporter, attempted to question Vindman's loyalty to the U.S. on her Monday evening program. She cited a paragraph from an article by The New York Times that explained the veteran had given advice to Ukrainian officials on how to deal with Trump's personal lawyer, Rudy Giuliani. The Times explained that Vindman is fluent in Russian and Ukrainian, although it said his conversations generally were in English.
"Here we have a U.S. national security official, who is advising Ukraine while working inside the White House apparently against the president's interest and usually, they spoke in English. Isn't that kind of an interesting angle on this story?" Ingraham said, while discussing the news with guest John Yoo.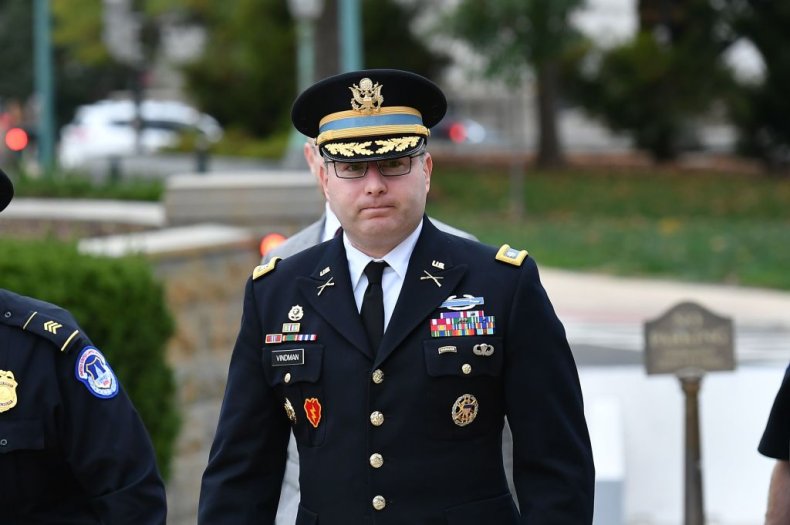 "I find that astounding. Some people might call that espionage," Yoo, a Deputy Assistant U.S. Attorney General at the Department of Justice during the administration of President George W. Bush, said. The attorney is known for authoring memos that attempted to justify the CIA's use of torture.
On the Fox News morning show Fox & Friends, the hosts also attempted to suggest that Vindman's Ukrainian heritage somehow made him disloyal. He's "from the Soviet Union. He immigrated here and has an affinity to the Ukrainian people," co-host Brian Kilmeade said.
Despite the conservative effort to discredit Vindman, former Assistant U.S. Attorney Mimi Rocah told MSNBC that the veteran is "absolutely" a star witness in the impeachment inquiry. "You know, this is the kind of witness that prosecutors dream about," she said.