Senator Ted Cruz Requested Police Assistance at Houston Airport Ahead of Flight
Before Senator Ted Cruz boarded a controversial flight out of Texas while residents have been struggling following a devastating winter storm, his staff contacted the Houston Police Department to help ensure his safety at the airport.
Jodi Silva, a public information officer for the Houston Police Department, confirmed to Newsweek that police monitored the senator's movements when he arrived in the airport terminal on Wednesday.
Silva was unsure whether this request was typical of Cruz's office for when the senator travels.
Photos of Cruz and his wife boarding a flight out of Houston circulating online on Wednesday, sparking a flurry of backlash. The day before, Cruz encouraged Texans to stay home if they could and to not "risk the ice" if they didn't have to.
"We could see up to 100 people lose their lives this week in Texas, so don't risk it. Just stay home and hug your kids," Cruz said on The Joe Pags Show on Tuesday.
Newsweek reached out to Cruz's office for comment, but did not receive a response in time for publication.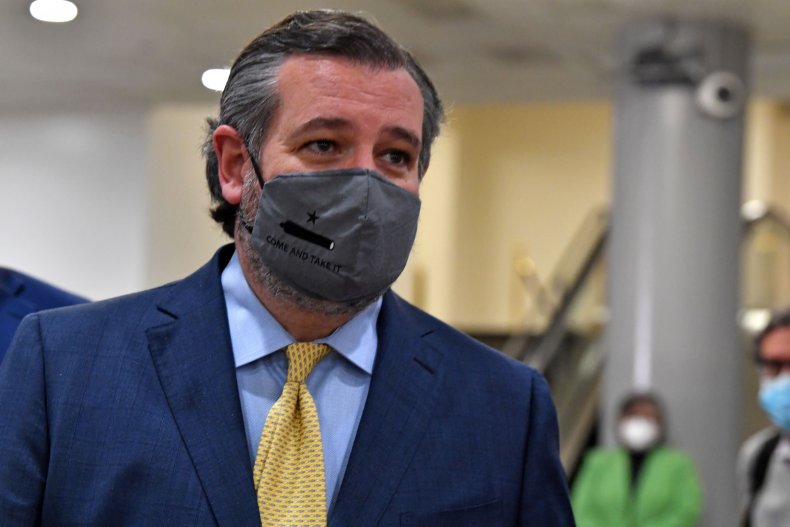 Cruz later said in a statement that he took the flight because his daughters asked to take a trip with friends and he wanted to be a "good dad." He will return to Texas Thursday afternoon, and Cruz said he and his staff were in "constant communication" with state and local leaders regarding the situation in Texas.
"Like millions of Texans, our family lost heat and power too," Cruz said. "We want our power back, our water on, and our homes warm. My team and I will continue using all our resources to keep Texans informed and safe."
Rotating blackouts turned into days-long outages and nearly a dozen people have already lost their lives since a winter storm crippled the state's power grid on Monday morning. Although power is starting to be restored, millions of Texans remain under a boil water advisory. Governor Greg Abbott urged residents to shut off water to their homes if possible.
An unnamed source told the Associated Press that Cruz's trip was "long-planned," but some on social media pointed out Cruz has the financial ability to cancel a trip. Others also pointed out that Cruz was critical of Democratic officials who didn't heed their own advice during the pandemic.
"That's something that he has to answer to his constituents about," state Republican Party Chairman Allen West told the Associated Press. "I'm here trying to take care of my family and look after my friends and others that are still without power. That's my focus."
Some have taken criticism of Cruz's travel past the point of being a misstep and consider it grounds for his removal. He won't be up for reelection until 2024, sparking calls for Texas to recall the senator. However, Texans don't have the ability to recall a senator, and one website is attempting to pressure members of Congress to remove him. For that to happen, two-thirds of Congress would have to vote to expel him and it's highly unlikely 17 Republicans would turn on Cruz.