Senator Tim Kaine Demands Answers From Biden for Not Consulting Congress on Syria Strike
Senator Tim Kaine is demanding answers from the Biden administration after the president ordered airstrikes Thursday against Iran-backed militias in Syria without consulting members of Congress first.
"The American people deserve to hear the Administration's rationale for these strikes and its legal justification for acting without coming to Congress," Kaine said in a statement Friday.
"Offensive military action without congressional approval is not constitutional absent extraordinary circumstances. Congress must be fully briefed on this matter expeditiously," the Virginia Democrat added.
In his first military action as president, Biden ordered a strike on buildings in Syria in retaliation for rocket attacks on U.S. targets in Iraq that killed a civilian contractor and injured nine others, including a U.S. service member. The Syrian Observatory for Human Rights estimated that Thursday's strike killed at least 22 people.
"I'm confident in the target that we went after. We know what we hit," newly confirmed Defense Secretary Lloyd Austin told reporters on Friday.
Biden's decision seemed to signal to Iran that the U.S. would not tolerate attacks on its personnel in neighboring Iraq.
"President Biden will act to protect American and Coalition personnel. At the same time, we have acted in a deliberate manner that aims to de-escalate the overall situation in both eastern Syria and Iraq," Pentagon spokesperson John Kirby said in a statement.
The White House has defended the action, saying that the Defense Department had briefed congressional leadership before the strike.
"There will be a full classified briefing early next week, and sooner if Congress wants it," a National Security Council (NSC) spokesperson told Newsweek. "The administration has been briefing the Hill at the member and staff level today."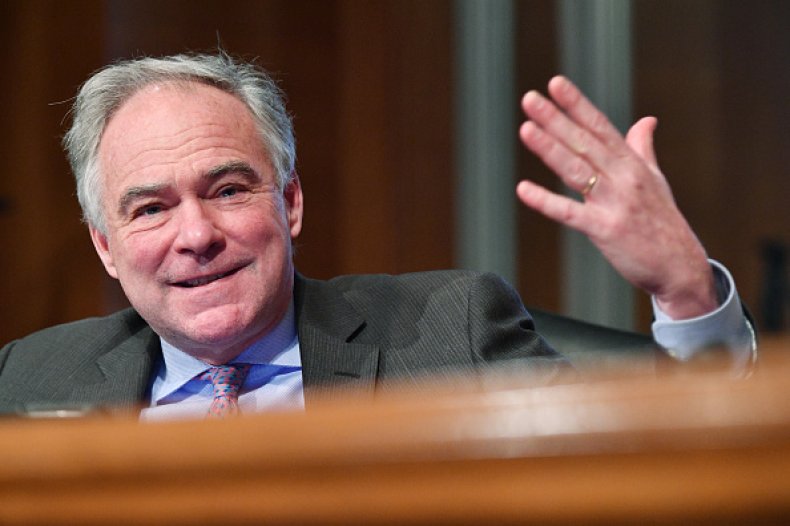 The Defense Department called the bombing in eastern Syria a "proportionate military response" conducted "together with diplomatic measures." But some in Congress, like Kaine, have expressed concern that lawmakers weren't briefed on the plans.
Democratic Representative Ilhan Omar echoed Kaine's remarks, saying in a statement, "I am deeply concerned about the legal justification of the airstrikes in Syria. Military action—in a country where Congress has not authorized war—is unconstitutional in almost all circumstances."
She added, "The administration must provide a legal rationale for why these strikes met the high bar for military action without congressional approval. They must also provide transparency around any civilian casualties that resulted from the strike as soon as possible. These are the same questions we must ask regardless of the administration. Our congressional oversight duty does not change depending on who is in the White House."
The operation was also criticized by Senate Republicans like Rand Paul, who tweeted on Friday, "I condemn meddling in Syria's civil war. I also condemn attacking a sovereign nation without authority. What authority does @POTUS have to strike Syria? Perhaps someone should ask his @PressSec today?"
Syria's Foreign Ministry responded to the attack by saying in a statement it "strongly condemns the cowardly American aggression."
"It is a bad sign regarding the policies of the new US administration, which should adhere to international" norms, the ministry warned. The Syrians added that the strike "will lead to consequences that will escalate the situation in the region."
Iranian officials have not immediately reacted to the strike.
The U.S. has 900 troops in Syria to support local forces fighting ISIS, the Islamic State militant group, and has no immediate plans to reduce the number.
The NSC spokesperson told Newsweek that Biden acted in accordance with the nation's right of self-defense, as a matter of international law, and cited Article 51 of the U.N. Charter. The article says that nothing should come in the way of an individual or collective right to defend oneself in an armed attack.
"The strikes were necessary to address the threat and proportionate to the prior attacks," the spokesperson said.
This story was updated at 11:56 a.m. with comments from a National Security Council spokesperson and at 1:34 p.m. with comments from Representative Ilhan Omar.