Senator Tim Scott Hopeful on Police Reform Bill, Warns We 'Can't Demonize' Officers
Senator Tim Scott said Sunday he's hopeful that a bipartisan bill to reform policing in the U.S. will be finalized but warned that the final text cannot include provisions that will "demonize" officers.
The lead GOP negotiator told Fox News Sunday that lawmakers have been working toward reaching an agreement before the scheduled August recess, set to begin in less than two weeks.
"We worked on it yesterday. We'll have it in the conversation today. We'll be meeting tomorrow. I will be talking with law enforcement leaders tomorrow as well," the South Carolina senator told host Martha MacCallum. "I think there is hope for the bill, without any question."
Progress has been slow on the bipartisan police reform deal that lawmakers started work on last year following the death of George Floyd in police custody. Negotiations have ramped up since April, after former Minneapolis police officer Derek Chauvin was convicted for killing Floyd on second-degree manslaughter and second and third degree murder charges.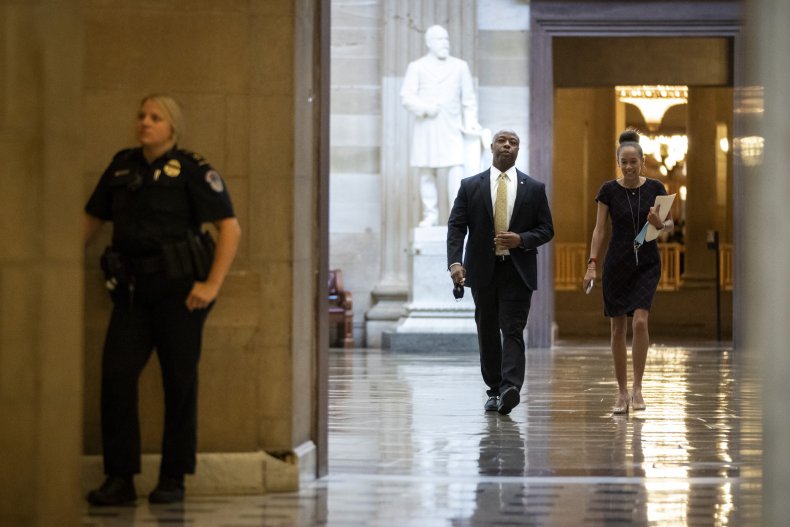 Introduced by Democratic Representative Karen Bass last June, the legislation aims to enact sweeping revisions to policing across the country, with a focus on holding officers accountable for injuries and fatalities of people in police custody. It also seeks to enforce additional training for officers in local departments and deter the use of excessive force.
Senate Republicans unveiled a version of the package in late June, which drew the support of President Joe Biden. Scott, Bass and Senators Cory Booker and Tim Scott, the four chief negotiators, announced the "agreement on a framework addressing the major issues" in a joint statement. "There is still more work to be done on the final bill, and nothing is agreed to until everything is agreed to," the lawmakers said last month.
But negotiations have since stalled over a number of key issues, including whether to allow officers to face civil lawsuits. "That is dead-stop not going to happen, can't happen," said Scott, the lone Black Republican in the Senate, calling it "bad policy." He also vetoed defunding the police, saying "we need to frankly refund the police."
Qualified immunity has been a longstanding sticking point for negotiators. Democrats want to get rid of the doctrine, while Republicans have expressed firm opposition to removing the legal principle that protects state and local officials from civil liability.
Scott listed issues that Republicans were willing to negotiate on, including chokeholds, the militarization of law enforcement and no-knock drug warrants. "We can make them better and more transparent. We're making progress on those issues," he said.
Newsweek reached out to Booker for further comment.