Senator Tim Scott, the only Black Republican senator, gave President Donald Trump the benefit of the doubt when he didn't outright condemn white supremacists during the debate Tuesday, sparking a comparison of a stronger stance he took in 2016.
Toward the end of the presidential debate, Fox News anchor and debate moderator Chris Wallace asked Trump to condemn white supremacists and militia groups that took it upon themselves to restore order in cities where protests turned into violent riots. Trump said he was willing to do it, but when asked to specifically mention "white supremacist and right-wing militia," the president said "Proud Boys, stand back and stand by."
The usage of the words "stand back and stand by" was taken as the president endorsing individuals to be prepared to take to the streets and not an explicit condemnation. When asked for his own take about Trump's answer, Scott told reporters he thought Trump "misspoke."
"I think he should correct it. If he doesn't correct it, I guess he didn't misspeak," the senator said.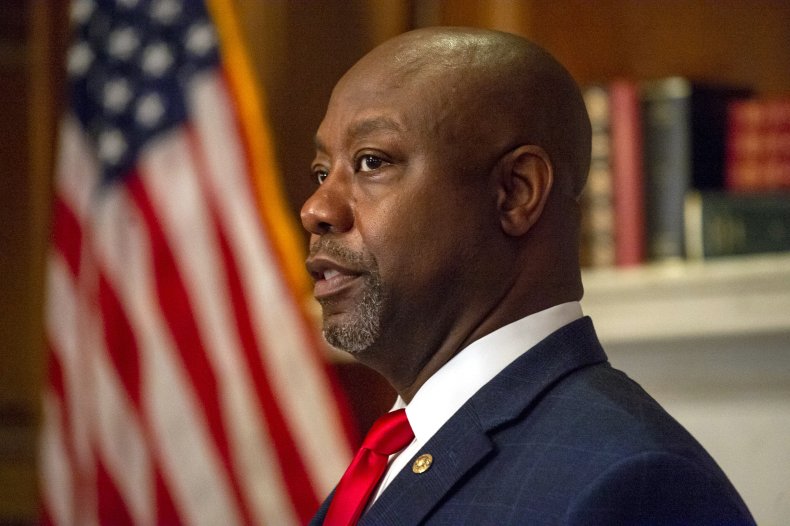 This isn't the first time Trump's been asked to denounce a hate group and it's a request that was made of him during the 2016 election, as well. After receiving an endorsement from David Duke, former grand wizard of the Ku Klux Klan, CNN's Jake Tapper asked Trump to disavow the endorsement and "unequivocally condemn" Duke by saying he doesn't want his vote or that of any other white supremacist.
Trump's response that he didn't "know anything about David Duke" prompted a back and forth of the then-presidential candidate saying he needed to do more research. When Tapper specifically asked Trump about his thoughts on the KKK and Duke, Trump said he didn't know Duke and had never met him.
Following that 2016 CNN interview, Scott said any candidate who cannot "immediately condemn a hate group like the KKK does not represent the Republican party and will not unite it." He added that Trump's inability to stand up to the KKK showed a lack of trust in him to take on Russian President Vladimir Putin, Iran or ISIS.
A supporter of Senator Marco Rubio, who was also campaigning for the Republican presidential nomination at that point in 2016, Scott said it was time Republicans who are serious about "winning the White House and getting America back on track" support his candidate, not Trump.
Trump's posted on Twitter or retweeted other people's comments at least 20 times since Tuesday's debate, none of which dealt with the most widely talked about moment. White House communications director Alyssa Farah told Fox News there was nothing to "clarify" and that he told people to "stand back." She noted that Trump said he was willing to tell white supremacists and militias to not add to the violence in cities.
Hogan Gidley, national press secretary for the Trump campaign, told CNN Trump wants the Proud Boys, who have questioned the number of Jews who were killed in the Holocaust, to "get out of the way." He added that Trump wants them to "not do the things they say they want to do," calling the Proud Boys a "reprehensible group."
Newsweek reached out to the White House and Senator Scott for comment but did not receive a response in time for publication.