After the Biden administration ordered the deployment of thousands of troops to assist evacuation efforts in Afghanistan, Senator Tom Cotton on Saturday called on the president to destroy every Taliban fighter near Kabul with air power until the drawdown is complete to ensure the safe return of all Americans.
Efforts are underway to evacuate all but a core team of personnel from the U.S. Embassy in Kabul as Taliban forces continue to take over cities and provinces across the nation, edging closer toward Afghanistan's capital.
Cotton urged Biden to deploy air power to ensure the safety of Americans and criticized the president's handling of the withdrawal on Saturday.
"At a minimum, President Biden must unleash American air power to destroy every Taliban fighter in the vicinity of Kabul until we can save our fellow Americans. Anything less will further confirm Joe Biden's impotence to the world," the Arkansas Republican said in a statement.
"The fiasco in Afghanistan wasn't just predictable, it was predicted. Joe Biden's ill-planned retreat has now humiliated America and put at risk thousands of Americans left in Kabul," Cotton added.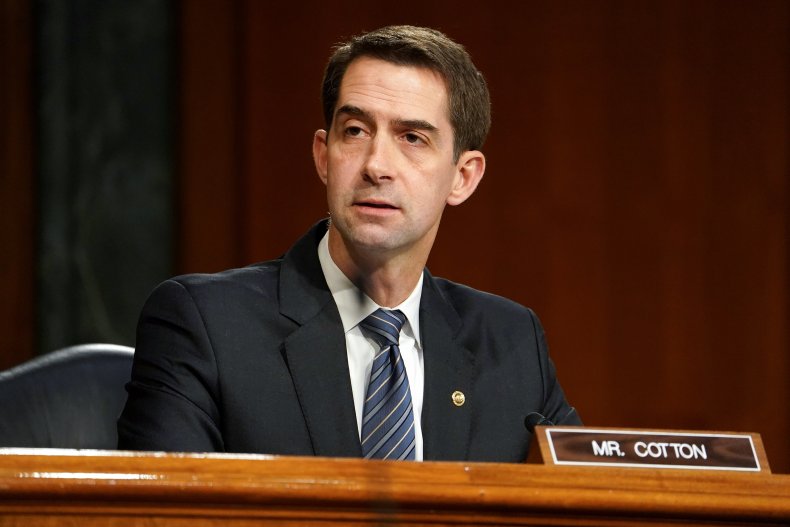 Biden increased the number of troops being sent back to assist "an orderly and safe drawdown" to 5,000 on Saturday as he defended his decision to withdraw all troops from the nation. He also ordered military personnel and intelligence officials to maintain enough resources to respond to "future terrorist threats from Afghanistan."
"One more year, or five more years, of U.S. military presence would not have made a difference if the Afghan military cannot or will not hold its own country," he said in a White House statement. "An endless American presence in the middle of another country's civil conflict was not acceptable to me."
House Speaker Nancy Pelosi praised Biden's "clarity of purpose" and the "wisdom of his actions" in a statement released Saturday. "We join the President in acknowledging the sacrifices of our men and women in uniform and their families," she added.
Biden announced this year that the withdrawal will be completed by September 11, 2021. As the U.S. nears a complete withdrawal from Afghanistan, the Taliban has gained control of all but two major cities in the country—Kabul and Jalalabad. The Afghanistan government lost its last major city in northern Afghanistan, Mazar-i-Sharif in the Balkh province, on Saturday.
Pentagon spokesperson John Kirby said Friday that the Department of Defense officials are "concerned by the speed" of the Taliban takeover.
House Minority Leader Kevin McCarthy has criticized Biden's handling of the withdrawal, calling for the administration to ensure "close air support" to fight the fast-moving Taliban forces.
"The White House has no discernable plan other than pleading with the Taliban," he said late Friday. "The bungled withdrawal, reminiscent of his failed withdrawal from Iraq, is an embarrassment to our nation."
Newsweek reached out to the White House for comment.