Senator Warns That Trump Is Being 'Boxed In' By Bolton, Pompeo So He Feels He Has to Strike Iran
Senator Angus King has warned that Secretary of State Mike Pompeo and national security adviser John Bolton are working to make President Donald Trump "feel boxed in" so that he believes he has no other option but to strike Iran militarily.
King, an Independent representing Maine, said in an interview with CNN's New Day that Bolton and Pompeo are "much more aggressive," while Trump has suggested recent attacks allegedly carried out by Iran on oil tankers aren't a big deal. The senator, who serves on the Senate Armed Service Committee, pointed out that this sends "a confusing message."
"What really worries me," King continued, "is that the secretary of state and John Bolton, national security adviser, are moving us into a position where the president will feel boxed in and he has to respond in some military way. Because I don't think that's his instinct," he said.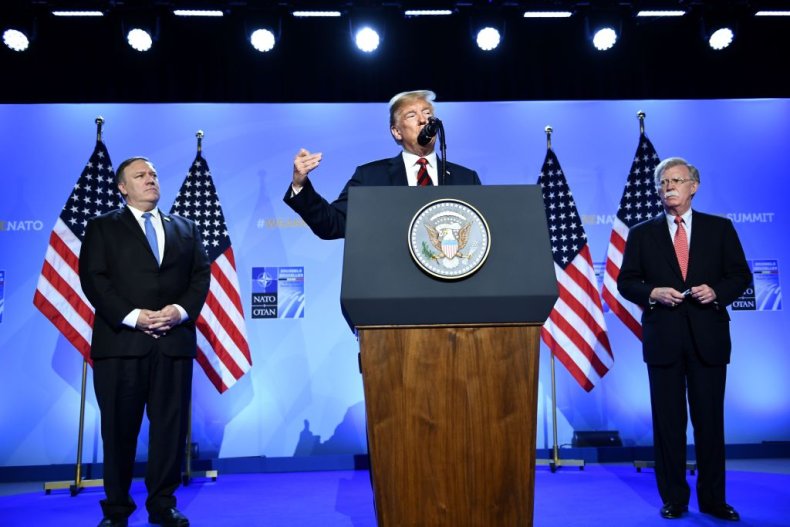 "Wars start sometimes or often by miscalculations and misunderstandings. This is a situation that's ripe for that," the congressman cautioned.
In an interview with TIME magazine published on Tuesday, Trump appeared to undercut the harsh rhetoric of Bolton and Pompeo against Iran.
"So far, it's been very minor," the president said in reference to alleged Iranian attacks on oil tankers. However, Trump did also say that nuclear weapons would be his red line: "I would certainly go [to war] over nuclear weapons."
The U.S. has accused Iran of carrying out a series of attacks against allied oil tankers in the Strait of Hormuz. Iran has denied being involved with the attacks or planning any such actions. Several U.S. allies have also expressed skepticism at the Trump administration's insistence that Tehran was behind the incidents.
Tensions have been high between the U.S. and Iran for decades, but they have increased since Trump took office after a brief period of warming relations under former President Barack Obama. In 2015, Iran signed the Joint Comprehensive Plan of Action (JCPOA), commonly known as the Iran nuclear deal, with the U.S., the U.K., Germany, France, the European Union, Russia and China. The international treaty offered Iran sanctions relief and foreign investment in exchange for curbing its nuclear program.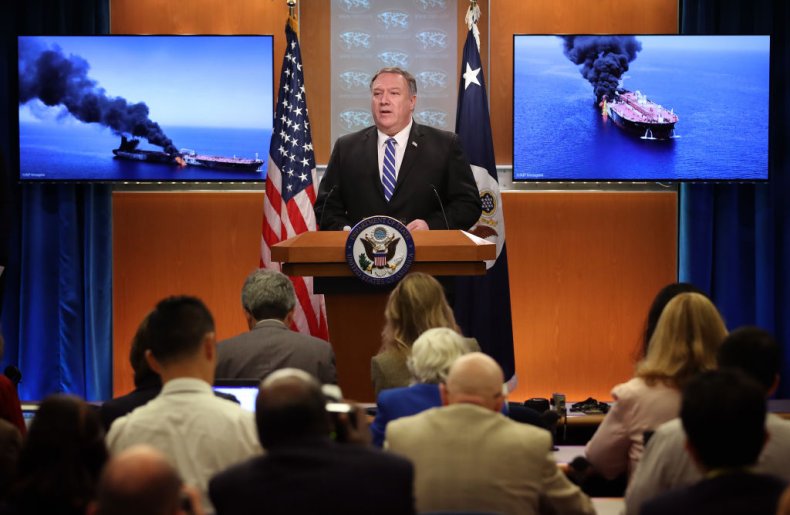 Trump withdrew the U.S. from the Obama-era agreement last year and his administration moved to renew harsh sanctions targeting the Persian Gulf nation. The JCPOA's other signatories have been highly critical of the Trump administration's decision and have attempted to preserve the landmark nuclear deal.
But Washington's sanctions have proven hard to counter, and Tehran has announced that it's stepping back from its commitments under the treaty. This week, Iranian officials said they would significantly increase their uranium enrichment levels and would surpass the limit set by the JCPOA before the end of the month.
Meanwhile, some Republican lawmakers in Washington have begun urging Trump to carry out military strikes on Iran. Trump has already ordered additional military forces to the region, leading many lawmakers to raise concerns about the possibility of war.