Senator, White House Clash Over Transfer of Suspect From Gitmo to Yemen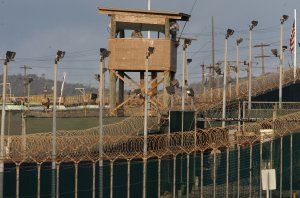 Over the last year, Yemen has become notorious as a breeding ground for terror plots against the U.S. and as a place where prisons have become finishing schools for escape artists. Despite the pressure President Obama is under to close the U.S. detention facility in Guantánamo, administration officials in January suspended the transfer of terrorist detainees to Yemen. The reason: Yemeni authorities have a dismal record of controlling militants in Yemen, a country that is teetering on the edge of failed-state status. But earlier this week the administration made an exception to its own rule, transferring to Yemen former Gitmo detainee Mohammed Odaini, whose release from the U.S. detention camp had been ordered in May by a federal judge.
Now the vice chairman of the Senate intelligence committee is aggressively questioning the wisdom of the administration's decision to send Odaini to Yemen. GOP Sen. Kit Bond isn't directly challenging the administration's decision to comply with the court order requiring Odaini's release. Other leading Senate Republicans, including John McCain and Lindsey Graham, are on record acknowledging that the administration should comply with court rulings ordering detainees to be released. But Bond is questioning why the administration decided to send Odaini to Yemen. What's particularly troubling him, Bond says, is that both the CIA and the Defense Intelligence Agency "recommended against" Odaini being sent to Yemen, according to a letter the senator sent to White House national-security adviser James Jones on July 8.
But Jones disputed Bond's assertion that the intelligence community objected to Odaini's return to Yemen. In a handwritten postscript to a letter on the Odaini case that the national-security adviser sent to Bond on July 9, Jones insisted: "You can be certain that the DNI [National Intelligence Director] and DCIA [CIA Director Leon Panetta], as well as the entire membership of the PC [a committee of 'principals'—very senior officials—that reviews and approves detainee release orders] concur in this decision." In an e-mail to Declassified, a senior administration official maintained: "While it is true that certain agencies have raised general concerns about any transfers to Yemen—which the administration shares (which indeed is why we put in place a suspension on transfers to Yemen)—no agency objected to complying with this court order by transferring him to Yemen."
Bond is holding firm: "I stand by what I said in the letter," Bond told Declassified, adding that he intended to reiterate the point personally to Jones. He said that he had confirmed the information in his letter about CIA and DIA objections before writing it. Bond added that his larger concern is that 20 percent of detainees released from Gitmo (many, if not most, on the orders of the George W. Bush administration) have now returned to the battlefield. But he says the Senate intelligence committee has had "tremendous problems" getting information from the administration about what threats spy agencies believe detainees slated for release might pose and whether individual agencies have raised objections to the release of specific detainees.
Administration officials insist that the government task force that evaluates which detainees can be properly released acts only after a unanimous vote by its members. However, several officials said that the only intelligence agency that has a formal vote on the task force is the National Intelligence director's office. Some administration critics charge that in joining with other task-force members in unanimous votes on releasing detainees, the intelligence czar's office has been ignoring objections raised by one or more of the 16 intelligence agencies—including te CIA and DIA—which the intelligence director's office is supposed to manage and represent. In his July 8 letter to Jones, Bond complained that for months the administration has been ignoring requests he had made for assessments intelligence agencies provided to the Gitmo task force as to what threat individual detainees might pose if they are released. In his July 9 letter to Bond, Jones said that the threat assessment on Odaini was apparently being sent to the Senate committee around the same time that Bond was drafting his letter of complaint.
Neither the CIA nor DIA immediately responded to requests for comment on what Senator Bond said was their view regarding the transfer of Odaini to Yemen. Odaini's release from Gitmo was ordered by federal Judge Henry Kennedy on the grounds that he was a student and that the U.S. government had produced "no evidence that [he] has any connection to Al Qaeda." Bond argues, however, that even if Odaini really did have no connection to Al Qaeda before he was sent to Gitmo, the fact that Yemeni authorities have so little control over militants means that on his arrival back there, Odaini is as likely as not to be greatly susceptible to the appeals of jihadist recruiters.