Republican and Democratic senators on Sunday announced a gun safety framework following recent multiple mass shootings, marking a significant step as lawmakers have been divided when it comes to gun reform.
The framework covers improved background checks to those under 21 years old, allocating funds for mental health treatment and school security, and grants to states to enforce red flag laws, the Associated Press reported Sunday.
Both parties agreed on those measures in principle only since a legislative form has not yet been written, according to CNN.
The lead negotiators in the agreement are Senators Chris Murphy of Connecticut, John Cornyn of Texas, Kyrsten Sinema of Arizona, and Thom Tillis of North Carolina, according to Politico. The proposal would need 60 votes to make it to the Senate floor once a legislative format is completed.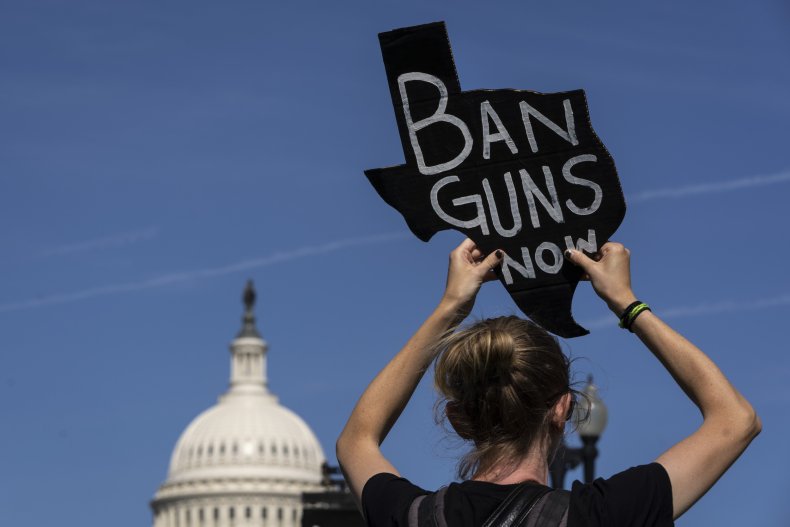 Ten Senate Republicans already support the deal, according to Axios, including Cornyn, Tillis, Roy Blunt of Missouri, Richard Burr of North Carolina, Bill Cassidy of Louisiana, Susan Collins of Maine, Lindsey Graham of South Carolina, Rob Portman of Ohio, Mitt Romney of Utah and Pat Toomey of Pennsylvania.
The deal also covers punishing those who illegally straw purchase and traffic guns. It would also add convicted domestic violence abusers and those subject to domestic violence restraining orders to the National Instant Criminal Background Check System (NICS).
Biden and McConnell Thank Senators
Meanwhile, President Joe Biden on Sunday thanked the senators for their proposal, but added that there is still more to be done.
"Obviously, it does not do everything that I think is needed, but it reflects important steps in the right direction, and would be the most significant gun safety legislation to pass Congress in decades," he said in a statement.
"With bipartisan support, there are no excuses for delay, and no reason why it should not quickly move through the Senate and the House. Each day that passes, more children are killed in this country: the sooner it comes to my desk, the sooner I can sign it, and the sooner we can use these measures to save lives," the president added.
Senate Minority Leader Mitch McConnell also praised the senators on Sunday for agreeing on their gun control framework.
"The principles they announced today show the value of dialogue and cooperation," McConnell said in a statement, according to The Hill. "I continue to hope their discussions yield a bipartisan product that makes significant headway on key issues like mental health and school safety, respects the Second Amendment, earns broad support in the Senate and makes a difference for our country."
The renewed gun reform efforts come after 18-year-old gunman Salvador Ramos killed 19 children and two teachers at Robb Elementary school in Uvalde, Texas, after he legally purchased two AR-15-style rifles. That same month, 18-year-old Payton Gendron killed 10 Black people at a grocery store in Buffalo, New York.
On Wednesday, the House of Representatives passed the Protecting Our Kids Act to raise the legal age to buy semi-automatic rifles to 21, require safe firearms storage, and crack down on illicit firearm trafficking. The bill was passed on a 223-204 vote.
Meanwhile, Cornyn posted a video on Wednesday to Twitter where he identified mental health as a significant element behind mass shootings, pushing back against "artificial deadlines" for votes on any legislation.
"I want to find targeted solutions to this problem and protect the rights of law-abiding gun owners," he tweeted.
Newsweek reached out to the media offices of Senators Murphy and Cornyn for comment.
Update 6/12/22, 4:02 p.m. ET: This article has been updated to include comment from McConnell.