Is Brett Kavanaugh's Calendar Corroborating Evidence for Christine Blasey Ford's Sexual Assault Allegations?
Lawmakers in the Senate Judiciary Committee argued Friday over whether or not Brett Kavanaugh's detailed calendars from his high school years corroborated Christine Blasey Ford's claims that the judge sexually assaulted her when both were teenagers.
"This may be powerful corroborating evidence that the assault happened," Senator Sheldon Whitehouse said. "But with no FBI investigation, we can't tell."
"You investigate. It's the least thing a sexual assault victim is entitled to when she comes forward," the senator added.
During his opening statement on Thursday, Kavanaugh pointed to the calendars as proof of his innocence against Ford's claims of sexual assault. Though Ford could not confidently provide exactly what day the incident took place, senators have honed in on July 1, which shows that the judge attended a football workout and then went to "Timmy's" with several of his friends for "skis."
When asked by Republican-hired prosecutor Rachel Mitchell if any of the calendar entries in that summer of 1982 supported Ford's allegation, Kavanaugh responded "no." Mitchell swiftly moved on to another topic of questioning.
But as Whitehouse and other Democratic senators argued on Friday, the calendar actually corroborated many aspects of Ford's testimony.
First, Ford alleged that the attack took place at a small gathering at someone's house that summer, and identified Kavanaugh, Mark Judge and P.J. Smyth as being in attendance. Kavanaugh's own calendar entry from July 1 shows that he went to a type of gathering that had been described by Ford, and was accompanied by two of the men she said were key witnesses to what really happened that night.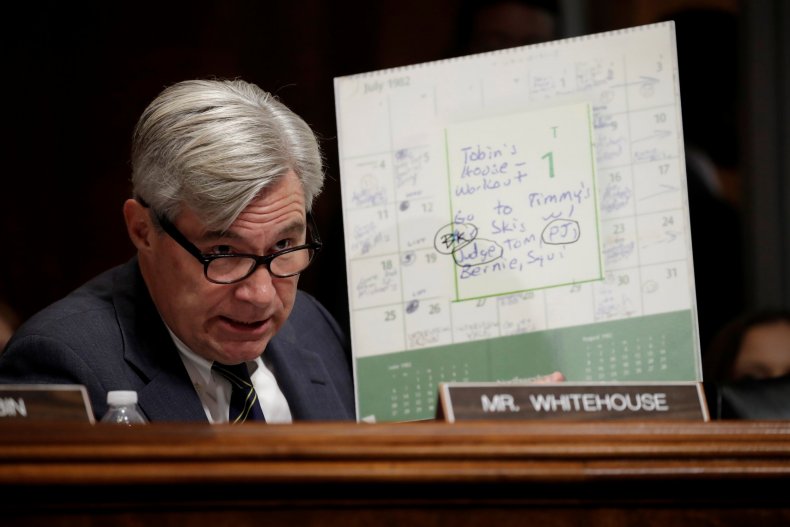 Smyth denied ever being in attendance at the gathering in a written statement under penalty of felony.
Whitehouse added that the "skis" in the entry likely referred to "brewskis," or beers, the group of boys drank that night.
"They were drinking," the senator said as he held up a photograph of the calendar entry. "Just as [Ford] said."
Committee Chairman Charles Grassley responded to Whitehouse's arguments, noting that the calendar indicated there were at least seven boys at the party and that Ford mentioned only four in her testimony and statement.
When asked by Mitchell on Thursday about the men in attendance, Ford said, "I can't guarantee that there weren't a few other people there, but they are not in my purview of my memory."
On Twitter, former federal prosecutor Mimi Rocah wrote that Kavanaugh's calendar "is independent corroborating evidence. Ford never saw these calendar entries before she made her allegation but it corroborates key pieces of her testimony - key players together at a party around the time frame."