President Donald Trump's pick to head the Food and Drug Administration (FDA) was pelted with questions on youth vaping during his confirmation hearing before the Senate Health, Education, Labor and Pensions Committee Wednesday.
Among several lawmakers from both sides of the aisle, Sen. Patty Murray, a Democrat from Washington, doggedly questioned oncologist Stephen Hahn's commitment to slow the number of climbing vaping illnesses.
"Are you committed to finalizing the flavors compliance policy that the administration announced on September 11? Yes or no," Murray asked Hahn in her third question of the afternoon.
Hahn, a chief medical executive at the MD Anderson Cancer Center in Texas, said only that he agreed that the vaping crisis requires "aggressive action," and declined to provide further details. He added that he looks forward to the president's decision on the matter, saying that he hasn't had a conversation with the president about the possible ban.
The Trump administration has flip-flopped on a proposed ban to certain e-cigarette flavors, which have been shown to get kids hooked on vaping. In September, Trump announced he would ban most of them, but two months later he has resisted efforts to do that, The New York Times reported.
Youth vaping spiked in 2019 despite the FDA's prevention efforts, according to the annual Youth Tobacco Survey. More than 5 million children use e-cigarettes, up from 3.6 million in 2018. Meanwhile, vaping illnesses continue to climb. As of last week, the Centers for Disease Control and Prevention (CDC) reported more than 2,100 vaping-related lung injuries and 42 deaths.
In her opening statement, Murray accused Trump of succumbing to the interests of tobacco and politics and warned that the FDA commissioner has to stick to the science.
Hahn responded that as oncologist, he's seen the ravages of tobacco-related cancers, and said that he's aware of the alarming Tobacco Youth Survey data.
"I think this is an important, urgent crisis in this country. I do not want to see another generation of Americans become addicted to tobacco and nicotine, and I believe that we need to take aggressive action to stop that," Hahn replied.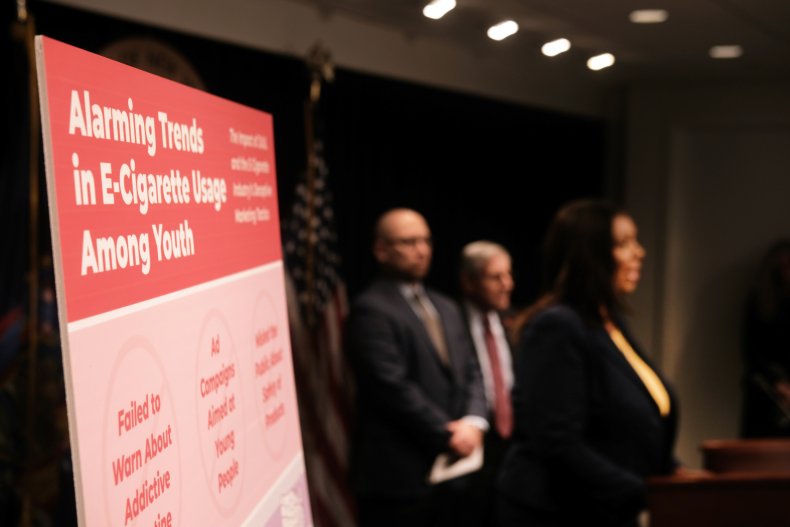 Republican Senators John Cornyn of Texas, Lamar Alexander of Tennessee and Mitt Romney of Massachusetts also expressed their concerns for action on vaping.
Romney said the e-cigarettes issue was a good litmus test for whether Hahn could put science and public health ahead of politics and the political contributions that affect his bosses more broadly
"The members of this body have been waiting for more than two months for the FDA to release a flavor ban and while we've been waiting 35 more people have died from lung injury," Romney said, asking "Is the FDA and your leadership able and willing to take action which will protect our kids whether or not the White House wants you to take that action?
Hahn said that, as a physician, he took a pledge to put the patient first. That may the case, but sometimes Washington is a place where "an oath of that nature takes a back seat," Romney replied.
Hahn leads the University of Texas MD Anderson Cancer Center, an organization with a budget of more than $5 billion, 20,000 employees and 141,000 patients from dozens of countries, according to hearing documents. He's also a board-certified oncologist who continues to treat patients and has served as a commander in the U.S. Public Health Service Commissioned Corps.