Senators Call on Trump to Cancel Putin Summit Following Mueller DNC Hack Indictments
Lawmakers have urged President Donald Trump to cancel his summit with President Vladimir Putin of Russia following Special Counsel Robert Mueller's indictment of 12 Russian intelligence officials accused of hacking DNC servers in 2016.
"President Trump should cancel his meeting with Vladimir Putin until Russia takes demonstrable and transparent steps to prove that they won't interfere in future elections," wrote Senate Minority Leader Chuck Schumer in a statement.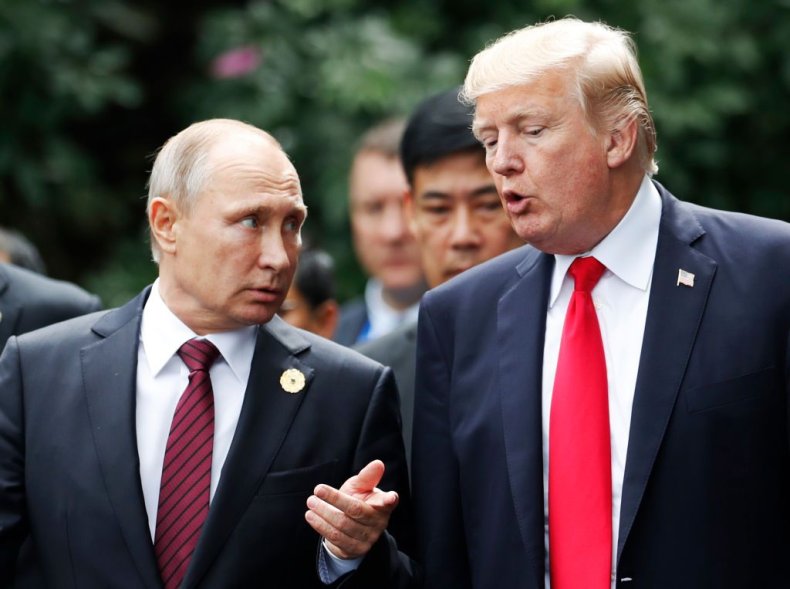 "Glad-handing with Vladimir Putin on the heels of these indictments would be an insult to our democracy."
He was joined in calls to cancel the summit by Republican Arizona Senator John McCain, a frequent Trump critic, who wrote that if Trump is not prepared to hold Putin responsible for election meddling, "the summit in Helsinki should not move forward."
Trump will set off on Monday for his summit with Putin in Helsinki, the first one-on-one meeting between the leaders since Trump's November 2016 election.
The president has promised to raise the subject of election meddling in the meeting, but last November said he believed Putin when the Russian president assured him he knew nothing of a covert Russian campaign to interefere with the 2016 election.
Friday's indictment places new pressure on Trump to address the issue, with several other senior Democrats saying Friday they did not trust the president to confront Putin.
House Minority Leader Nancy Pelosi said that Trump's refusal to condemn Putin "makes it clear that meeting with Putin would be both pointless and dangerous," while Senate Intelligence Committee Vice Chairman Mark Warner said the Russian leader "will undoubtedly take full advantage of an ill-prepared President."
White House press secretary Sarah Huckabee Sanders told NBC News that the summit is "still on." On Friday the administration noted that no Trump officials were implicated, with Trump's lawyer Rudy Giuliani hailing the indictments as "good news for all Americans. He called on the special counsel to "end this pursuit of the president and say President Trump is completely innocent."