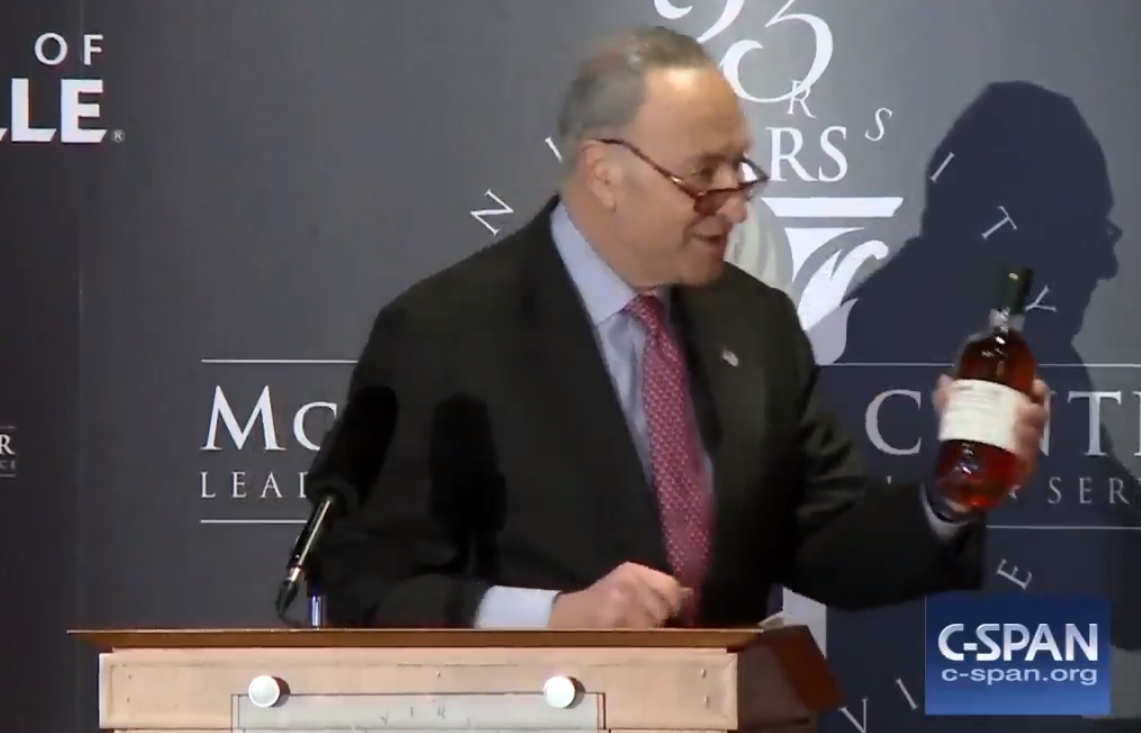 Talk about a rye-minded debate!
Democratic Senator Chuck Schumer ventured onto the home turf of his Republican counterpart, Mitch McConnell, and challenged him to a duel over the most venerated of Kentucky products: bourbon.
At a conference at the University of Kentucky on Monday morning, Schumer admitted that he and McConnell don't agree on much—then created an entirely new area of conflict.
"Brooklyn, where I was born, raised and proudly live, produces some of the best bourbon in the world," Schumer said. "I know that's a contentious thing to say in these parts."
The senator then pulled out a bottle of Widow Jane, a product made near Schumer's Brooklyn apartment, and praised its contents.
"Widow Jane is distilled right around the corner from the apartment where my wife, Iris, and I have lived for more than 30 years," he said. "It's filtered through the same limestone that was used to build some of New York's iconic structures, from the Brooklyn Bridge to the Statue of Liberty."
He then walked across the stage and presented the 10-year-old hooch to his host, McConnell, who stood gamely for photographers, though his face reflected the look one gives after seeing a dead man or a rat carrying a slice of pizza through the subway.
"I'm sure he'll never agree that New York bourbon even counts as bourbon," Schumer added.
On that, Schumer was right: "There's no such thing as Brooklyn bourbon," McConnell later retorted, C-Span reported. Many on social media shared the senator's opinion.
But legally, McConnell is wrong: According to the federal regulations, "bourbon whisky" is any whiskey "produced at not exceeding 160 proof from a fermented mash of not less than 51 percent corn, rye, wheat, malted barley, or malted rye grain, respectively, and stored at not more than 125 proof in charred new oak containers."
In other words, it doesn't have to be from Kentucky to be "bourbon.
But for his part, Schumer was wrong, too. Widow Jane is (full disclosure) exemplary whiskey, but the contents of the bottle presented by Schumer to McConnell were not, as he claimed, distilled in Brooklyn, but merely aged and brought to the correct proof in Brooklyn.
"The 10-year-old is a Kentucky bourbon that we acquired in barrels at a young age," said Michele Clark, vice president of operations at the Brooklyn-based Widow Jane, who declined to name the Kentucky distillery from which she acquired the spirit. "We have some of the best whiskeys that we proof with Widow Jane limestone water and bottle in New York."
The water, as Schumer had pointed out, comes from an old mine in upstate New York and is crucial to the final product.
"The magnesium- and calcium-rich water imparts the flavor and is integral to the process," Clark said. "The limestone water allows the flavor to linger."
She described her high-rye-content bourbon as having "an aroma of butter, cream and toffee, a taste of honey and cherrywood and a finish of charred oak and orange peel" (fuller disclosure: That is deliciously accurate).
She added that Widow Jane is producing Brooklyn-distilled bourbons using heritage grains, which will, no doubt, give Schumer another reason to visit McConnell in Kentucky.
It is unclear if McConnell, a noted Kentucky booster, has ever consumed Widow Jane bourbon, which earned the Double Gold Medal at the San Francisco World Spirits Competition in 2013. The Whiskey Reviewer, an independent publication, gave Widow Jane a B+ rating, which is defined as "Very good stuff. Four stars." By comparison, the Kentucky-made Jim Beam Distiller's Cut Bourbon only received an A- from these tough graders.
McConnell's press office could not be immediately reached as it was "experiencing a high-volume of calls." A tweet to the office was not immediately returned.