U.S. Senators Chris Murphy and Richard Blumenthal said they were denied full access to the Danbury Federal Correctional Institution in Connecticut while investigating recent complaints about COVID safety measures and staff shortages in recent weeks.
Earlier this month, the senators and Representative Jahana Hayes sent a letter to the federal Bureau of Prisons (BOP) requesting a review of the facility amid reports that about half of the women in a satellite facility tested positive for COVID and isolation guidelines weren't followed, according to the News-Times in Connecticut.
Wednesday, Murphy and Blumenthal arrived at the facility to evaluate the conditions of the facility but were only allowed to see one unit of the men's prison and not allowed in the women's facility, according to a series of tweets from Murphy.
"From what we gathered, around 40% of inmates are in either isolation or quarantine. Plus, the facility is badly understaffed," Murphy said in the continuation of the post. "This poses a major risk to both inmates and staff and it must be addressed."
Murphy said the BOP and Justice Department should step in to assist the facility that has seen a spike in COVID cases among its population of about 1,000 inmates. Additionally, the facility is down to just 80 corrections officers from 115 two years ago, according to The Associated Press. Having 80 correctional officers is well below the BOP's stated goals of one officer per prison unit. Boylan told the AP that Danbury currently has about one officer for every three units, and they have 13 officers currently unavailable due to COVID.
"This facility, even during COVID, should be open for inspection by policymakers," Murphy said at a press conference following the tour, according to the AP. "We need to see it during good times, but we also need to see it during bad times. And if the Bureau of Prisons has decided that U.S. lawmakers are not going to be able to see what is really happening inside these prisons during a crisis, that's a problem."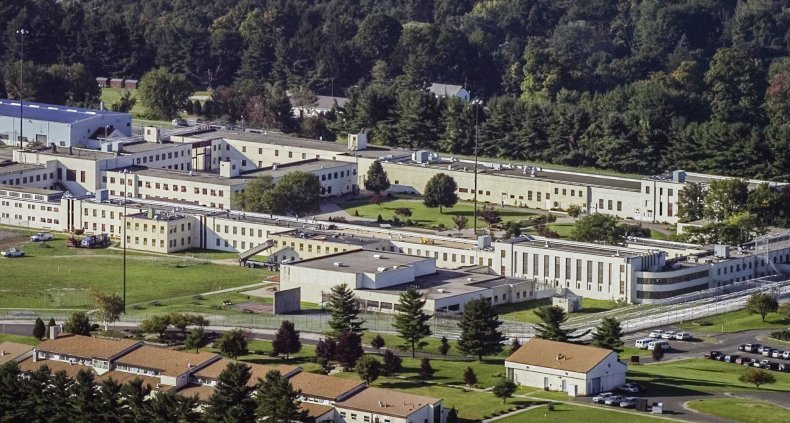 Blumenthal said the itinerary of their visit to the facility along with union leaders representing the workers in the prison and other state lawmakers was rejected by prison officials "at the last minute", the AP reported.
"The officials here said we'd love to have you come back when COVID is over," Blumenthal said, according to the AP. "We came here to see conditions when COVID is the problem. That was the whole point."
Shaun Boylan, a corrections officer and local union leader, told the AP that the lawmakers were kept away from most areas where inmates were living during the tour.
Boylan also told the AP that the recent COVID outbreak has had a negative impact on the workers and inmates, with many officers working long hours to fill the void of coworkers who are in isolation because of a positive test or exposure.