Senators Hope to Make Violence Against Police Officers a Hate Crime In New Bill
Senators want to introduce a new bill which will essentially treat purposely attacking a police officer as a federal hate crime.
The Senate version of the Protect and Serve Act of 2018, introduced by Senators Heidi Heitkamp (D-North Dakota) and Orrin Hatch (R-Utah), aims to make it a federal crime to knowingly cause or attempt injury because of the "actual or perceived status" that the person is a law enforcement officer.
The bill uses the same "actual or perceived" language which is featured in the Hate Crimes Prevention Act. That act makes it a federal crime to use violence against people because of their race, color, religion, sexual orientation, gender identity or disability.
The Protect and Serve bill aims to address "ambushes and violence against police" in the wake of a string of high-profile killings of law enforcement officers, including separate attacks in Dallas and Baton Rouge in 2016.
"Every day, law enforcement officers across the country put their lives on the line to protect us from harm," said Hatch. "We are all indebted to them for their sacrifices and their service to our communities, which is why we must do all that we can to protect them.
"These heinous, cowardly assaults are an attack not just on law enforcement, but on the rule of law. The Protect and Serve Act of 2018 makes clear that no criminal will be able to escape justice when he singles out and assaults those who put on the badge every day to keep us safe."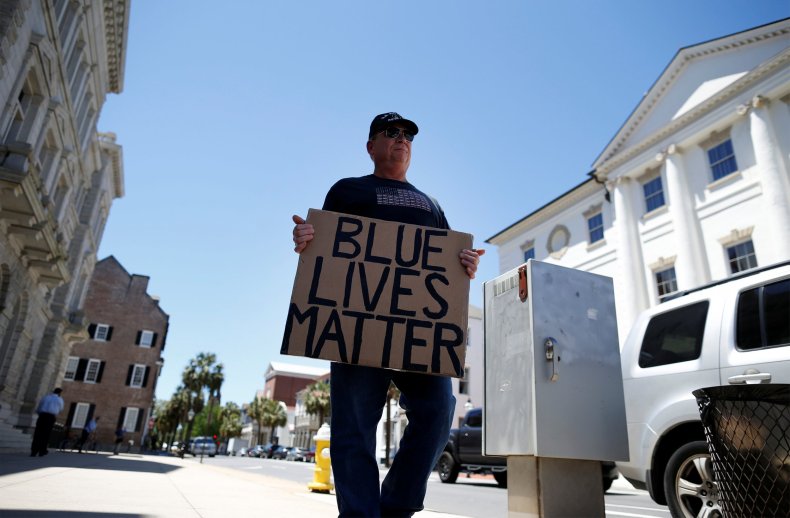 The bill has received the backing of several law enforcement groups. However, campaign and civil rights groups have also warned treating officers the same as already persecuted groups will create "dangerous and divisive narratives that there is a 'war on police.'"
"The Senate's version is nothing short of offensive to historically persecuted and marginalized communities across this country, said Kanya Bennett, legislative counsel at the Washington Legislative Office at the American Civil Liberties Union (ACLU).
"Federal hate crimes laws were passed to correct the centuries of inaction and injustice that too often was the response to violence based on immutable traits and identities, including race, gender, religion, sexual orientation, gender identity and disability," Bennett said. "This definition under no possible interpretation, could include being a member of law enforcement."
In April, two Florida deputies were shot dead while they were eating at a restaurant in Trenton, Florida, in an apparent ambush purposely targeting the officers.
"We're not going to make this a political issue other than the fact, 'What do you expect happens when you demonize law enforcement to the extent it's been demonized?'" Gilchrist County Sheriff Bobby Schultz said during a press conference at the time.
The gunman, John Hubert Highnote, 59, was later found dead close to the Ace China restaurant. Officers are still unable to find a motive for the attack.
"Already this year we have 87 officers shot in the line of duty and 28 of them have been killed," Chuck Canterbury, national president of the Fraternal Order of Police, said in a statement showing support for the Senate bill.
"Our nation's law enforcement officers face dangers every day in the course of protecting their communities, but now they face a new threat—deliberate attacks, often by ambush, by people who desire nothing more than to wound or kill an officer. Finally, Congress has decided to act."
An open letter from the ACLU, Human Rights Watch, The Leadership Conference, and NAACP Legal Defense and Educational Fund, urges Senators to vote down the bill, arguing that it appears to be a political response to calls for "police accountability in the face of continued killings and assaults of unarmed African Americans."
The House version of the bill, introduced by Florida Republican John Rutherford and Florida Democrat Val Demings, does not feature the "actual or perceived" status line. The House bill still calls for it to be a federal offense to knowingly causes serious bodily injury to a law enforcement officer and punishable by 10 years in prison, increased to life if the crime involves the killing or kidnapping of an officer.