Senators Press Military to Seek 'Win' in Ukraine, Say US 'Afraid' of Putin
Top defense officials appearing before the Senate Armed Services Committee were met with heat from both sides of the aisle regarding the Biden administration's language surrounding the war in Ukraine.
"Have the words 'win' and 'victory' been purged from the administration's vocabulary when it comes to Ukraine?" Republican Senator Tom Cotton of Arkansas asked Secretary of Defense Lloyd Austin during the hearing, which was attended by Newsweek.
"I reviewed your written testimony — you talked about 'deterrence' 29 times," he added. "You never want to use the word 'win' or 'victory' in reference to Ukraine."
Austin denied Cotton's allegations.
"'Win' has certainly not been purged from our vocabulary," he said, adding that the Biden administration's goal is for Ukraine to maintain "its sovereignty and its ability to protect its country, defend itself, [and] maintain its government."
But many Americans share Cotton's sentiments, and want the administration to take a stronger stance toward Russian aggression. An Associated Press/NORC poll published on March 24 found that 56% of Americans felt that President Joe Biden's "response to Russia's invasion of Ukraine has not been tough enough."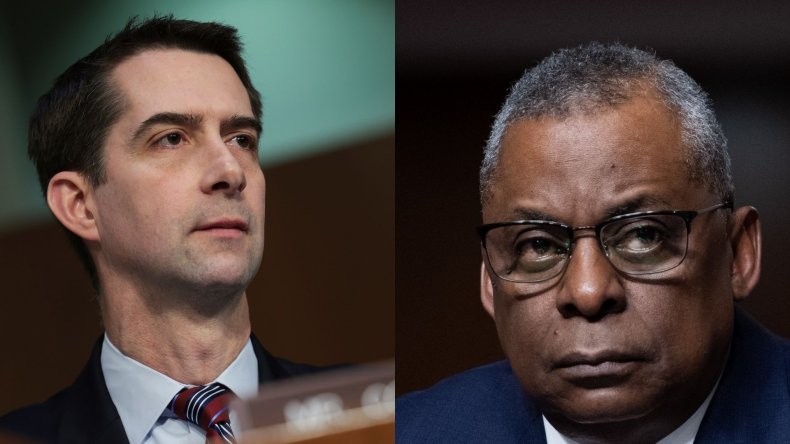 Illinois Republican Congressman Adam Kinzinger echoed similar concerns in an interview with Newsweek earlier this week, saying the White House's walking back of Biden's statement that Putin "cannot remain in power" made the president "look weak."
Cotton was not the only lawmaker who expressed concern during the meeting. Democratic Senator Richard Blumenthal of Connecticut was the first to ask Austin about the Department of Defense's language regarding its intentions in Ukraine.
"You've said that the outcome is an open question, but what troubles me is that saying it's an open question is a prediction," Blumenthal said. "The objective is to enable Ukrainians to win."
"It seems to me that often our strategy seems somewhat schizophrenic," he added. "We want the Ukrainians to defeat the Russians, but we're afraid that pushing Putin into defeat may provoke escalation."
Biden has stated that the U.S. will "defend every inch of NATO territory," but has largely focused on providing military aid to Ukraine while avoiding direct conflict with Russia. In his opening testimony, Austin noted that "Russia's nuclear capabilities also pose significant challenges now and in the future."
While Americans may want the administration to act tougher, a separate poll published by the Pew Research Center on March 15 revealed that 62% of Americans would oppose the U.S. taking military action against Russia "if it risks a nuclear conflict."
As the war wages on, balancing toughness while avoiding the potential for nuclear escalation is likely to be an ongoing concern of the administration. As America moves closer to the midterm elections, supporting Ukraine's democracy could become a key issue.
"I feel very firmly about victory for Ukraine and maintaining its sovereign integrity as a nation," Republican Senator Joni Ernst of Iowa said. "Their democratic form of governance is all very important to so many Americans, because so many Americans see themselves reflected in the Ukrainians."
"We absolutely must ensure that we are doing everything we can for the country of Ukraine and the citizens that are there," she added.