Senators Push to Close 'Homework Gap,' Provide Wi-Fi to 12 Million Kids in Next Coronavirus Stimulus Bill
The coronavirus pandemic has pushed most schooling in the United States online, but millions of students don't have access to the internet in their homes.
This "homework gap" was put to the wayside during the historic $2 trillion relief package passed by Congress in late March. But now lawmakers are pushing for billions of dollars to rectify the problem in the next phase of legislation.
Thirty-five senators penned a letter on Thursday to congressional leaders calling for $2 billion to be set aside for schools and libraries to provide Wi-Fi hotspots or other devices with internet capability for students who have inadequate connectivity.
"Children without connectivity are at risk of not only being unable to complete their homework during this pandemic, but being unable to continue their overall education," the letter reads. It was addressed to Senate Majority Leader Mitch McConnell, Senate Minority Leader Chuck Schumer, House Speaker Nancy Pelosi and House Minority Leader Kevin McCarthy.
Even though 70 percent of educators assign work that has to be completed online, 12 million kids don't have Wi-Fi access, according to lawmakers.
A 2017 report from the Democratic staff of the Joint Economic Committee found that white residents are more likely to have internet connection in their homes than people of color. Plus, there are over a dozen states where the majority of residents don't have access to broadband.
The "homework gap" has become an even bigger issue as the coronavirus has forced schools across the country to temporarily shutter. Every state has ordered schools to suspend in-person classes for the time being. A growing number of state officials are suggesting that it's likely that schools will be closed for the remainder of the academic year.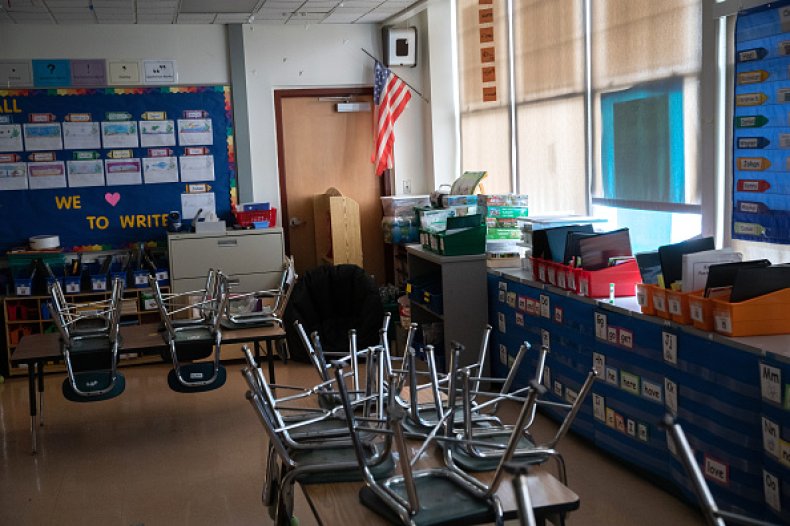 The 35 senators are proposing the $2 billion go to the Federal Communications Commission's E-Rate program, which provides discounts for telecommunications and internet access to eligible schools and libraries.
The next stimulus package, which will be the fourth measure put out by Congress in response to the global health crisis, was expected to be swiftly passed in the coming weeks. But some Republicans have stalled the bill, stating that they want to ensure that money already allocated in past packages is being properly distributed.
Democrats are looking to include major digital infrastructure upgrades in the next phase of legislation, including changes to broadband and 5G to improve America's remote connectivity. They're also eyeing improvements to tele-health and remote teaching.
"The initiatives that we have in terms of infrastructure relate directly to the challenge at hand," Pelosi told reporters on a conference call Monday. "We have an opportunity to do something that would have an impact as soon as possible."