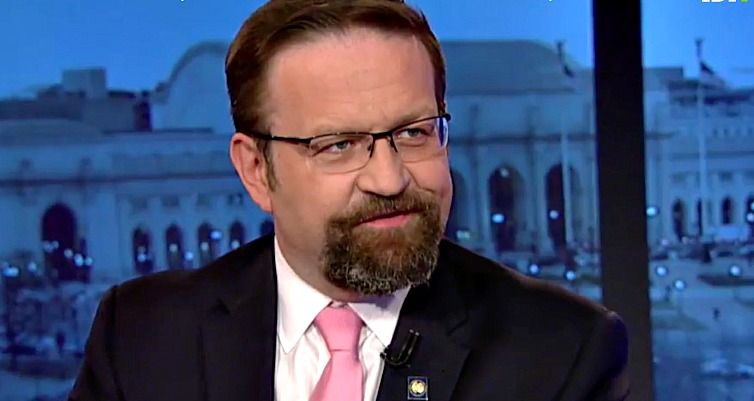 UPDATED | Normally, second-tier White House foreign policy advisers are rarely seen and even more rarely heard. But these are not normal times, and Sebastian Gorka is no normal adviser.
Gorka's unorthodox views on political Islam were known but little noted outside of military and far-right quarters before Steve Bannon, his former Breitbart News boss and Donald Trump's top political adviser, invited him to join his Strategic Initiatives Group in the White House. But since jumping into that cauldron he's come under fierce fire. Critics have attacked his academic credentials and insistence that a "global jihadist movement" is driven principally by passages from the Koran, rather than regional government corruption and repression and sectarian, tribal, political or economic factors.
RELATED: Listen to Sebastian Gorka's angry call to a critic
"Despite casting himself as an expert on radical jihadi ideology, Gorka does not speak Arabic and has spent no time in the Middle East," Daniel Nexon, a leading international affairs expert at Georgetown University, noted in the latest scathing review of Gorka's work, in the Friday edition of Foreign Policy.
Now three U.S. senators are asking the departments of Justice and Homeland Security to investigate whether Gorka covered up his membership in a Nazi-linked Hungarian organization on his 2012 application for American citizenship.
"We are deeply concerned by reports that Dr. Gorka concealed the material fact of his membership in the Vitézi Rend, a far-right anti-Semitic Hungarian organization, when he applied for U.S. citizenship," wrote the three senators, Richard Durbin of Illinois, Richard Blumenthal of Connecticut and Ben Cardin of Maryland. A day earlier, Representative Jerrold Nadler of New York, also a Democrat, had asked President Trump to send Gorka's immigration papers to the House Judiciary Committee.
All said they were troubled by the findings of an extensive investigation into Gorka's Hungarian past by the Forward, a 120-year-old New York Jewish newspaper based in New York, which reported on March 16 that the White House adviser was a "sworn member" of the Historical Vitézi Rend, "a virulently anti-Semitic organization that operated under the direction of the Nazis during World War II." The paper said Gorka had taken a "lifelong oath of loyalty" to the organization, according to its leaders.
The senators were also upset by reports and photos of Gorka proudly displaying a medal from the group on his brocaded jacket, called a "bocskai," at Trump's inaugural ball.
"Right-wing Hungarian media in particular fixated on what it saw as Gorka's callback to a resurgent native icon of the far-right," Miklós Horthy. While regent of the Kingdom of Hungary in the 1920s, " Horthy's paramilitary units killed Jews by the hundreds," according to the United States Memorial Holocaust Museum. "Murders, lynchings, pogroms, and torture occurred at dozens of locations and were in many cases initiated by the local population." With the advent of World War Two, Horthy at first resisted pressure from Germany's Adolf Hitler to exterminate his country's Jews, but eventually succumbed and " accepted the installation of a pro-Nazi government with complete power to institute and carry out anti-Jewish measures, and agreed to deport the Jews," according to Israel's Yad Vashem research center. More than 437,400 Jews were shipped out on 147 trains in just 56 days between May 15 and July 9, 1944.
Hitler's chief deportations expert, S.S. Lt. Colonel Adolf Eichmann, "was surprised at how actively and enthusiastically Hungarian authorities collaborated to achieve what was clearly a common purpose," the Holocaust Museum reports, "initiating many anti-Jewish measures on their own."
"Dr. Gorka was photographed wearing a Vitézi Rend medal on several occasions, including at a Presidential inaugural ball earlier this year," the senators complained in their March 17 letter to Acting Deputy Attorney General Dana Boente and Homeland Security Secretary John Kelly. "He has also identified himself as 'Dr. Sebastian L. v. Gorka' in written testimony before Congress. Experts note that the initial "v." is used by sworn members of the Vitézi Rend."
The senators said they were additionally concerned "because of the White House's own checkered record on religious discrimination," citing the administration's failure to mention Jewish victims on Holocaust Remembrance Day—"an omission which Dr. Gorka publicly defended"—and the president's "slow" condemnation of "the wave of attacks on Jewish community centers."
But another Jewish publication, the Tablet, came to Gorka's defense, saying he wore the medal only in honor of his father, who was decorated by the Vitézi Rend for being "a dedicated member of the anti-Communist underground."
Gorka also told the Tablet he had "never been a member of the Vitézi Rend" or "taken an oath of loyalty to the Vitéz Rend." He did not immediately respond to a request for comment from Newsweek after the letter from the senators was published on Friday.
Gorka's Hungary problems began bubbling up in December, when President-elect Trump said he had invited its far-right prime minister, Viktor Orban, to Washington for a state visit. In early February, freelance D.C. investigative reporter Eli Clifton took note on LobeLog blog of Gorka's prominent display of the medal of "Nazi collaborators" on his jacket during the inaugural festivities. More critical reports on Gorka's Hungarian ties, his academic credentials and his views on "Islamic terrorism" followed in several prominent media outlets, climaxing with the Forward's in-depth report that spurred this week's congressional inquiries and a demand by Jewish groups that he resign.
Gorka, a former national security editor of the far-right Breitbart News, which Bannon ran until he joined Trump's campaign, lashed back, calling one persistent critic of his academic credentials and views at home and allegedly threatening to take legal action against him. And he went after Clifton, claiming in interviews and a Tweet that the writer was "allegedly fired from his previous position for making antisemitic and anti-Israel statements."
Clifton told Newsweek he had "never been fired for anti-Semitism or anything else, for that matter," and on February 17 his lawyer sent Gorka a "cease and desist" demand. They have received no response. Clifton also called Gorka's response to his writing "an interesting case study of what the White House's war on journalists looks like."
Gorka also went after critics of the Trump administration's executive orders on immigration. On March 16 he went on the Breitbart Daily News radio show and claimed—falsely—that the Trump travel ban order was ever linked to a particular religious group.
"There is not one instance on the campaign trail or after the President took office in which the travel suspension was mentioned without reference to national security—it was never mentioned, 'we're doing this because of a certain religious group.'" he said.
CNN and other news organizations quickly dug up a December 2015 Trump press release in which the candidate called for "a total and complete shutdown of Muslims entering the United States until our country's representatives can figure out what is going on." It was headlined, "DONALD J. TRUMP STATEMENT ON PREVENTING MUSLIM IMMIGRATION."
Statements like that moved a federal judge in Hawaii on March 15 to issue a nationwide halt on Trump's revised travel ban order. A federal judge in Maryland later issued a similar order.
Fox News personality Sean Hannity suggested the next day that the Hawaii judge and former President Obama had done drugs together.
"Were they part of the Choom Gang, smoking pot and hanging out and doing a little bit of weed and maybe even a little blow?" Hannity asked.
In February, the New York Times piece on Gorka was headlined, "A Trump Adviser Comes Out of the Shadows."
Now he's in the spotlight.
An earlier version of this story relied on an inaccurate description of Miklós Horthy's role in the Holocaust, and the the number of Jews exterminated under his purview, supplied by the Talking Points Memo blog. It has been updated with more authoritative information from the United States Holocaust Memorial Museum and the Shoah Research Center of Israel's Yad Vashem Museum.