Senators Say No Deal on Biden-Bolton Witness Exchange In Impeachment Trial: 'This Isn't Like Some Fantasy Football Trade'
As President Donald Trump's impeachment trial continues to play out, one area of agreement has emerged among lawmakers from both sides of the aisle: a witness exchange isn't even a consideration.
"This isn't like some fantasy football trade," Rep. Adam Schiff (D-Calif.), lead impeachment manager, said Wednesday.
"That's off the table," Senate Minority Leader Chuck Schumer (D-N.Y.) agreed. "The Republicans have the right to bring in any witness they want. They haven't wanted to. That trade is not on the table."
The notion of a potential exchange for witnesses, such as former Vice President Joe Biden's son Hunter for former Trump national security adviser John Bolton, has been up in the air for weeks. It's a deal that could emerge later in the trial, likely sometime next week, when the topic of subpoenaing witnesses is debated following opening arguments and a question-and-answer period for lawmakers.
But the likelihood of such a potential deal seems miniscule, as many Republicans have said they don't believe any witnesses are necessary and Democrats say Hunter Biden is irrelevant to hear from. Republicans shot down nearly a dozen Democratic amendments offered for the trial rules earlier this week that would have subpoenaed witnesses and documents, as well as ensuring there's a vote on the matter at a later date.
"It's not the Senate's responsibility to make up for the deficiencies in the House's articles of impeachment," Sen. John Cornyn (R-Texas) said. "But if there were, let's say a witness like Mick Mulvaney or John Bolton, come, invariably the White House would claim executive privilege. There'd be a lawsuit...that could take months. In the meantime, the Senate can't do anything else."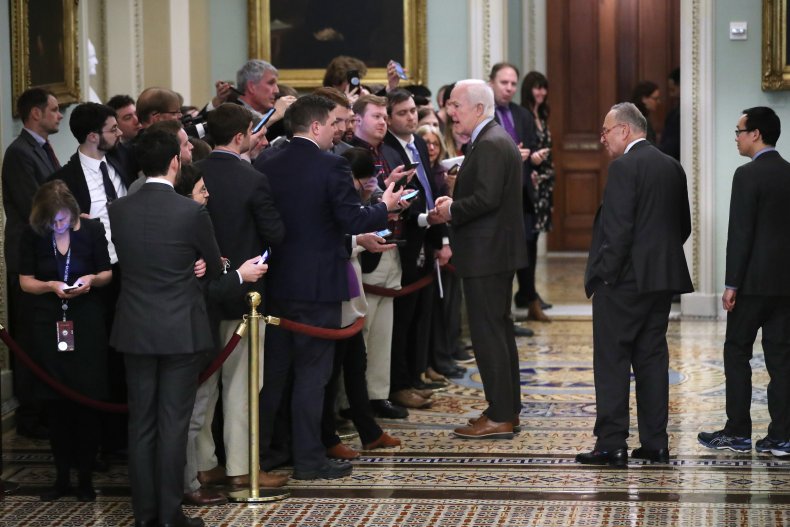 Schumer added Thursday that "not a single Republican" had yet to discuss with him the idea of a witness swap. "Not happening," he said.
Republicans want to call Hunter Biden because they allege his former role on the board of Ukrainian gas company Burisma, which Trump wanted to be investigated and is at the center of why he was impeached, was riddled with corruption.
Schiff, chairman of the House Intelligence Committee, accused his GOP counterparts of wanting to subpoena Hunter Biden in order to "smear [Joe] Biden" and "effectuate the scheme that they were unable to do when they tried to get Ukraine to smear the Bidens."
Democrats want to hear from Bolton, in addition to acting White House chief of staff Mick Mulvaney, top Mulvaney aide Robert Blair and senior Office of Management and Budget official Michael Duffey, all of whom are believed to have firsthand knowledge of the president's Ukraine dealings, including the decision to withhold military aid as Trump and those around him pushed the foreign entity to conduct investigations into the Bidens.
Sen. Ted Cruz (R-Texas) characterized Hunter Biden's potential testimony as "directly relevant" and "critical." However, he elaborated that the decision on whether to summon witnesses should be one that the political parties and Trump's defense team each make.
"I don't think the Senate should force the parties to call witnesses that [the president's] lawyers don't make the decision to call," he said.
One of the members of Trump's legal defense, personal attorney Jay Sekulow, told reporters they've yet to make "any determinations on what witnesses we might call," considering House impeachment managers have two more days of opening arguments. "We don't even know if there will be witnesses," he added.
Not all Republicans are on the same page. Some are still open to the idea of an exchange, and more moderate members, such as Sen. Susan Collins (R-Maine), have signaled they'll likely want witnesses, like Bolton and Mulvaney.
"I don't think we need additional witnesses, but my point is, if we're going to call witnesses, then there's a number of folks I'd like to hear from," Sen. Josh Hawley (R-Mo.) said.
Those people included Hunter Biden, who he said was "relevant" and a "material" witness, Schiff and the anonymous whistleblower who put Trump's phone call with Ukranian President Volodymyr Zelenskiy in the public eye. The whistleblower's complaint about Trump's July 25 phone call with his Ukrainian counterpart jump started the House impeachment inquiry and Republicans have accused Schiff of misleading the public because his office was contacted by the anonymous person prior to the complaint coming to light.
Trump voiced his thought on a witness exchange in a tweet, accusing Democrats of rejecting the idea because "Shifty Schiff, the Biden's, the fake Whistleblower(& his lawyer), the second Whistleblower (who vanished after I released the Transcripts), the so-called "informer", & many other Democrat disasters, would be a BIG problem for them!"
Senate Majority Leader Mitch McConnell (R-Ky.) has said little about a witness exchange. But last week, he left the door open on the possibility.
"When you get to that issue, I can't imagine that only the witnesses that our Democratic colleagues would want to call would be called," he said.
This story was updated to include a tweet from the president.