Senators Seek Deal to Fight Gun-Fentanyl Smuggling Over the Southern Border
Senators are looking to take aim at the smuggling of firearms and fentanyl across the southern border after Senate Judiciary Committee leaders raised concerns over gun violence and drug overdose deaths during Wednesday's hearing.
Democratic Committee Chair Dick Durbin of Illinois began the hearing by stating his desire to address gun deaths, and ranking Republican Lindsey Graham of South Carolina stressed the need for a solution to the ongoing fentanyl crisis.
Lawmakers on both sides of the aisle are speaking on how the two issues could be tackled together in a legislative package addressing the border. During the hearing, Attorney General Merrick Garland acknowledged the severity of both issues, and Durbin accepted a challenge from across the aisle.
"Senator Graham basically challenged me, and I accept the challenge," Durbin said, "to show as much concern about the fentanyl deaths [as gun deaths] in this country."
Following the hearing, Newsweek asked Durbin if the Senate might be able to craft a bipartisan solution that takes on both issues. He framed his answer around the situation at the southern border, where guns flow from the U.S. into the hands of Mexican cartels and fentanyl makes its way from those cartels into the United States.
"We're moving toward a comprehensive look at immigration, and I hope we can get it achieved," Durbin told Newsweek, adding that concern for both gun and fentanyl deaths could help get such legislation across the finish line. "Border security and fentanyl are related to one side of the equation. What to do with gun safety is the other side of the equation."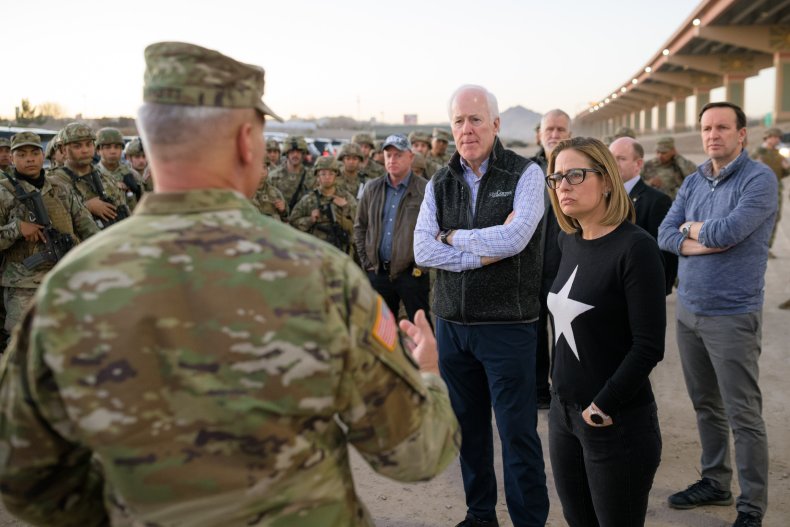 Republican Senator John Cornyn of Texas, a member of the Judiciary Committee, questioned Garland pointedly about the fentanyl crisis, noting that the number deaths in the U.S. today are "about the equivalent of a passenger jet per day crashing and killing everyone on board."
Cornyn said it appeared that the Department has become "desensitized" to these deaths, and "that that sense of urgency is simply gone," and took specific exception with the department's current level of action in prosecuting fentanyl-related crimes.
"We don't have enough people, we don't have enough money, we don't have enough jails, we don't have enough judges," Garland responded, adding that his Department has instead placed a greater focus on prosecuting violent crime.
Following the conclusion of his questioning, Newsweek asked Cornyn, who in January co-led a bipartisan delegation to the border and has been involved in talks over immigration and border enforcement legislation, whether he thinks Congress can pass legislation addressing gun and fentanyl deaths.
"I would hope so," Cornyn told Newsweek. "The border problem is directly related to the failure to have any consequences associated with coming into the country outside of normal immigration channels, and the attorney general just acknowledged that there's a business model by the cartels to overwhelm law enforcement so that they can then move the drugs into the country."
"The other part that's really significant and overlooked is the fact that most of the drugs, once they come across the border, are distributed through networks of criminal gangs that are responsible for most of the violence in communities across the country," he explained. "I don't think the attorney general can solve the problem all by himself. It's going to take the right policies."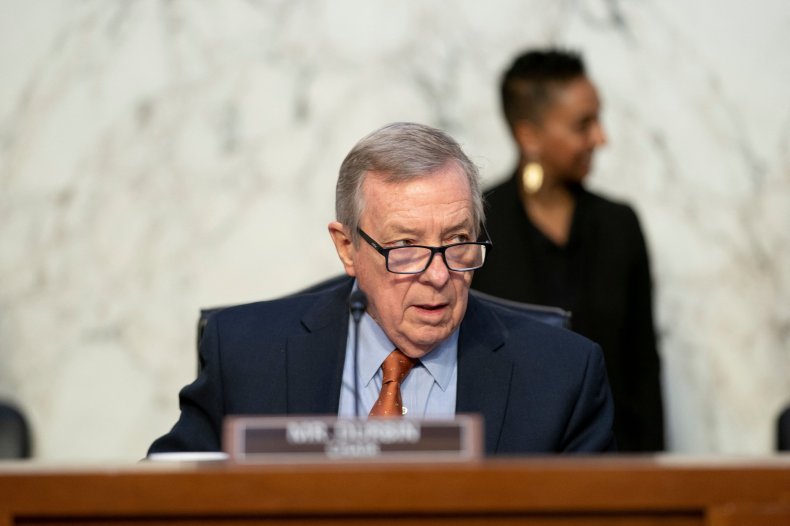 Arizona's Independent Senator Kyrsten Sinema, who chairs the Homeland Security subcommittee on government operations and border management, co-led the January trip to the border with Cornyn. She continues to work with Republicans, including Senator Thom Tillis of North Carolina, on developing a border enforcement and immigration package that could pass through a divided Congress.
In a December speech on the Senate floor alongside Tillis, she said that such a solution would involve funding new border enforcement technology, additional agents, and offer needed resources while also modernizing asylum channels, addressing issues within the work visa system, and providing Dreamers—immigrants brought to the country illegally as young children—a path to citizenship.
"Arizona continues to bear the brunt of the federal government's failed policies on our border," Sinema told Newsweek. "The illicit cross-border economy that smuggles drugs north and weapons south remains a serious risk to the health and safety of Arizonans."
"That's why we must increase resources and support for Customs and Border Protection so they can do their jobs, identify and disrupt these criminal enterprises, and ensure the safety of Arizona communities," she added.
Democratic Senator Chris Murphy of Connecticut, who was part of the January border delegation, is working alongside Sinema and Tillis to find a solution to the problems endemic to the border crisis.
Murphy led the effort alongside Cornyn, with help from Tillis and Sinema, to pass the Bipartisan Safer Communities Act gun control legislation in June of 2022. He said it is "hope and expectation" that progress will continue to be made.
"Shame on us if we can't pass legislation, helping to attack the fentanyl problem," Murphy said. "It's a demand and a supply issue, and I'm deep in work right now to figure out what we can do on the border and in our Mexico and China policy to crack down on the supply."
He insists that he remains committed to addressing the problem of gun violence as well.
"And on guns, we're going to continue to strengthen our gun laws," Murphy said. "I think we are on the winning side; Republicans are increasingly interested in working with us. I can't predict exactly how the debate will go this year," he added, "but my hope and expectation are that we'll continue to be able to make bipartisan progress."
Correction: 3/1/2023 10:30 p.m. ET: This article was updated to clarify that while Senator Cornyn attended the January bipartisan delegation to the border, he is not currently working on an immigration and border enforcement deal with the senators mentioned in this article.