Senators Sign Letter Supporting Ukraine, NATO Allies 'In This Dark Hour'
In a rare act of bipartisan unity, U.S. Senate leaders issued a joint statement pledging to stand in solidarity with Ukraine and NATO allies threatened by Russia.
As the U.S. and NATO continue to warn that Russia could invade Ukraine at any time, U.S. lawmakers from both political parties have come together backing Ukraine's right to sovereignty and independence. Though the Russia-Ukraine conflict has been questioned by some as to whether the U.S. should intervene, President Joe Biden has made it clear that the U.S. will back Ukraine.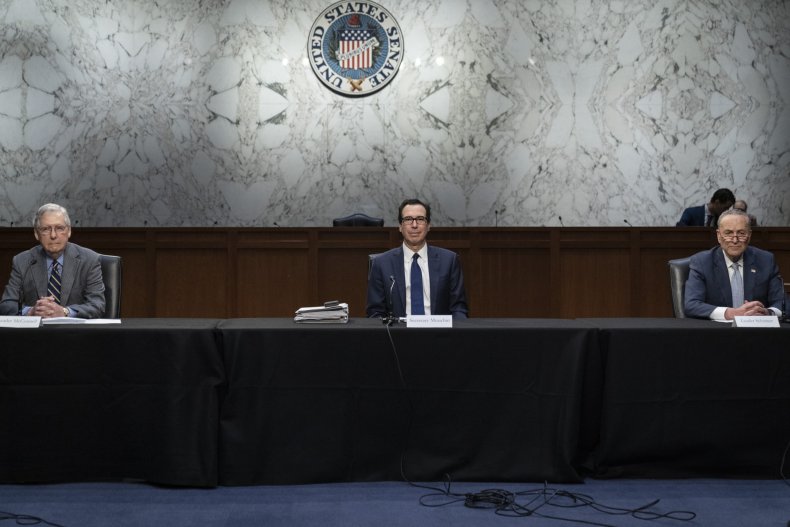 "In this dark hour, we are sending a bipartisan message of solidarity and resolve to the people of Ukraine, and an equally clear warning to Vladimir Putin and the Kremlin," the senators said in a statement Tuesday.
The statement from Senate Majority Leader Chuck Schumer, Minority Leader Mitch McConnell and others shows leaders are capable of some political unity after the evenly divided Senate failed to reach an agreement on a bipartisan bill to sanction Russia should it invade Ukraine.
"Should Vladimir Putin further escalate his ongoing assault on Ukraine's sovereignty, Russia must be made to pay a severe price," the lawmakers added. "We are prepared to fully support the immediate imposition of strong, robust, and effective sanctions on Russia, as well as tough restrictions and controls on exports to Russia, and we will urge our allies and partners in Europe and around the world to join us."
Biden vowed that the U.S. would give diplomacy "every chance" to prevent a Russian invasion. Although Russia claims it has pulled back some troops, Biden remains skeptical of Russian President Vladimir Putin's intentions.
"[It] would be good, but we have not yet verified that," Biden said, according to AP. "Indeed, our analysts indicate that they remain very much in a threatening position."
Although most of the U.S. seems to be on board with America's backing of Ukraine, some have voiced opposition to the alliance.
Fox News host Tucker Carlson ripped Ukraine's democratically elected president, Volodymyr Zelenskyy, as a dictator and questioned the U.S.' backing of Ukraine.
On his show Monday, Carlson said Democrats and "some low-IQ Republicans" are framing the Russia-Ukraine conflict as a good-versus-evil story, while he claims it isn't. According to Carlson, both countries are autocratic, and it would make sense for the U.S. to side with Russia.
"What exactly is Ukraine like, what's its government like?" Carlson said. "Turns out, it's run by a dictator who's friends with everyone in Washington."